CARITAS For Children provides two ways to sponsor a child's education in Uganda. The first sponsorship option, one dollar per day, or thirty dollars per month, is called the Day School Program. The second sponsorship option, the Boarding School Program, is about three dollars per day, or $90 dollars per month.
Through the Day School Program, the sponsored children are provided with the fees required in order to attend a school during the day. These children additionally receive all the requirements for school, including items such as their school uniform, notebooks, pens and pencils. The children receive a daily breakfast and lunch; meals that they would most likely not receive if they were not sponsored to go to school. The day school sponsorship is thus an invaluable gift to the child who not only would be prevented from going to school but also would miss his or her meals without this assistance and partnership.
The second option to sponsor a child that CARITAS For Children offers, the Boarding School Program, provides even more to the Ugandan child who has especially challenging needs. The Boarding School Program is for orphans who have no home to stay in or family able to care for them. Boarding school is also a choice for children with an unsafe home environment. In addition to everything the day program offers, the Boarding School option provides an education that is in the setting of a residential school. The Boarding School option provides the child with three meals per day, a safe place for the children to sleep, and father/mother figures in the Catholic religious who help to raise the children day and night.
One story in particular that I want to tell is about an eleven-year old girl named Cleire, a child who is sponsored by a dedicated woman in the states. Mrs. B has been supporting Cleire for almost four years. "Slowly by slowly," as the people say in Uganda, Mrs. B became more deeply involved in Cleire's life by communicating with letters back and forth between America and Uganda. She later decided to attend a CARITAS For Children Skype event where she was able to actually meet and speak with Cleire face-to-face over the internet.
Mrs. B was so overjoyed to at last meet Cleire after so many letters for so many years. Mrs. B immediately expressed to Cleire that she was impressed with her confidence at such a young age. She told Cleire how beautiful, smart, and capable she was. Cleire ended the conversation with a smile saying, "I love you, Mom!" I witnessed the deep connection that had formed between Mrs. B and her Ugandan daughter. Even more beautiful, after this meeting Mrs. B called our home office to inform us that she had decided to send Cleire to boarding school to provide her with a better education and more care.
Because Cleire was left orphaned at a young age when her mother and father passed away, she has been living in the care of her aunt in a village called Wabiduuku. I had the privilege of delivering the good news to Cleire and her aunt. I walked to Cleire's home and found her washing dishes with the water that was recently fetched from the well. The conditions that Cleire and her aunt were living in were very hard to see. But the smiles that greeted me were truly more precious than any material riches. I told Cleire's aunt that her niece had been provided with the opportunity to go to Boarding School and asked if she would like Cleire to take advantage of that opportunity.
The reaction of Cleire's aunt was priceless. She was so completely overjoyed that her niece was given this beautiful opportunity that she started laughing and clapping her hands. Her smile was radiant and vibrant – I will never forget it.
Cleire expressed her happiness in a different way, by looking down and trying to hide her smile. I asked her in Luganda, "Cleire, oli musanyufu? (Cleire, are you happy?)" She looked up at me and, unable to suppress or contain her smile any longer, responded, "Ndi musanyufu nnyo! (I am very happy!)"
Truly, Cleire's life will be completely different with an education at a boarding school in Uganda. She will learn how to speak English very quickly in an environment of immersion, receive three meals a day, and more deeply appreciate her dignity as a woman in an all-girls school. But more importantly, this story reveals how a genuinely loving relationship with a child can grow within such a short time. In this case, the relationship greatly deepened after two minutes of conversation on Skype. The special bond between Cleire and Mrs. B became so special that she was moved to give more of herself to provide Cleire with even more. Praise God for the hope for a better future that is provided to Cleire and her aunt through Mrs. B's generosity -- and for the genuine and innocent love that Mrs. B received in her conversation with her daughter Cleire.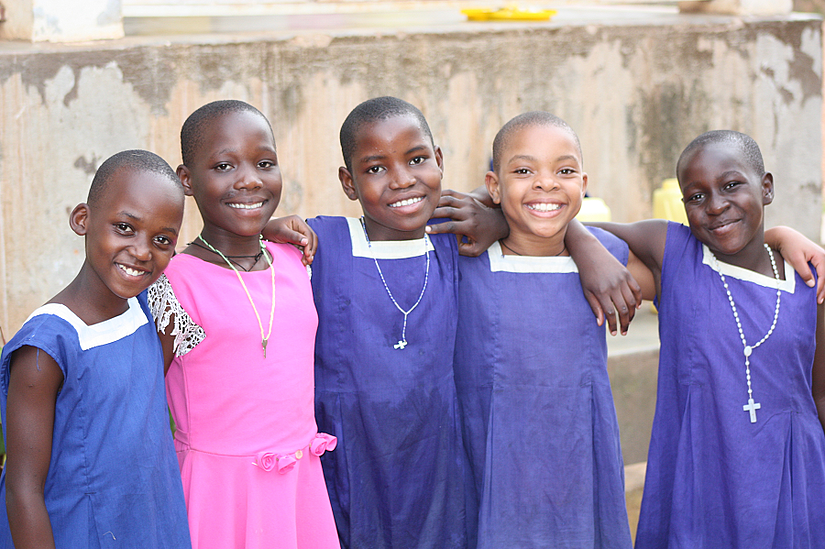 Cleire with her new friends at Stella Maris Boarding School