My name is Father JohnBosco Wasswa, the parish priest of Nkokonjeru Parish, where CARITAS For Children has child sponsorship programs. I am writing to tell you about my parish, the needs of the community of Nkokonjeru, my role as a parish priest, and how CARITAS For Children has been a part of us.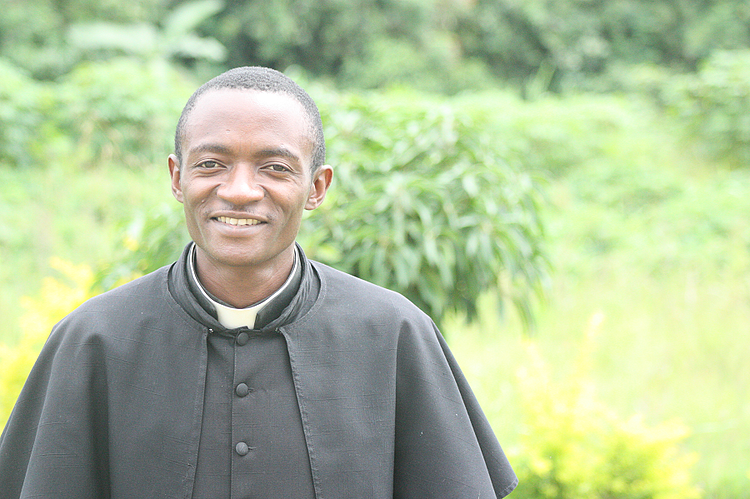 Fr. JohnBosco Wasswa
Nkokonjeru Parish is now 114 years old. It is one of the oldest in the Diocese and one of the biggest in Uganda with 27 sub-parishes. The majority of the people who live in Nkokonjeru are peasant farmers because the soils are relatively fertile and the people are hardworking. The main challenge facing our people is poverty and illiteracy. Poverty is caused by unemployment, poor farming skills, and lack of exposure to how the world operates.
As a pastor, I provide spiritual needs for the community, but also provide counselling because many of our people are sick, frustrated, have home struggles, and debts. Many actually come to us for material help. We also monitor schools to see whether students are being taught, and we also give services to the pupils and students. Additionally, we organize seminars to address the different needs of the community such as catechism, and parish council meetings.
Being a parish priests has many blessings and challenges. My favorite part of being a parish priest, is that I am able to implement ideas to benefit the community, after consultation with the parish councils, especially in the areas of evangelization, development, and social welfare. I am able to benefit the community through different methods of evangelization, starting with the Legion of Mary, the charismatic movement, and also working with youth in the Young Christian Association. Spiritually, the best part of being a priest is being able to see parishioners grow spiritually, especially people who have misconceptions about God and are gradually coming to know him.
The biggest challenge of being a parish priest is that many people come to me with their problems, specifically dealing with material poverty. It is hard to see so many people suffering, and it is difficult to receive only bad news most of the time. Problems of domestic violence, sicknesses, and people asking for money, especially for food, school fees, and rent. I try to attend to everyone's needs, and also try to refer to fellow priests, but all of these problems can't be solved by the parish priest.
In a special way, I wish to extend my sincere gratitude to CARITAS For Children in Nkokonjeru Parish because the organization has provided many scholarships to vulnerable children. I strongly believe that the many students being helped through education will be able to bring change to their homes and to our community. Therefore, on behalf of everyone in Nkokonjeru Parish, especially the students being helped, I would like to extend my gratitude to CARITAS For Children for their generous support.
May God bless you abundantly…
Fr. JohnBosco Wasswa, Parish Priest Nkokonjeru