Michael and Kelly's sponsored child is now a young woman studying at university in Uganda. While communicating now comes easily, they started out like any other sponsors puzzling over what they should write to Phiona when she was in primary school when they were brand new to each other. Kelly shared a few quick ideas on what she and her family wrote about to Phiona back in the day.
Michael, Kelly, and family have been sponsoring Phiona since she was in Primary Six through CARITAS' child sponsorship programs in Uganda. If anyone can answer the question what should I write to the child I sponsor, it's them.
"We would ask questions like what do you do for fun? What is your favorite meal, what are you learning in school, what are your friends' names? Very simple questions," Kelly said addressing the topic of what she and some of her seven children would write to Phiona. In the early days of their sponsorship, Kelly admitted that her husband, Michael, would leave most of the letter writing to them, although now, he regularly checks in on Phiona.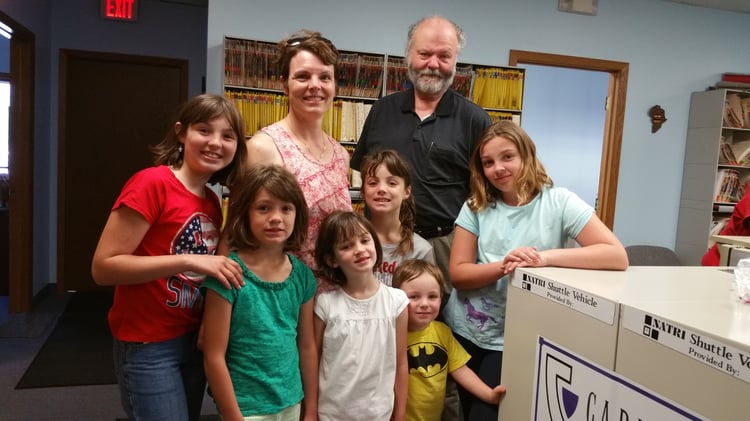 Kelly, who sponsors Phiona with her husband Michael and family through CARITAS' Catholic child sponsorship programs in Uganda, stopped for a photo with founder Chris Hoar when they dropped off a letter this past summer.
"We would then tell her about our weather, what we liked to eat, what we were doing in school or our work. Exciting things that were happening in our lives. That part was easy because all the kids always had something exciting to share," Kelly continued, "We would talk about the grades everyone was in, what they were doing in school and what they liked to do for fun."
With regard to how frequently they would write, Kelly said, "As soon as we received a letter we would respond. We also enjoyed when the CARITAS office would send out e-mails requesting letters. Every chance we got we wrote."
---