This is part two of Michael and Kelly's story of sponsoring Phiona and how it has made a difference for their family. If you missed part one, you can access it here.
"I can't even believe this, we're finally going to get to meet her!" Kelly was on the edge of her seat at a CARITAS For Children event. Christopher Hoar, founder and executive director, was hosting an evening of appreciation for sponsors and donors, and offering the opportunity to skype with children in some of CARITAS' Uganda child sponsorship programs.
"I was going in and out of tears," Kelly said. Her husband Michael and the entire family were there, all of the kids. Kelly described the moment when Phiona came on screen: "She got on there and said, 'Hi mom! Hi Dad! Hi Hayley!' [their eldest of the same age as Phiona] And calling everybody by name. It was weird, it wasn't like we were just meeting for the first time, it was as if, hey, we're just saying hello – but we had never ever spoken to her."
Occasionally sponsors tell us that they engage their families in sponsorship as a means of teaching their children or grandchildren empathy. Asked if sponsoring Phiona has made an impression on her children, Kelly said, "I'd like to say that they're more aware of the blessings that they've been given, because I don't sugarcoat things when I talk about Phiona."
"When they find out she doesn't have any place to go for Christmas and she goes back to this convent and she doesn't get Christmas presents…" Kelly said her children are offered a different perspective. Since they have talked with Phiona and have been building a relationship with her they really care about her. When the kids have to share at school or do presentations Phiona is often their topic.
Kelly thinks that her family has made such a strong connection with Phiona because she was so open to them. "She was so receptive to us because she didn't have a family. In her letters, after a period of time, she referred to us as mom and dad. There's probably a lot of kids that don't do that, but when a little kid does that to you, you feel like they're missing something and you fall in love with them even more."
"We had to give up some things to be able to do this, and I think that when you give something up to do something else, it's almost like God recognizes that and puts blessings on that – and things get so much better than you can even imagine."
"I totally think that's what it was, because only when the donation started to hurt – cut into something else – did it really happen," Kelly said.
The initiation of their sponsorship of Phiona coincided with Michael and Kelly meeting their pastor, who has really inspired their faith life. Coupled together these two aspects have helped to shape their spiritual outlook.
"Our faith is a lot stronger than it ever was when we were younger," Kelly said, "Mike and I both grew up in a Catholic family and you never missed a Mass. But now, our faith is so much stronger than it ever was, and our kids, I think, see that too."
"Part of it's Phiona too," Kelly said, "Every time, she talks about blessings from God and thank God that we found her."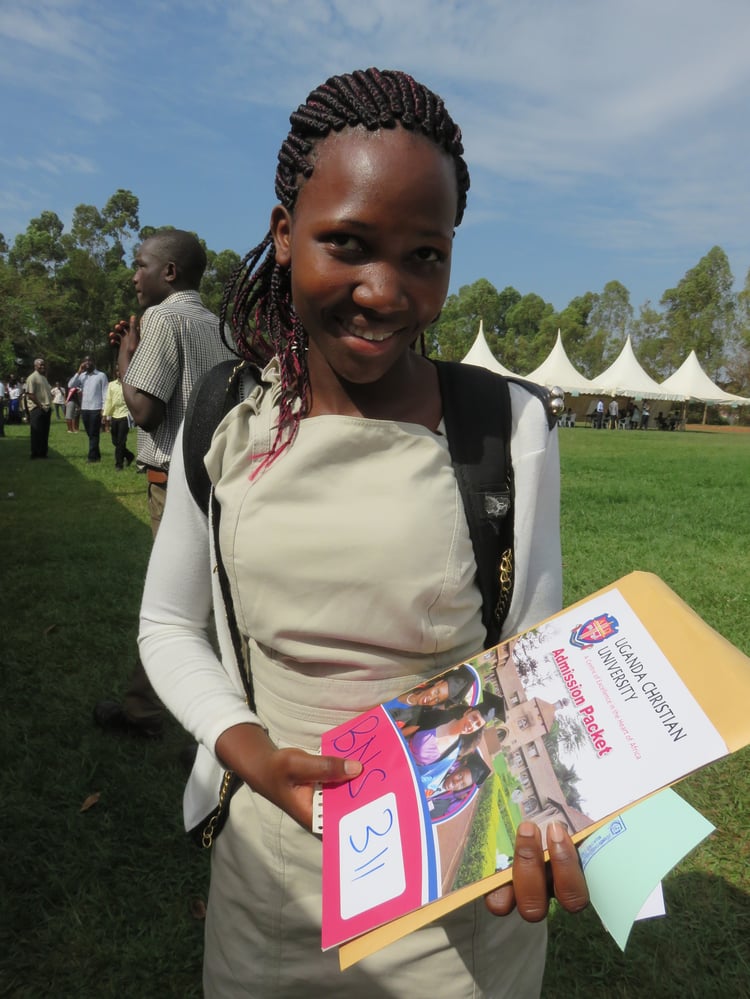 Phiona, sponsored by Michael, Kelly, and family through the Uganda child sponsorship programs, on her first day at Uganda Christian University.
This fall both Hayley, Michael and Kelly's oldest daughter, and Phiona started their university studies. Phiona is studying nursing at Uganda Christian University.
"She loves it," Kelly said, "Between my husband and I, we hear from her quite often."
"I'm really excited about Phiona getting her nursing degree," Kelly said, "That was the one thing that Mike and I had talked about when we first started in this program...what are we going to do when she gets to be a certain age – we can't just drop her off. We have to give her a life skill."
Kelly said she used to have the feeling, "I'm only helping one child," but her understanding has evolved over the years. Not only has she heard from some of the Little Sisters, who know first hand how desperate many of the children are, that sponsorship can really make a difference, Kelly said she thinks about all of the lives Phiona will touch not only as a nurse but in inspiring other young people, "Look what happened for me. Something this great could happen for you."