"She's so far away, but she's definitely a part of our family. There are pictures of her all over the house. The kids talk about her all the time. They always include her as part of our family when people ask how many sisters and brothers they have." That's how Kelly described the relationship she, her husband Michael, and their children have with Phiona, 20, whom they've been sponsoring since she was in the fifth grade. It wasn't always that way though.
Michael came home from a Catholic men's conference one day and announced that they were sponsoring a child. He had attended the conference with a friend who was already involved with CARITAS. He strongly encouraged Michael to participate. Michael chose Phiona from among the sponsorship kits because she was the same age at the time as their oldest daughter Hayley.
Kelly said their motivation to sponsor a child started out as, "This is the right thing to do."
The first letters Phiona sent to the family were pretty standard, Kelly said, "Thank you for sponsoring me, God bless you and your family, almost like they're writing it, but it's as though the teacher is saying this is what you should write."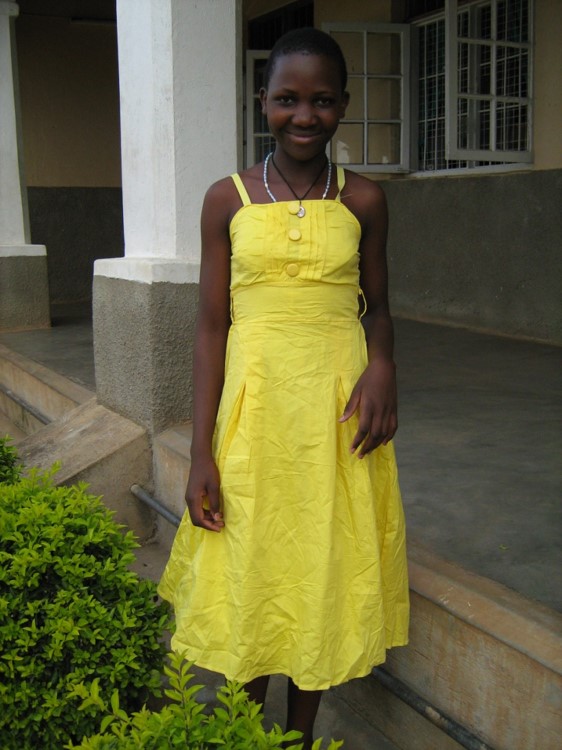 Phiona, at a younger age, supported by Michael, Kelly, and family through CARITAS' child sponsorship programs.
"For a while that's how it was. Then we got to the point where we had every one of the kids writing a letter. That was really fun because when she wrote back she responded to every kid," and Kelly noted at the time, "Okay, now this is getting really personal."
Kelly and Michael have seven children ranging in age from four to twenty. "Then we sent her some special paper and she wrote us back a letter on that special paper. And just every step of the way, we've gotten closer and closer."
A few years into the sponsorship, something pivotal happened. "One of the Sisters [working at the Milwaukee office at the time] had sent me a personal e-mail asking if we could increase our pledge," Kelly said.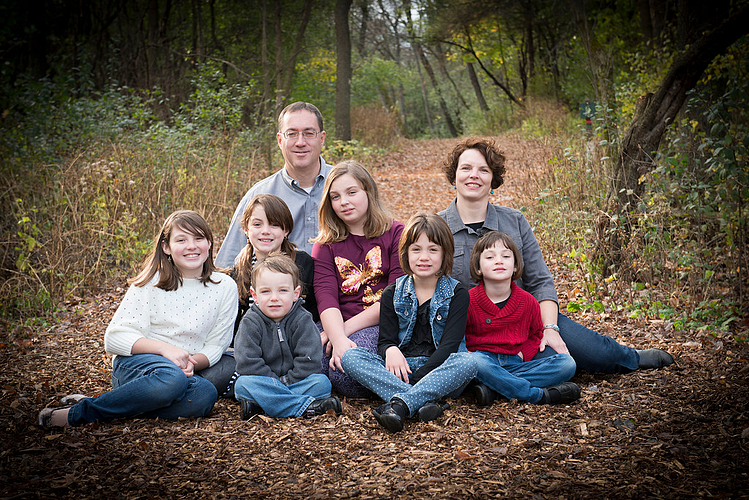 Michael, Kelly, and six of their seven children. Their eldest is away at college.
Up until then, Michael and Kelly had been making a monthly thirty dollar pledge for the Day School Program, but Phiona had been accepted to Trinity College, a boarding school with a good academic reputation. The term college refers to the American equivalent of high school in Uganda. Michael and Kelly would have to increase their monthly financial commitment from one dollar a day to three dollars a day. Kelly wondered, "How are we going to swing this?"
"We thought about it for a long time and then we decided, 'Well, we have to do it." And so that's when we cancelled our gym membership and used the money to do this."
"After that, the Sister told us that she had spoken to Phiona personally. Phiona had asked her, "What if they decide not to sponsor me? This is going to be the end of me."
"When we heard that," Kelly said, "I just cried. I was like, we were so selfish. We could have just given up something so little to do something for somebody else, and they thought that was going to be the death of them."
Soon thereafter Michael and Kelly were able to see a video of Phiona where she spoke a little bit about the circumstances that had brought her to CARITAS' child sponsorship programs. Phiona had lived on one of the islands of Lake Victoria as a child. Her father passed away at an early age. After that Phiona and her mother found themselves wondering how they would find their next meal.
Kelly said she doesn't know all of the details, "That's going to be one of those things I talk to her about when I see her face to face; because I don't know if it's an upsetting conversation for her and if it is, then I'm there."
Phiona's story gets better, see Part Two.
---