This year Flavia, a fifth-grader at Stella Maris Primary Boarding School in Nkokonjeru, Uganda, is the "All School Work of Mercy" for the students at St. Boniface Catholic School here in the states. CARITAS For Children has a number of Catholic schools and Religious Education programs putting Catholic social teaching into practice, that is, placing the needs of the poor and vulnerable first. During this year's Catholic Schools Week, we'd like to thank all of our student sponsors, but put the spotlight on St. Boniface.
St. Boniface has been sponsoring Flavia since 2011 after CARITAS For Children had a Parish Weekend there. "Students recalled that when they first saw Flavia she looked sad and they felt sad," Gena, the fifth grade teacher at St. Boniface said, sharing her students' thoughts, "Now she smiles and she is happy according to her report cards."
Like many of the children in CARITAS' child sponsorship programs, Flavia is an orphan. The opportunity to attend Stella Maris Boarding School ensures that she is getting a quality education but also the emotional and spiritual support of our ministry partners in Uganda, the Little Sisters of St. Francis of Assisi.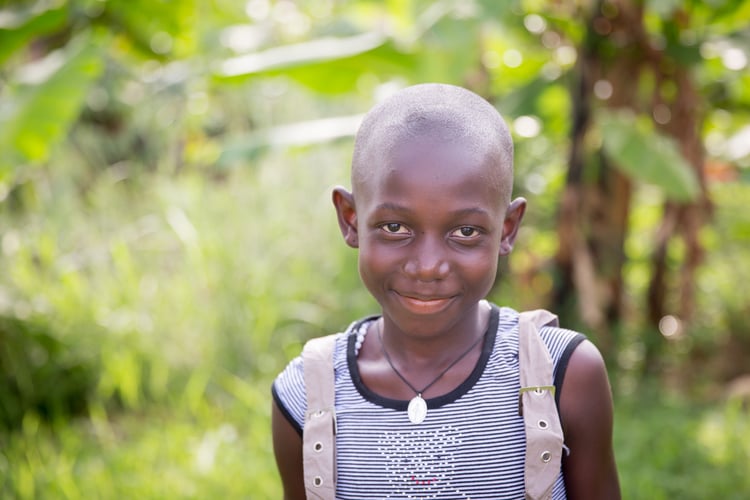 Flavia is supported by St. Boniface Catholic School through CARITAS' child sponsorship programs.
"I cannot tell you how unbelievably proud I am of Flavia personally," Gena, who coordinates Flavia's sponsorship for St. Boniface, told us, "She seems to have come such a long way in the short time she has been at Stella Maris and her reports are wonderful! I feel like a proud momma, and the students all call her their sister. When we pray for her at church, as a matter of fact, we pray 'for our sister Flavia.' We love her!"
Gena explained that each grade level plans at least four of the liturgies for the weekly All School Mass at St. Boniface. "We always have a prayer intention for Flavia," Gena said explaining that the students decide what that prayer intention will be, "Sometimes it is for a good break - like now, sometimes it relates to the gospel, [e.g.] that Flavia understands that God will always forgive her, and sometimes it is for her health and academic success – whatever the kids in that grade that week want to pray. We never forget her and she and her classmates at Stella Maris School are remembered and prayed for each week."
In the school the students get together in what they call Spirit Groups, small, multi-aged groups led by eighth graders to discuss Flavia, her school and lessons and how participating in child sponsorship programs makes them better people.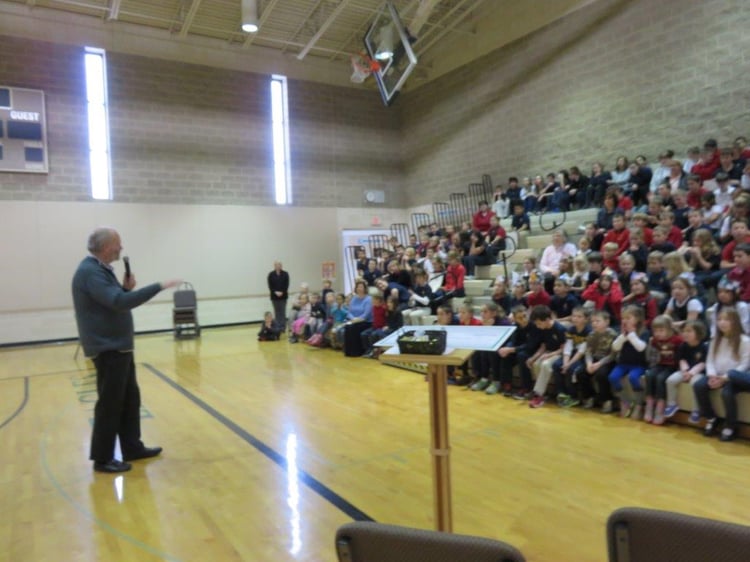 Christopher Hoar, founder of CARITAS' child sponsorship programs, shares news about Flavia with the students and faculty at St. Boniface.
Several times a year the school has a special fundraiser for Flavia. Periodically St. Boniface has a penny drive, the first of which generated $3500. Last year's penny drive raised $1849.33. The majority of the students report that they used their own money or raised it at home. The school has also done activities like "bring a dollar to wear a hat". "This Valentine's Day, to show love for Flavia, we will wear red if we bring in a donation," Gena said.
We asked Gena for feedback from the St. Boniface students about what sponsoring Flavia means to them. She asked other teachers to participate as well and some of the students' responses appear below:
Seventh Grade
How are you making a difference in Flavia's life?
"Providing her with an education and safe place to live."
How do you keep Flavia in your mind and heart every day?
"Involving her in spirit groups and praying for her every day."
Why is it important to you that you participate in sponsoring Flavia?
"It teaches us about other nations and how lucky we are. It increases our bubble of faith."
Why is it important to society that you participate in sponsoring Flavia?
"We're good role models and hopefully more people will participate following our lead."
How has your relationship with Flavia deepened your faith and made you appreciate your own life?
"Shows us how blessed we are and how grateful we should be."
"She has shown us to love what we have and who is in our lives because she is happy with what we can provide and the small things like our friendship and support."
Sixth Grade
"She's my only sister. She's a human being and all human beings deserve a happy and healthy life."
"She doesn't have everything she wants and she used to live in poverty. We all have a lot and we can take it for granted. Flavia can't."
"Even though we are all different, we should still love one another."
Fifth Grade
They said sponsoring her makes them happy, makes them better people and makes them pray for her.
They said they would sponsor a child themselves now or in the future.
They said they are proud of themselves because they take care of her.
All said they love Flavia and are proud of her.
The students at St. Boniface have been working on a quilt to give to Flavia. "The kids are drawing hearts with fabric markers on the pieces of the quilt. We are looking into what is the best batting for it in order for it not to be too hot, but to last," Gena said, "The kids are also making cards for her birthday which is in June. Each child in the school will be involved."
CARITAS For Children has been able to arrange a Skype visit between St. Boniface students, teachers and Flavia. Gena said the students love reading Flavia's letters and hope to Skype again with her soon.