It is always a special blessing when certain CARITAS For Children relationships are taken to a new level as when it happens that sponsors are able visit their sponsored child in Uganda. This week, long-time sponsors Vicki and Terry came to visit their sponsored daughter Vanessa at school and in her home in Nkokonjeru, Uganda. For nine years, Vicki and Terry have sponsored Vanessa, providing assistance to the family. As Terry reflected on this experience, he said: "It was a tremendous opportunity to visit Vanessa's home. There is no way to express the joy and gratitude that we felt from Vanessa's family."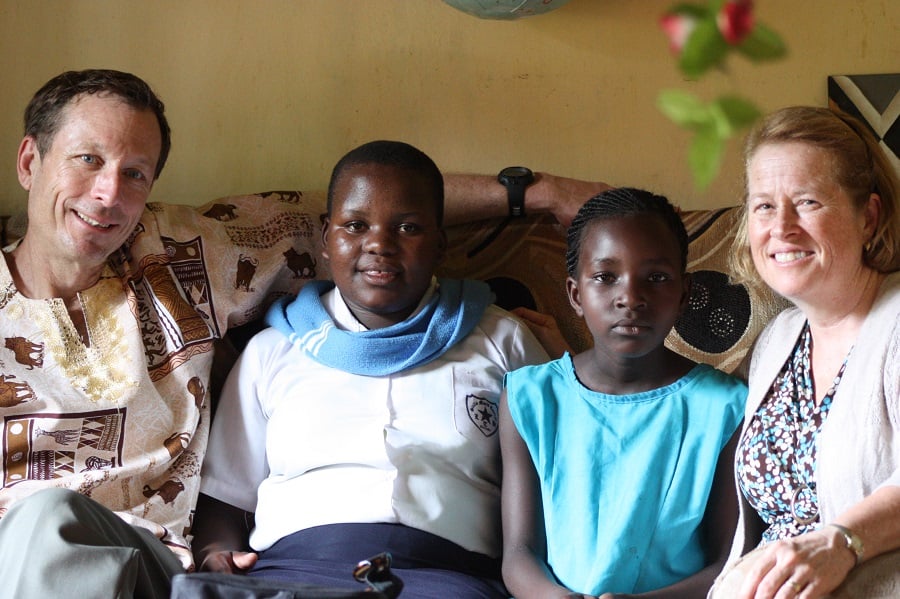 Sponsors Vicki and Terry O'Neill (far left and far right) visit their sponsored daughter Vanessa (left) and her cousin Tracy (right).
Terry and Vicki had the wonderful grace of being able to visit the place where Vanessa grew up, her grandmother (or jjajja's) home. Escorted by the headmistress of Vanessa's former primary school, Sr. Florence, Vicki and Terry saw where their African daughter also currently lives during holidays. How amazing to see two different worlds truly come together: two "Families in Christ" being blessed with the opportunity and the time to get to know and understand each other beyond their differences of culture and language.
The way that Vanessa's grandmother and cousins welcomed Vicki and Terry was very special. The entire family started laughing, yelling, and clapping their hands as they walked down the hill toward the house! Vanessa's Jjajja ran up to Vicki and Terry, warmly embracing them with hugs and in love. Though the grandmother did not speak much English, her granddaughters translated her Luganda greetings: "Banange!! Webale kujja! Webale emirimu! Webale kujja, abagenyi waffe! Banange!!!" "Oh my Lord!! Thank you for coming! Thank you for your work! Thank you for coming, our visitors! Oh my Lord!!" Thus Vanessa's grandmother, though not speaking much English at all, interacted with and spoke to the visitors openly and enthusiastically, not holding back anything. The language difference was not a barrier to the relationship at all. Neither family could hide their immense smiles, smiles that conveyed the immense joy of this relationship.
What was immediately obvious, overwhelmingly so, was how the O'Neill family was truly seen as part of Vanessa's family. Reminders of them were all over the house in the form of pictures and gifts from over the years. It was incredible to see the time and dedication that both families have taken to value their relationships with each other. On the table in the front room sat a photo album that Vicki made for Vanessa when she was in grade P2. In this "Book for Special Memories," each member of Terry and Vicki's family wrote a note, introducing themselves to Vanessa with pictures and different stories about their lives. Vanessa's family still has the book as their version of a "coffee-table" book for visitors to see in their front room. And on a wall hangs a picture frame with photos of Terry and Vicki's daughter and granddaughter. The O'Neills have truly become a real part of Vanessa's family.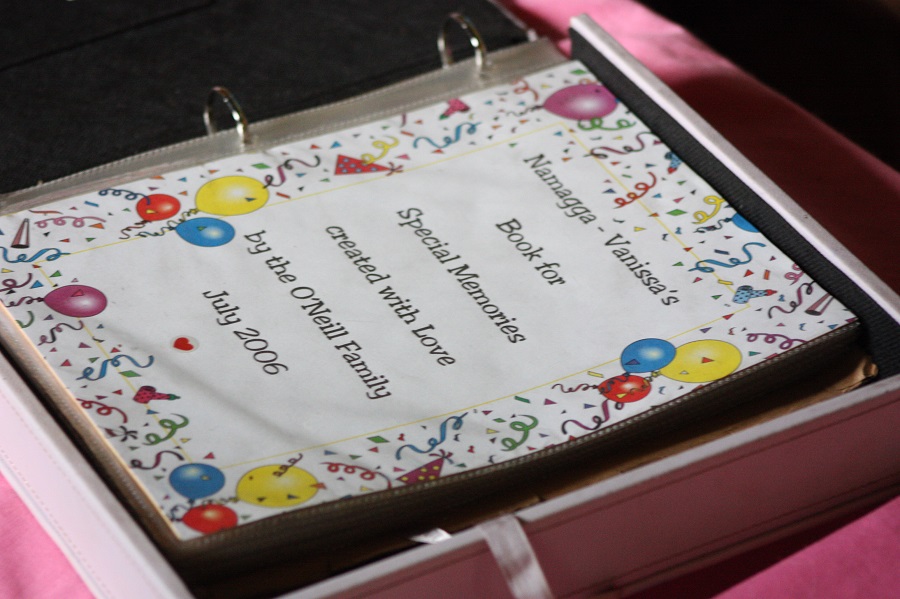 A photo album that Vicki put together eight years ago to help Vanessa get to know the family through pictures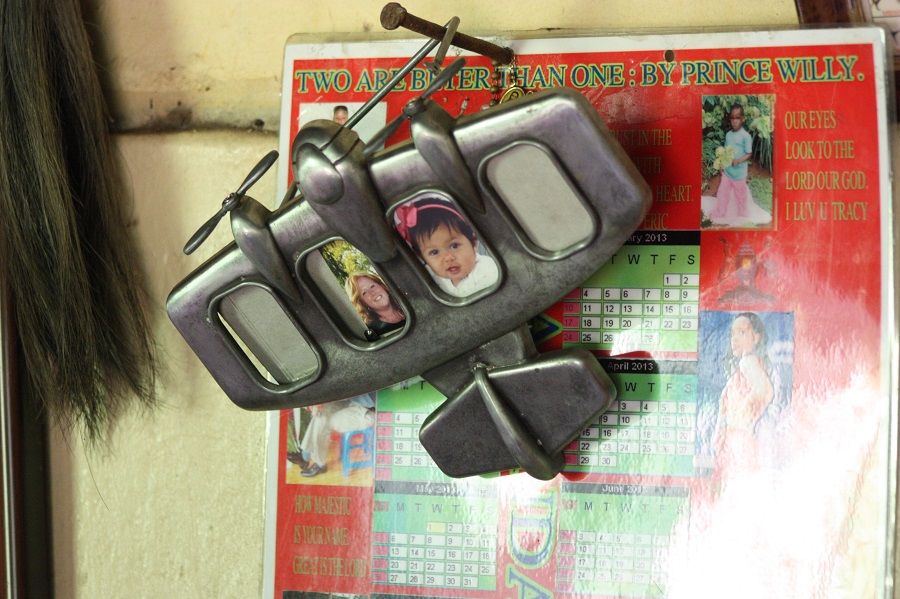 Pictures of Vanessa's American sister and niece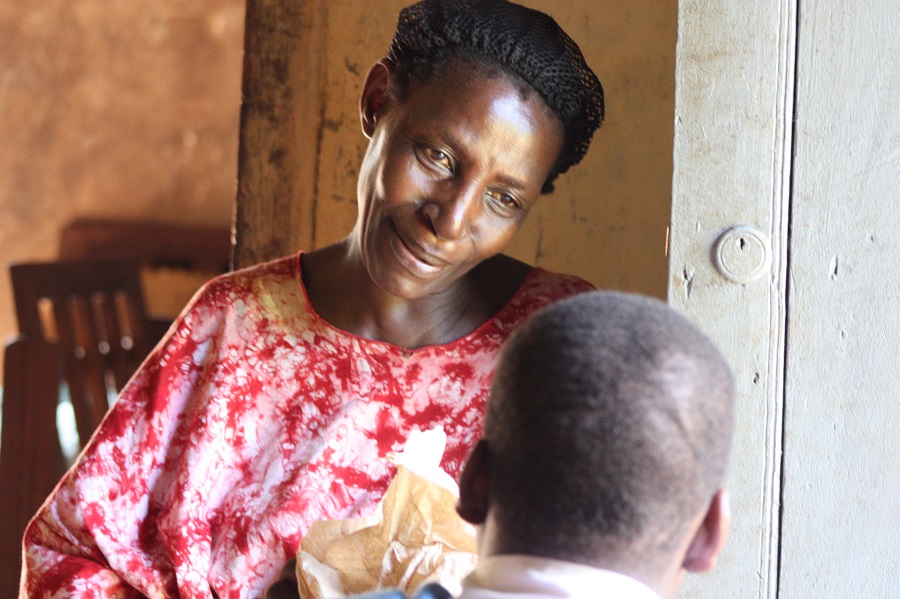 Vanessa gives her Jjajja a hand-made cross made by Terry as a gift to the family
Another amazing part of this relationship is the mutuality of giving and receiving. Terry and Vicki have blessed Vanessa's family immensely over the years by paying her school fees. Vanessa's grandmother has made it apparent that she has returned these beautiful gifts with constant love and prayers, a love made evident by her gracious hospitality for the O'Neills during their visit. Vanessa's grandmother was also very humbled by the gift of the hand-made cross that Terry made for the family. As she received this gift, in her eyes you could see the grandmother's deep pride in her granddaughter and her gratitude to God. Jjajja returned the O'Neills gifts with the she had to offer her visitors: gifts of bananas and avocados. Vicki and Terry were amazed at the enormous number of fruits they were given. The family, who does not have much in the form of material goods, wanted to give all that they could to express their thanks and love.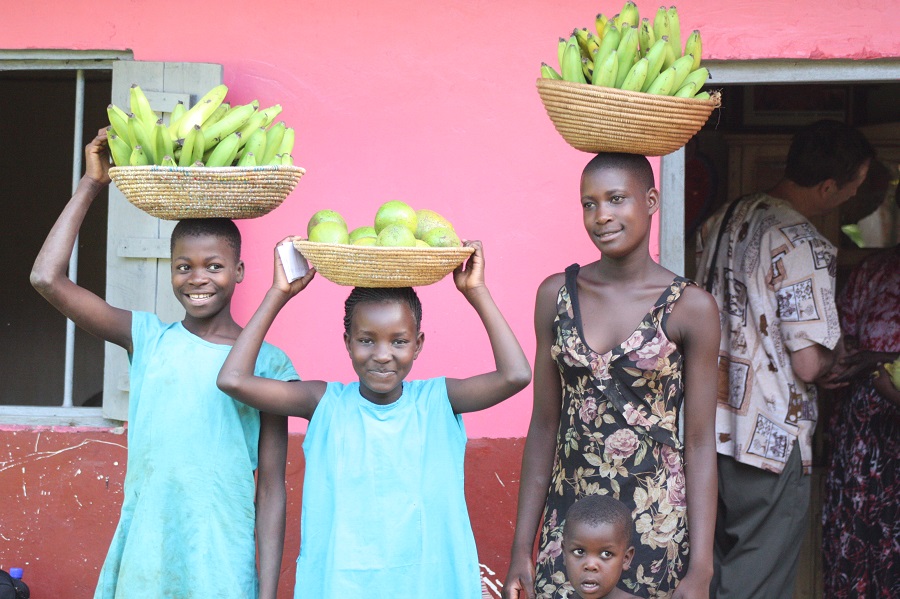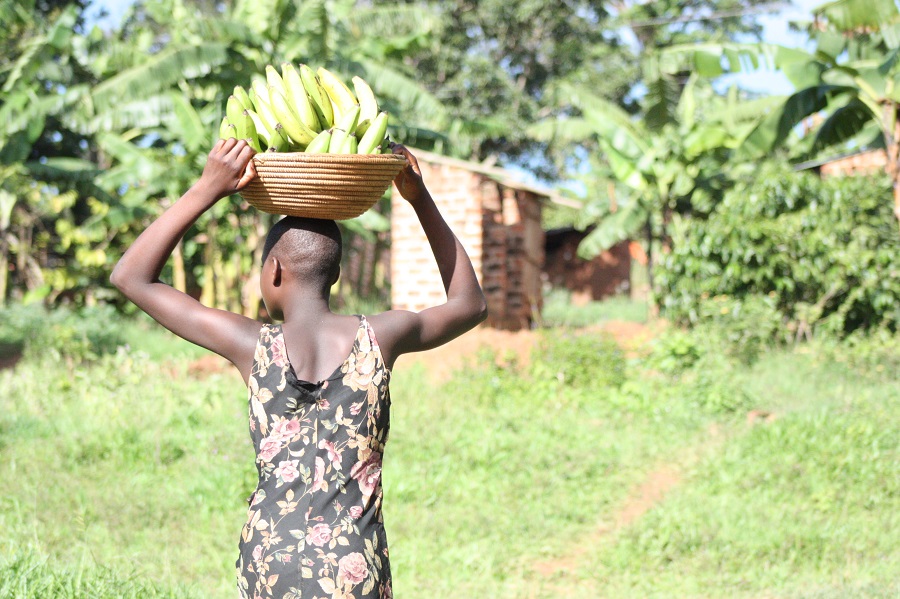 Vicki and Terry are so grateful for their visit with Vanessa and her family. As Vicki expressed so movingly, "I feel really lucky and blessed to have had the chance to come to Uganda and spend time meeting our CARITAS daughter, Vanessa. To hug and spend time with the beautiful child we have been sponsoring and sharing letters with for the last nine years is an amazing gift. When she took us to meet her grandmother and cousins and we saw both the love they have for her and their genuine gratitude for our sponsorship. This trip will stay in my heart for a long time."