Félix Joseph, is the Location Coordinator for CARITAS' Haitian child sponsorship programs. Below is a bit of background information and reflections by Félix to help everyone learn more about him.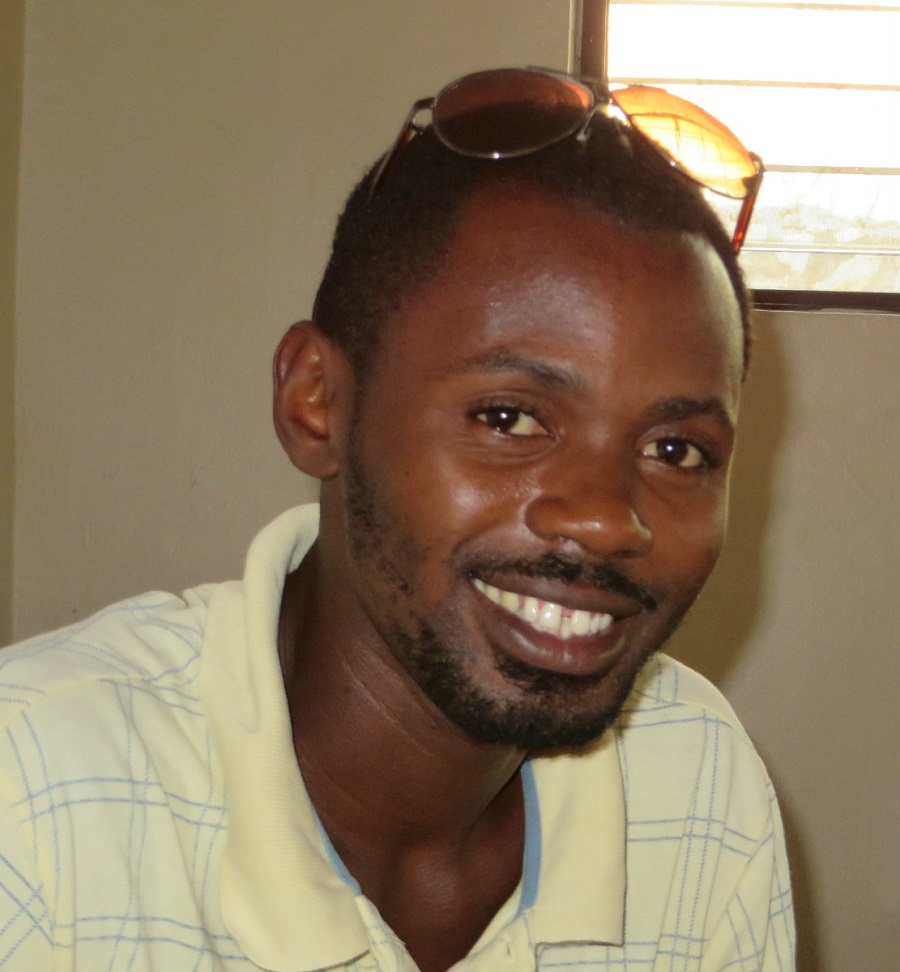 Félix Joseph, Location Coordinator for CARITAS' Haiti child sponsorship programs
Félix, where did you grow up and what was your home-life like growing up?
This is a long story to tell you exactly. So, I was born at Port-au-Prince, on February 24, 1982 in a nuclear family. My dad is a tailor. He used to go downtown to repair clothes for people. He said it was not so easy for him, but not so bad because at this time life in Haiti wasn't so expensive like today. Anyway, my mother stayed home to take care of us. I was three when I began to understand who is my father, who is my mother, sister, and brother.
Well, I remember, I was in the fourth grade when Father decided to leave and move us to the countryside. I wasn't happy with this decision because I liked watching TV. I was thinking in the country I wouldn't find TV to watch, even though, as a child, I forbidden that.
I went back to Port-au-Prince for my high school. I wanted to return there because I needed a profession, and I heard someone talk about The Salesian Missions school ENAM, the "National School of Arts and Trades" at Port-au-Prince. I told my father that I wanted to go to that school where I could learn something as a profession. He agreed with me. It was amazing, and I enjoyed the time at Port-au-Prince going to school. I learned sewing, which means that I am a tailor too. My father was not so interested in my studies because he wanted me to learn carpentry.
After four years, it was in October 1997 to 2001, my father said to me, "You have a profession now. You can go on your own." He did not pay any more for me. My mother, by her love for me, wanted to keep helping me. She decided to go to the street market at the town to sell things to help me and the others. It was not easy for her to find money. Since I was new in the profession I couldn't find work that easily. I could not do great things because I did not finish with the high school. In that school they give both at the same time (the academic classes and training in the trades). When somebody goes out, he completes the professional study, but he misses two grades to complete high school.
Was it a struggle obtaining school fees as a child?
Oh yeah, the responsibilities of my father were heavy, because he had three and more children to feed and pay the school fees. It was not easy.
So he went to the countryside but he did not have enough land to labor on and farmers do not earn too much money from their harvests.
Sometimes they would take me out of school because of the school fees. It was very far from home and I had to go on foot every day like this on the same road.
Did you ever have to miss school because there was no money available?
Sometimes I missed school because my parents did not have enough money to pay for me. My parents are farmers, and normally the farmers get money from their harvest, if the seasons are good. (I mean if the crop is not destroyed by hurricane or dryness). Meanwhile, when the seasons were bad, we had many struggles to pay our tuition.
Is your faith important to you? If so, how does your faith impact the work that you do?
My Catholic faith is very important for my life, it keeps me from falling down in bad situations and helps me to live an honest life. I have thought about faith since working with Fr. Delmas Camy in a parish in Baudin, Haiti [a rural mountain village 42 miles outside of Port au Prince], in the diocese of Jacmel. Going to church and listening to the gospel taught me how to serve and to love my brothers and sisters in charity and honesty. For me the greatest moral is from Jesus.
And there, I worked with children. In that school I was a "counselor", I had a way to manage them to help them succeed in the school. I worked there 5 years, so it was a mission for me. That experience of faith was a good time of education for me.
Why did you feel the call to serve the poor and children specifically?
My vocation to serve the poor and children began after I was employed by Fr. Camy, especially in working with the pupils and their parents at the school of the parish in 2008. Baudin is a rural area where only farmers live. In Haiti the farmer is one of the poorest groups. Working with them for five years, I learned a lot of things about their life and their situation. I was very close to Fr. Camy. He is a priest who loves children and poor people and he gives great importance to the poor people. He always taught me to love and serve them. We would always discuss together to see what we could do to offer a better service to our students and to change their difficult situation for the better. Finally, he gave me the responsibility of taking care of the meals for the students and listening and talking to them when they had difficulties paying their school tuition. It was not an easy job, because Baudin is far from the towns, we didn't have good infrastructure; we had to buy everything in Port-au-Prince. Very often we went to Port-au-Prince to buy food for the school, in a place named "Coix-Bossal", one of the most difficult areas of Port-au-Prince. As I said, the job was not easy but I loved it, because it made me helpful to the community and the country. Also, the community appreciated my service and loved me so much. After my five years of service to the community of Baudin, I am now working with CARITAS For Children in areas like Marbial. These experiences have shown me how very important it is to serve the children and the poor, because they really need support. And I am proud and happy when I am serving them, because I feel that I give a good answer to Jesus in his gospel of Matthew 25: 31-40.
Describe for us your position with CARITAS For Children. What exactly do you do in Haiti?
I am very positive about working with CARITAS For Children. When I go to visit somewhere, It's my job to talk about CARITAS For Children. When I have to explain about CARITAS, I include myself in the group. For example; I could ask myself some question just to give an answer like: Who are we? Where are we? What do we do to find money to help? I accepted the position at CARITAS For Children with a positive heart; not for the money, but to keep my word.
As the coordinator in Haiti, I help to create relationships between the children and the sponsors. I translate letters from the sponsors into Haitian-Creole for the children, the same from the children to the sponsors, except translate into English.
I take pictures of the sponsored children to make the sponsors sure of their children in the program. I try to understand the children's stories to make people who want to help become more sensitive to their situation.
I meet with the Sisters to help them embrace the program and I meet with the parents of the children to explain about the program. I visit children's houses when it's possible.
I register new children in the program and take their picture too.
I refresh the list when I visit each location, that means if the child is finished with primary school and goes on to another school we don't know where, I drop this one from the list and so on. If there is some other problem in the family and they can't stay in the area where the school is located, I bring the list up to date.
What have you enjoyed most so far working with CARITAS For Children?
I enjoy the way CARITAS For Children appreciates me. Juan [Juan Urrea, CARITAS Program Administrator] spends time with me talking about CARITAS For Children; but my greatest joy working with CARITAS is because it helps me to serve my people, especially those who are the most poor.
What has been the hardest part of working as Location Coordinator for CARITAS?
Yahhhhhhhhh! Ok, when it's time to visit, I still plan with Juan and he sends me a list of children, some are registered and others are available, so I can plan to spend 2 days in the location where I have to go. When I get there I see the work will take three days or more. Now it is so far from Port-au-Prince. I have to stay to finish even if I have other work in Port-au-Prince.
Sometimes people don't want me to take pictures. For the Blog it's always interesting to take pictures, but they really don't want to have their picture taken; so very different if I were a visitor. With a foreigner they can hope for some help from you; that means they can easily accept to have their picture taken. For me, I have to take time to make friends with them. Very difficult here, you know the culture is different, they believe in voodoo here in Haiti.
Another thing as a coordinator, when I come with a list, I have it with the ID of the child, child's name, and finally the sponsor's name. Sometimes it's difficult to see if the sponsor is male or female, when the names are very complicated.
What are you most looking forward to in continuing your service with CARITAS For Children?
So! I can say, I'm looking forward to many things in my service with CARITAS For Children. I'm looking forward to great growth of the Haiti program; having an average of 500 children.
Working with children and poor people is my passion.
---