Part II: Becoming Brothers and Sisters
Making our way through the rubble-strewn streets of Port Au Prince, we came to a sudden halt. Trucks traveling in opposite directions tried to squeeze through a single lane. Mounds of broken concrete, cinder blocks, and mangled rebar swallowed up one side of the road. Amid these jagged mountains of debris, haphazard tents served as the homes of Haitians, young and old.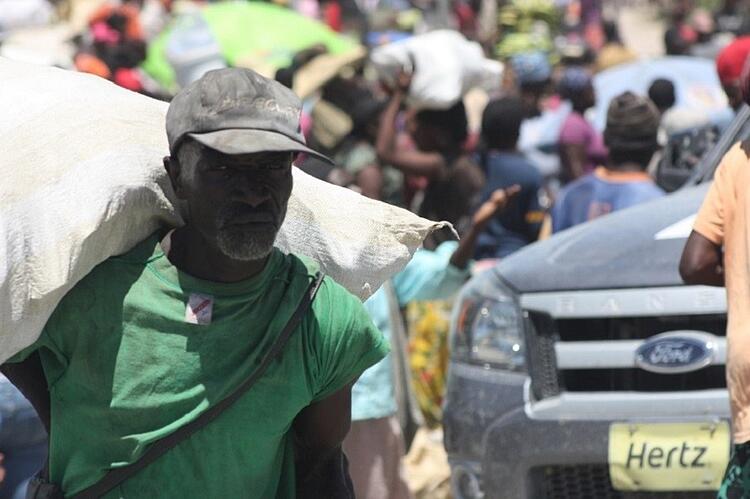 Weaving through the busy streets
Though there had been some progress since our last visit and much of the rubble had been removed, the city was still in shambles. As we continued our drive, it began to rain. Soon the swelling sewers, full of garbage, spilled over and began to seep into the tents which the people were still using for shelter. Under these very difficult conditions, the people of Haiti continued to struggle to rebuild their lives.
We returned to Haiti because, as Pope Francis reminds us, "Poverty calls us to sow hope." More than money, more than temporary relief, hope was what the Haitians needed. The Vatican II document Dei Verbum explains the mysterious way in which God's saving power gives rise to faith, so that by believing, people may hope, and by hoping they may love.[1]
This was our mission: To build a faithful relationship with the Haitian people and foster the love – caritas – that could truly help them heal and prosper.
Yes, a Haitian child such as Joseph needs love as much as he needs food or water.
No amount of money could restore the loss the people of Haiti endured. Only love could help them to live again. No amount of temporary aid could turn the dust of crumbled buildings into light.[2] Without love, our efforts would have been little more than a "resounding gong or clashing cymbal."[3] Only Love would never fail.
Knowing that the source of love is hope, and the source of hope is faith, we returned to the children and Sisters at Ti Riviere (whom we had met on our first trip) to be in solidarity and strengthen their trust in us.
Fifty-five little girls, such as Magdala, call the Sisters' orphanage in the small village of Ti Riviere home.
Magdala represents so many Haitian children. She has suffered the consequences of generations of poverty. As an orphan, she has been isolated by circumstances beyond her control. Though we could not speak the same language, we could still share a hug. Though she had been shy around us at first, she grew to trust us.
About 400 children from the village also attend the school run by the Sisters in Ti Riviere. During our visit we were welcomed by the primary school students singing and praying the Rosary in French Creole.
We delivered letters and small gifts to the children from their sponsors. Their smiling eyes showed just how much this meant to them.
The funny thing about solidarity is that it's not built by throwing money at a problem. It grows when we listen, even though we don't understand the language. It spreads when we spend time together, whether in person or via Skype.
Solidarity grows when we share our sunglasses to see the world through another's eyes.
As we visited, the girls at Ti Riviere giggled with joy and took turns striking movie star poses for the camera.
Even the Sisters themselves suffer from isolation. We wanted them to feel that they were not alone in the struggle to care for these children. So, we came to stay with them, to listen, and to share our stories. We came to learn each other's language.
And despite all the challenges facing Haiti, our second trip gave us a deeper understanding of what St. Paul meant when he wrote in his letter to the Romans: "… we even boast of our afflictions, knowing that affliction produces endurance, and endurance, proven character, and proven character, hope,and hope does not disappoint…."[4]
[1] Dei Verbum 1
[2] St. Louis de Montfort, The Secret of Mary, beginning of the first part.
[3] 1 Corinthians 13:1
[4] Romans 5:3-5
Read the conclusion to History of CARITAS For Children in Haiti: Part III: Getting to Know the Shepherd.