Before I entered St. Francis Hospital in Nkokonjeru to volunteer and shadow the health practitioners there, I did not know what to expect. My first day of visiting the hospital I was brought to the administration office where I explained that I had volunteered in the emergency department at a hospital in the US and had lots of experience cleaning rooms. From this, funnily enough, they thought I wanted to clean their rooms instead of work alongside doctors and nurses. Eventually, I was placed in their outpatient department.
St. Francis Hospital is where any of the kids in CARITAS' child sponsorship programs would be taken if they became ill. The hospital is under the direction of the Little Sisters of St. Francis of Assisi, the same religious order with whom CARITAS partners for educating children. Sr. Carolyne, the CARITAS Program Coordinator, put me in touch with Sr. Josephine, the hospital administrator, when I told her I was interested in volunteering in a hospital or clinic setting during my internship in Uganda with CARITAS' child sponsorship programs.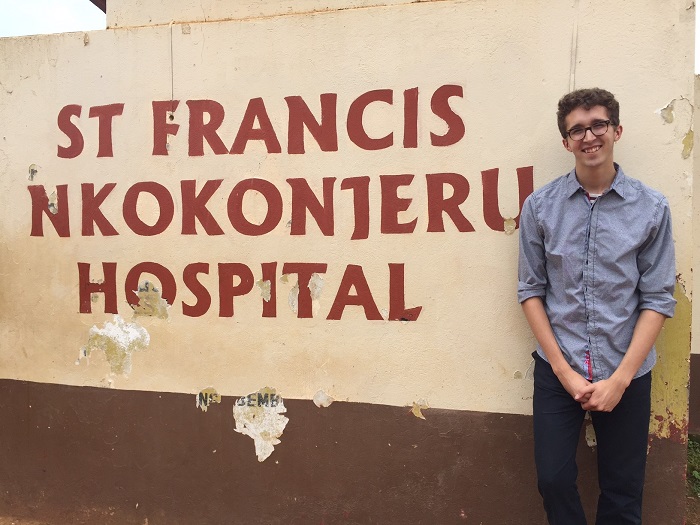 Samir in front of the hospital where he is volunteering during his internship in Uganda with CARITAS For Children. Students enrolled in CARITAS' child sponsorship programs are treated here if they become ill.
I've wanted to become a physician for years and have been doing all the necessary preparations for admission into medical school but have taken little time to observe first-hand clinical work. Helping out at St. Francis Hospital allows me to do just that and is providing the opportunity to gain a better understanding of health care in developing countries. Global health is also an area I have been interested in.
The first doctor I shadowed was named Joel. He was extremely calm and polite to both me and his patients. He happily answered any questions I had about why or what he was doing. Most of the time I just tried to respectfully observe his work and grab any supplies that he might need in the moment.
On my third day of volunteering and observing at St. Francis, something quite unexpected happened. The corner of one of the consultation rooms has a hand-washing sink attached to the wall with a few cracks between the sink and the wall. Slowly but steadily, small red ants began crawling out of one of these cracks. I really wasn't expecting something like this. When the nurse I was shadowing saw this, I thought she said, "I need to get Jake." I thought to myself, "Oh great, Jake will take care of this."

But my ears searching for an American sounding name misheard her. She was referring to "JIK" a brand of bleach the hospital uses. When I asked her if someone was coming, she looked at me confused and said no, we had to go and get JIK. A few minutes later, armed with our JIK we cleared out the walls of the unwelcome ants and sent any equipment they might have touched to be sterilized. Although ants don't carry bacteria that can harm humans, it was certainly unusual to see. It was also clear that the nurse was concerned about sterility. When we were all done, a sweet, clean bleach smell filled the room.
I've had experience volunteering in two hospitals in Madison, Wisconsin. It's clear so far that things are simply not the same in Nkokonjeru, Uganda except for the standard of care. Thus far in my time here, the doctors and nurses I've observed have been marvelously competent and compassionate in their care of the patients of Nkokonjeru. I look forward to learning more (but maybe less ant clearing).
Learn about CARITAS For Children's opportunities for service work at our international locations. See photos and read stories of previous volunteers in our e-Book.