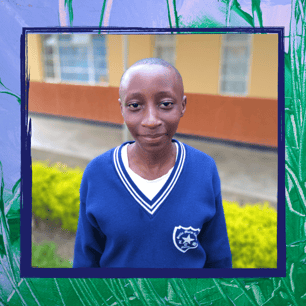 This week, we are shedding the spotlight on a 14-year-old student from Nkokonjeru, Uganda named Victoria Vision who is seeking someone to support the remainder of her Secondary-level education. Having been previously sponsored through CARITAS, she was able to complete Primary School and reach the second year of Secondary School (equivalent to sophomore year of high school in the U.S.). During her first two years at Secondary School, she discovered that her favorite subject is Chemistry, and decided that she would like to become a midwife who helps poor mothers who don't have the access to a proper hospital. Unfortunately, Victoria's previous sponsor is no longer available and so she has no-one to provide support to continue her education and achieve her dream.
Victoria's father passed away when she was very young. Her mother suffers from pain related to an accident that happened two years ago and has kept her unemployed, therein making it impossible to pay for her daughter's education. But from the day Victoria (also known as Vision) was born, her mother had hope for her daughter's future. She saw in Vision a soul that would blossom beautifully, with purity of heart and an unwavering love for the Lord. So she named her child after the "vision of victory" that emanated from Victoria's shimmering brown irises, with faith that God would be with her through the trials and tribulations that we call life. Victoria's mother's faith is that of one who sees only one pair of footprints in the sand and understands why.
The "vision" that Victoria's mother had for her daughter has so far unfolded wonderfully, as Victoria's previous sponsor was able to put her through all of Primary School and some of Secondary. But, as we all know, our lives are beset with obstacles and occasional derailments that are sometimes unavoidable no matter your commitment to the Lord. It is a testament to the purity of the hearts of young individuals like Victoria that their hope does not not waver in the face of adversity. Instead, Vision is holding on to her namesake and reaching out via CARITAS to find a new sponsor.
By becoming Victoria's new sponsor, you are aiding her advancement in a career where she aims to serve our poorer brothers and sisters in Christ. Not only this, but the sponsor-to-child relationship can last a lifetime and bring unprecedented joy to both parties involved. The goodness of such a relationship, one that is built on the sturdy foundation of God's Love (caritas), will become the catalyst for hope in impoverished and underprivileged communities where hope and love are most needed.
To sponsor Victoria Vision, click on the button below. Also, at the bottom of the page is a brief, introductory video where Victoria tells us a little about herself.