Troubled by the number of children coming to school each morning with empty stomachs, Sr. Lucy, Headmistress of St. Anthony Nursery School in Nkokonjeru, Uganda, came up with a plan. St. Anthony is one of the schools where children sponsored through CARITAS' child sponsorship programs attend. These sponsored children come from some of the families that are most in need in Nkokonjeru. CARITAS wanted to help.
A CARITAS volunteer, Madeleine Richey, who had been helping out teaching at St. Anthony learned of a project that Sr. Lucy had started but had been stalled due to lack of funds. Sr. Lucy showed Maddy where she was slowly constructing a chicken coop where she intended to raise egg-laying hens so the children at St. Anthony could have a protein-rich addition to their morning porridge. For many of St. Anthony's students, this would be their first meal of the day.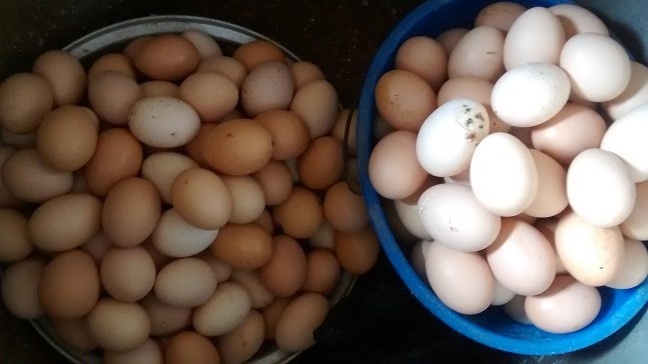 Sr. Lucy's hens are laying eggs!
Recognizing the value of this project, Maddy took it upon herself to find donors to fund the project and it came to fruition. The Sisters purchased chicks and raised them over the course of several months. CARITAS' Program Coordinator in Nkokonjeru, Sr. Carolyne reports, "We have twelve cocks and twenty six layers. Keeping chickens is going to be an ongoing project for St. Anthony school."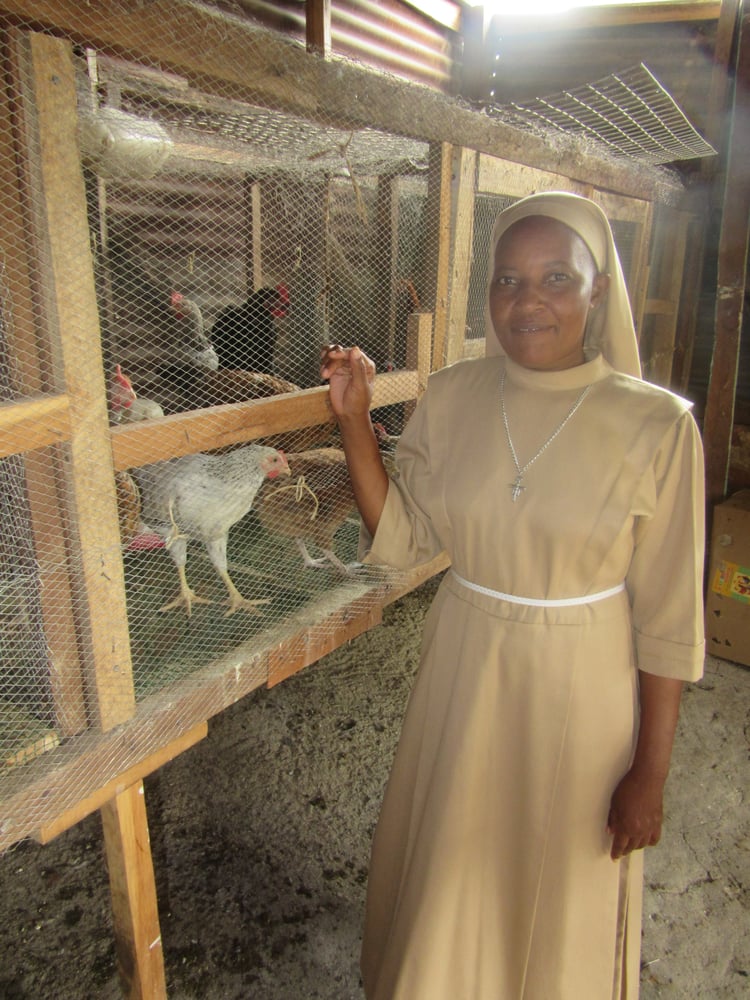 Sr. Lucy, Headmistress of St. Anthony Nursery School where CARITAS has one of its child sponsorship programs
At this point the Sisters collect over twenty eggs per day. They want to wait until the eggs produced by the chickens are larger before they sell them at market. They expect to sell extra eggs that are not used by the school to cover school fees for families who cannot afford to pay until permanent sponsors are found.
"But the children have enjoyed them [the eggs] the previous term," Sr. Carolyne said, "The eggs are boiled and served hot, though the children eat them when they are warm with salt. The eggs are eaten alternating with bread. This is because they are few and they can't eat them on a daily basis. Each child eats one egg."
The Little Sisters have additional projects in mind for improving the lives of the people in their community. Sr. Immaculate Kyomukama, the Principal of St. Anthony Nursery Teacher Training College, would like to start a fish farm to provide additional protein-rich food for the St. Anthony students as well as the elderly Sisters.
---