Fr. JohnBosco Wasswa is in the United States visiting the American parish with which his parish church, Our Lady Queen of Apostles in Nkokojeru, Uganda has a twinning relationship. Since many of the children of his parish attend school through CARITAS' Catholic child sponsorship programs, he has come to meet with Chris Hoar and the Milwaukee office staff as well.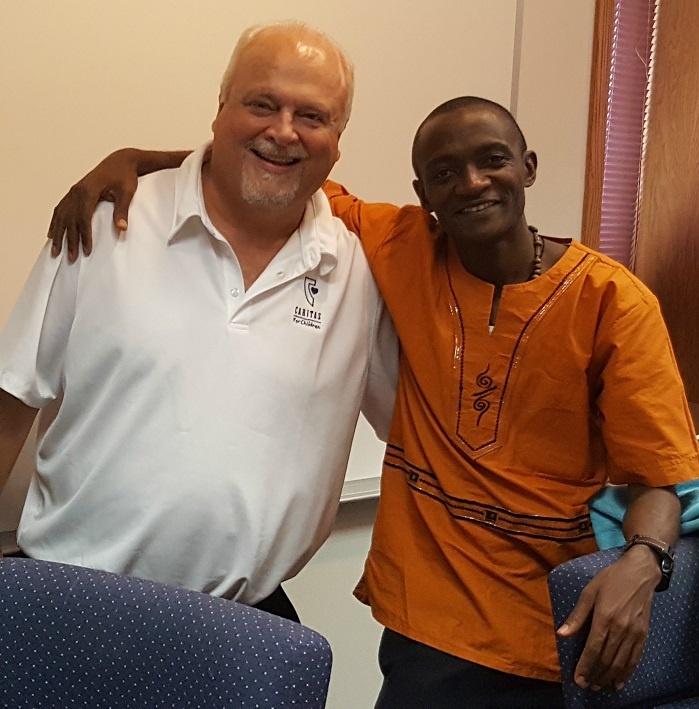 Deacon Rick Wirch, Director of Development and Ministry for CARITAS' Catholic child sponsorship programs and Fr. JohnBosco Wasswa, pastor of Our Lady Queen of Apostles in Nkokonjeru, Uganda getting to know one another.
Fr. JohnBosco is a soft-spoken, patient, and kind man. These qualities serve him well in his role as pastor in Nkokonjeru. Does that mean he cares for the people of a single parish or maybe two or three as some of us see our own pastors stretched in the United States? Fr. JohnBosco tells us he is the steward of 27 parishes, plus seven parishes on some of the individual islands of Lake Victoria. They are fortunate if they have Mass once a month.
His staff consists of 3 priests including himself. "Basically two," he said, "because one priest is 70-years-old, and close to retirement." Additionally, Fr. JohnBosco is head of the religious movement, The Legion of Mary and the Assistant Vocations Director.
"I'm always running up and down," Fr. JohnBosco said. After the 7:00 a.m. daily Mass, his parishioners continue to seek him out.
"People are knocking at my door saying, 'Father, I don't have money for school fees for my children.' The need is great, sometimes overwhelming. I do what I can. I usually call Sister Carolyne [CARITAS' Program Coordinator in Nkokonjeru] and tell her I'm sending her some families."
When you choose to sponsor a child, "You are leaving a great landmark," Fr. JohnBosco said, "We are so grateful."