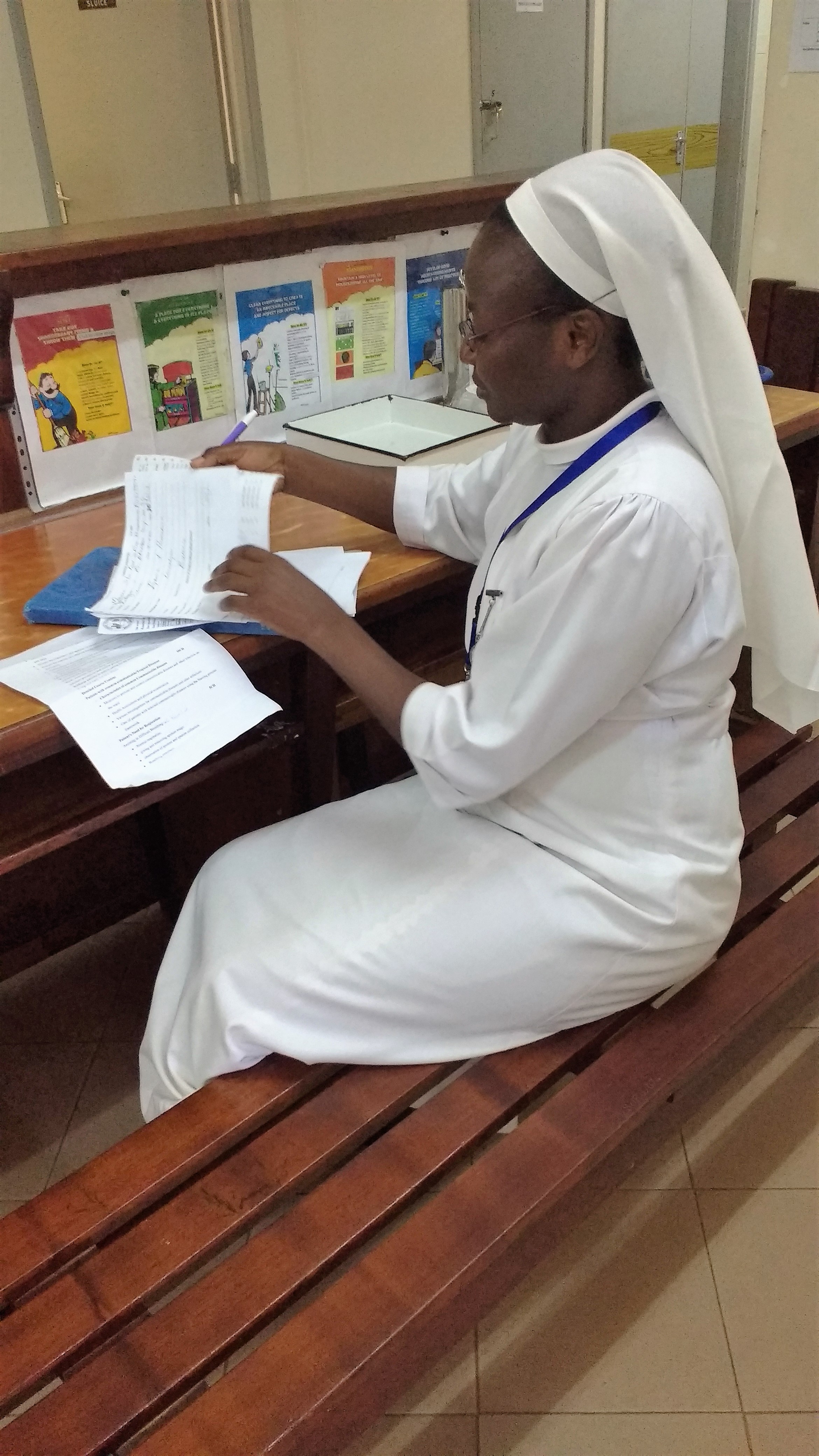 As a Sister, the mission of my vocation is to reach out with compassion to the marginalized of society in the spirit of St. Francis, our core founder. We strive to reach many parts of Africa with limited resources; the uneducated, the oppressed and the less privileged.

Our calling, which empowers us with the knowledge and skills to better serve within the community we live, includes: nursing, education, and social work and is always imbued with our Francican spirituality . I am a registered midwife with great passion for mothers and children. It's always my joy to see them thriving.

In Africa, women have always been neglected. Women are not allowed to own property, can't seek leadership roles, and are even denied some basic foodstuffs. Because of a lack of education, girls are often forced to marry at an early age. As their bones are not fully ossified they end up with child birth complications like fistulas, obstructed labor, hemorrhage or even death. Those young mothers, a key component to the continuity of life in Africa, need to be handled with great care by a skilled person, especially during delivery.

As religious we serve in remote, doctor-free, areas where often the only assistance available are nursing assistants with limited knowledge.

The challenge I faced as a midwife was finding people with varied conditions that would turn up at the health center seeking more medical attention than I was qualified to provide. That challenge inspired me to expand my training for wider areas as a nurse. Training to manage different medical and surgical conditions would allow me to provide better health care for those seeking varieties of medical attention.
My dreams came to reality when I was able to pursue a bachelor's level nursing degree, which includes four years of clinical practice studies and a one year internship.

Nursing is a noble and interesting profession that requires a broad mind, critical thinking, total dedication and sacrifice. Thus far, I have completed two years of studies, and the resulting experience has been of immense value at school and at clinical practice sites. My studies have included general nursing, first aid, guidance and counseling, improved communication skills, and various medical and surgical conditions and their management.

I believe a nursing degree and my midwifery skills will greatly benefit any community where I am sent to serve in my role, both as a Nurse Practitioner and a religious sister. I'll be able to take care of the physical, social, emotional and spiritual needs of many different people for God's greater glory and honor.

My special thanks go to my congregation for connecting me with CARITAS For Children to further my education. Thanks be to God for His call for us to be set apart to serve His people in different ways in His vineyard. I feel privileged to have had such a golden opportunity. God's blessings be upon our visionary leaders and all our supporting congregational members.

Thanks to CARITAS for the unique works of love and care of God's people. CARITAS, you have touched so many lives, far and near, and restored hope by providing them a future. I am extremely happy and grateful to God to be part of the CARITAS family of beneficiaries. May peace, love, unity and prosperity reign upon the entire CARITAS family and bless all the its collaborators throughout the world. Long live CARITAS For Children.

To Michael my dear sponsor and father, I have no better words of thanking you, nothing to give back, apart from my hard work, making you feel proud, and my prayers for you for God's protection and guidance. You have a special passion and attribution for nurses and their work. It's from this view you sacrificed your assets to educate a nurse and a sister. You are such a loving, caring and generous person to enable me to realize my goals, dreams and God's plan for me. Thanks for your thoughtfulness and kindness of heart through CARITAS to ensure I am comfortable at school and many different clinical practice sites. It's in giving we receive and God loves a cheerful giver. May He reward you abundantly for your generosity of heart and grant you good health of mind, body and soul. It's my prayer that God inspires more people like you so more young people can seek knowledge, to become supported to achieve their goals and careers in life through CARITAS, empowering them with skills of service to Gods people.

Finally, my special thanks to Mr. Chris, such a hardworking and dedicated person. Thanks for being a loving and caring father. Thanks for the coordination and collaboration with Michael, helping make everything run smoothly. You are always there for me to speak my mind, even when I feel I have nothing to say. Thanks for your total commitment in serving God's people in CARITAS for His needy children. There is joy in service, may God grant you His fulfillment here on earth and in the life to come.
Sr. Beth...with His love.