Dear Caritas Friends and Sponsors,
It gives us great pleasure to share a message we received this week (see below) from our Chief Coordinator and Technical Director in Uganda, which confirms all school funding for the Second Term is in place and all of our sponsored children are in school!
From: kkonde joseph
Sent: Monday, June 26, 2017 2:14 PM
To: Chris Hoar <cthoar@caritas.us>
Subject: The funding for Second Term has arrived and the children are happy in school....thank you...
It has been about one month since the beginning of our Term which began 29th of May 2017. The intake of our students is always very busy, especially for our boarding schools, which is where I have been working for more than 33 years, and nearly 20 years as the Deputy Head Teacher at an all girls Boarding Primary School, in the parish of Nkokonjeru, Uganda. Add to that a supporting commitment as the Technical Coordinator for CARITAS For Children for the past 15 years, where we also greet hundreds of Caritas Students for some 15 different schools around the Diocese of Lugazi. In these many years as an educator in this part of Uganda, I can easily testify to just how grateful all my colleagues are for all the bright faces of children showing up at school to begin each new Term. Picture if you can, thousands of children pouring into an area, including Caritas students from various school locations assembling for a new term. While t is a great amount of work, it is something we all look forward to doing in each term, three times a year.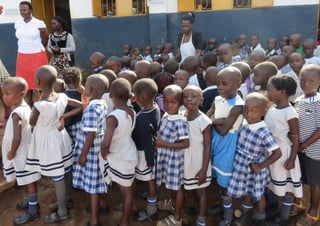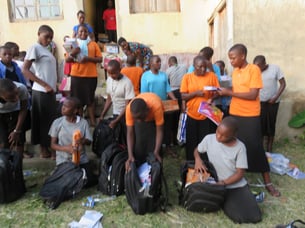 This scene appears as a hectic mass of excited children. They are moving all about setting up bedding in the boarding schools, locating their requirements for the dormitories and or classrooms. There are so many children lining up just about everywhere. Reminders are given to ongoing pupils (primary) and students (secondary), new students following their older classmates and orientation for all. Teachers who live on campus are also returning to their living quarters all making ready for a grand new beginning taking on all the necessities ranging in ages from 3 in our Baby Schools to Primary and Secondary levels up then on to our 18 to 20 year-old students attending Post-Secondary, Tertiary and or University schools, this latter group needing even more demanding needs to fit the unique circumstances each one presents for our help.
The list of requirements/supplies can include so many items that have been pre-packed for their arrivals. They receive plastic bags full of their school and personal hygiene supplies, depending upon their gender, age and program levels.
Apart from the basic materials such as pencils, pens, workbooks, rulers, scholastic materials and supplies in the Day School locations, the boarders also receive personal items like soap, toothpaste, toothbrushes, shoe polish, scalp and skin lotions, toilet paper and maxi pads directly as part of their being supported by CARITAS For Children. Having basic school and hygiene supplies at the start of the term ensures that all our boys and girls are able to focus on their studies and living needs. Uniforms are another requirement and will vary from school to school.
Boarding school children are especially busy organizing so many different items to be used practically all the time from the moment they arrive until they depart each Term. Transportation is another big part of the process, as many live too far away to walk. Children poor into this area for to attend their Boarding Schools, from several routes. The drivers must coordinate the dispatch of different vehicles to fetch our children back to school before classes begin.
Depicted below is an image of a new school bus that was acquired last year. It is a very safe vehicle and makes many trips around the region at designated locations finding the students for school. Several other vehicles are also used for the same purpose for each term, coming and returning.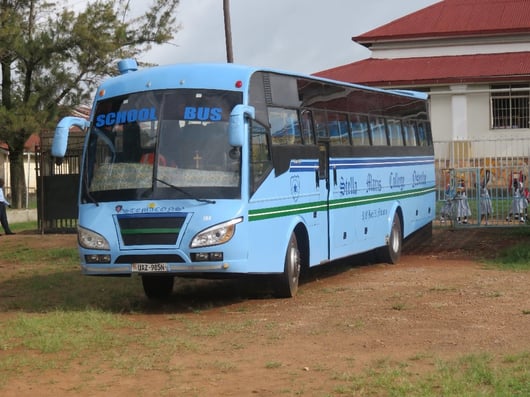 Yes, it is extremely busy three times a year. The reasons for this excitement will vary among our children and their families as well as administrators, matrons and teachers. The Parish Community really comes alive in so many ways. The Hope and excitement received by our Caritas Children is something extra special to see.
These are the children who used to sit along the roadsides, hidden away in the "villages" where there are no roads ahead and so many are left behind for life. Instead, kids are being provided with a way to be educated in excellent school settings and especially those attending any one of our many Catholic Diocesean school locations. These are the best times of our children's lives. A true enrichment for the entire community. Children come to learn and develop a life-long outlook of principals, values and love for one another. Raising children is not an easy job, but let me say from my 33 years so far, I don't know a more rewarding work to be found. I know how important a solid education is for our children; especially in places like in Uganda. A child growing up without education will be so difficult in the many ways he or she will suffer not only individually, but also entire families within each community. We teach our students that education is the best way forward for a life full of opportunity and reward.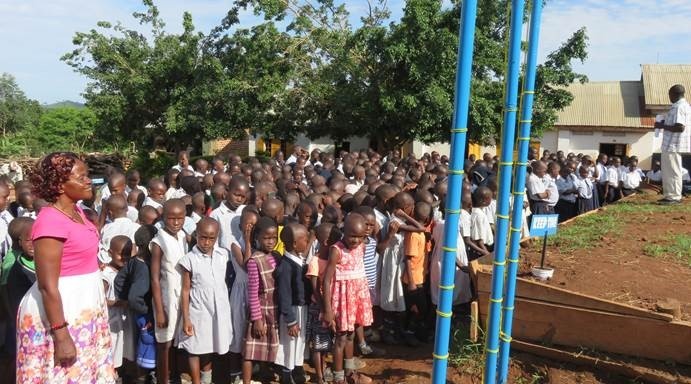 All pictures were taken by Joseph Kkonde. (Far right in picture below wearing white)
With our prayers and gratitude,
Joseph
Joseph Kkonde, Chief Coordinator & Technical Director
CARITAS For Children—Uganda