"I would hope that the sponsors know they're doing an important job. They are doing the work of Christ," said Sister Marie Délivrine Lops – Secretary of Education of the Little Sisters of St. Thérèse of the Child Jesus, CARITAS For Children's ministry partners in Haiti. Farron Horton, who is working for CARITAS' Haitian child sponsorship programs in the position of Volunteer Mission Liaison, recently had a conversation with Sister Lops and had asked her what she hoped sponsors gain when they choose to sponsor a child. Their discussion follows in a question and answer format.
Farron Horton (FH): What role does CARITAS For Children play in supporting the mission of the Little Sisters of St. Thérèse of the Child Jesus?
Sister Lops (SL): "CARITAS has helped us build our house again at Rivière Froide. I remember going to Milwaukee to speak with some people to tell about the damages the earthquake made to our house. It was a wonderful experience."
FH: Do you think the sponsor to child relationship is important?
SL: "Very important. Without the sponsors help, the children will stay at home."
FH: What do you hope sponsors gain from the experience of sponsoring a child? How does the sponsors support make a difference in the child's life?
SL: "I would hope that they know they're doing an important job. They are doing the work of Christ, because they don't even know these children or their families. Their charity is very appreciated."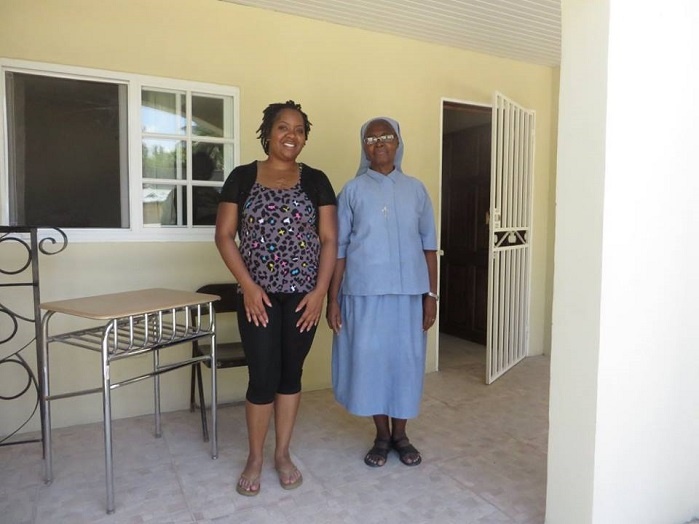 Farron, Volunteer Mission Liasion for CARITAS' Haitian child sponsorship programs with Sister Marie Délivrine Lops – Secretary of Education of the Little Sisters of St.Thérèse of the Child Jesus, CARITAS' ministry partners.

FH: Why is the ministry partnership between the Little Sisters and CARITAS For Children important?

SL: "Even though there is a language barrier, as we speak French and Kreyol and CARITAS speaks English, the partnership is important because it is helping the students."

FH: What are your hopes for Haiti's future?

SL: "I hope for better living conditions and that the country would develop more."

FH: What would you like for people living outside your country to know about Haiti?

SL: "Actually I would like for the foreigners that come to Haiti to know that we see the sacrifice that they make. I know that things here in Haiti aren't as clean as the US. It's hard to adapt to the heat here. They're eating different foods that you don't eat at home. That is hard, but we're grateful for it. Also, not every place is dirty in Haiti. The dirty places usually have to do with people rebelling against the government. People that don't respect the government don't keep the country clean."

FH: Is there something that you would like CARITAS sponsors to know?

SL: "We are grateful. If sponsors could send things like little crafts or balls for all of the children, that would be great. It will keep the sponsors in the forefront of the child's mind. I say this because the children can't always make the connection of school being important for them at this age. Thank you."