There are many reasons to lend your hand in service to impoverished or disadvantaged people. You may want to change the world for the better, even if by a small fraction of what you wish you could do. Maybe you're seeking additional spiritual fulfillment and have been directed towards the path of service by someone at your church. Perhaps you crave learning and wish to be immersed in an unfamiliar culture, or maybe you simply have some extra time on your hands. The reason is not what matters. If service is even but a fleeting thought in your mind, pursue it. There are many in this world who need help and have not the means to help themselves. The only solution is love and the recognition that everyone is the same in the eyes of the Lord.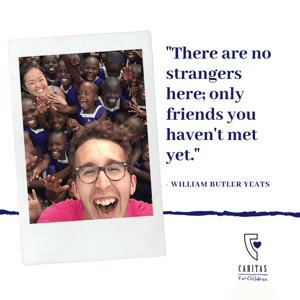 Dealing with the cultural adjustment of service abroad may seem daunting, but when you break past the initial nervousness, you find love. As the Irish poet William B. Yeats wrote, "There are no strangers here; Only friends you haven't met yet." Worlds collide when a 21st-century American approaches a village of 21st-century Ugandans with a heart to help and a mind to know how. Divine beauty exists within this encounter. It is an encounter between two people who come from such vastly different circumstances and are yet united in their discipleship of the Lord. The beauty of such an encounter inspires hope in those who truly need it, building bridges on strong foundations of mutual trust and admiration. By serving those who are actively seeking help, you foster a kind of spiritual development within your heart and soul that can not be found elsewhere. Lasting goodness, a ripple effect of positive change, can come from just one trip or many. Your ripple will be powerful because it is created in God's Love, or, in other words...caritas.
For over twenty years,
CARITAS For Children
has coordinated service-abroad trips for college
students, church groups, missionaries, families in child-adoption, individuals seeking to give back to their global community,
and otherwise simple servants of the Lord. We have vetted mission locations in four countries: Uganda, Haiti, the
Dominican Republic & Poland. In any one of these locations, you may apply your personal skills or professional background to the cause of helping the local schools and villagers. Some of the
opportunities include:
Teaching in the local schools.
Coordinating education strategy with other instructors and faculty.
Assisting in health care within the local community.
Blogging and video for CARITAS to memorialize your trip.
And so much more!
*Update: We will not be sending volunteers to Haiti at this time. We have deemed the political climate too unsafe. We pray for renewed safety to resume our Service Abroad program there as soon as possible.
For a full description of our Service Abroad program, click below to view the International Service Work E-book.
If you would like to get involved, click below to download a Service Abroad Application.
Otherwise, share this blog post with others who you feel may need an encounter like the one described here! Let's build a better world together!