This was the first time I've ever been this far north in Haiti. I accompanied Felix Joseph, CARITAS' Location Coordinator for the Haiti child sponsorship programs, to visit the schools at Rivière Mancelle and Bassin Bleu. It was a bit of an adventure.
Bassin Bleu is a little over a three hour drive from Port au Prince. In Bassin Bleu, the school is in a big open field. I think this might have been the only school I've seen in Haiti with so much space. Here, the children worked diligently on their letters without being distracted. Overall, Bassin Bleu was a relaxed location.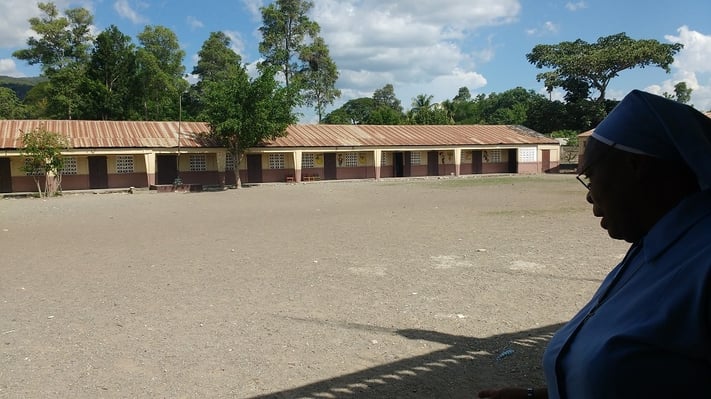 Sister Pernileous, the principal of Nazareth School at Bassin Bleu, gave me a tour of the grounds.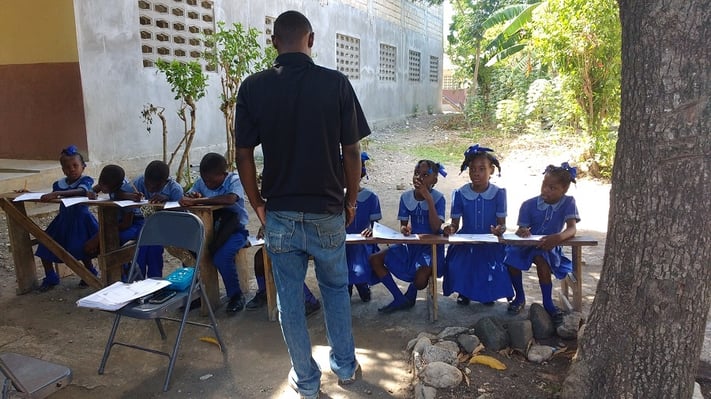 Felix Joseph, Location Coordinator for CARITAS' Haiti child sponsorship programs, instructs the children at Nazareth School on writing letters to their sponsors.
Sisters Pernileous and Jeanty (at Bassin Bleu) were great. They were very welcoming and just great and inspiring women. Sister Pernileous is the principal of the school and does her job well. While we were waiting in her office to start letters with the children, she was disciplining two girls who had gotten into a fight.
"This is the last time, otherwise you can't come back," she said sternly but without yelling. The parents, who were present for this meeting, acknowledged "yes" at the same time, and then were excused to leave.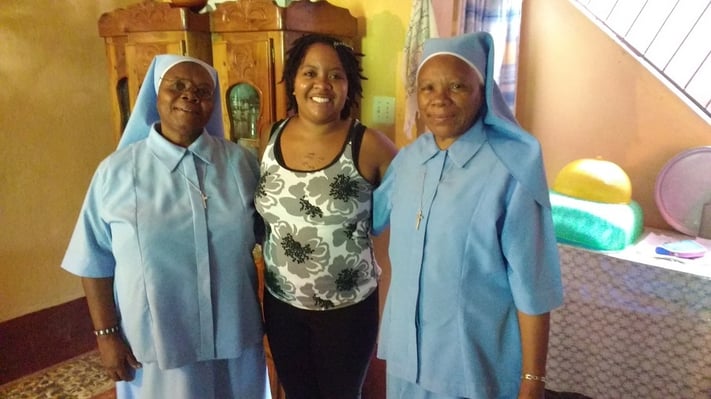 Here I am with Sister Pernilious (to my right in glasses) and Sister Jeanty.
Rivière Mancelle was about two hours away from Bassin Bleu on motorcycle, and about 45 minutes of that crossing water! While traveling I thanked God that I had been to Lubin in the countryside of Saint Marc last summer (not too far from Ti Riviere). The road to Lubin is a flat but rocky road. The road to Rivere Mancelle isn't too rocky so I wasn't too taken aback. That water though . . . I just was happy that it wasn't high.
When we arrived, it was cool and it kept raining. Rivière Mancelle is truly in the mountains. There is no electricity or running water. Everyone bathes and washes clothes in the river.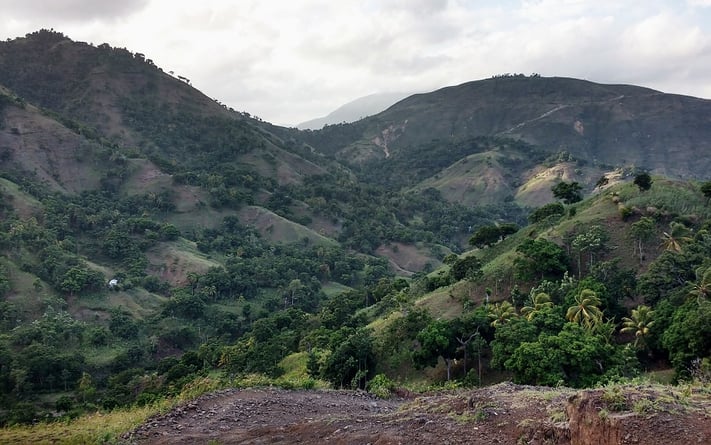 The mountains of Rivière Mancelle.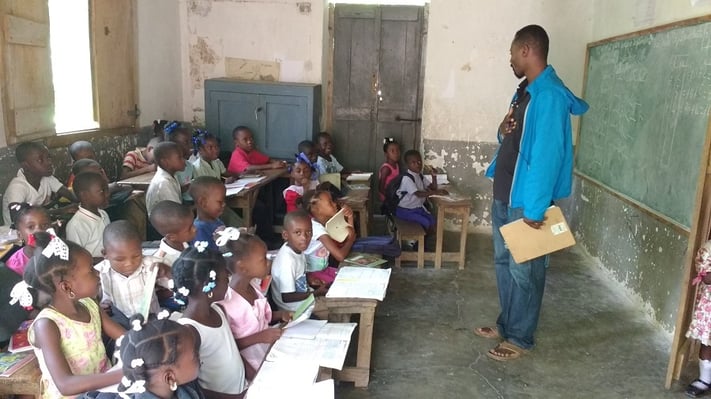 Felix Joseph, Location Coordinator for CARITAS' Haiti child sponsorship programs, addresses the children at Rivière Mancelle.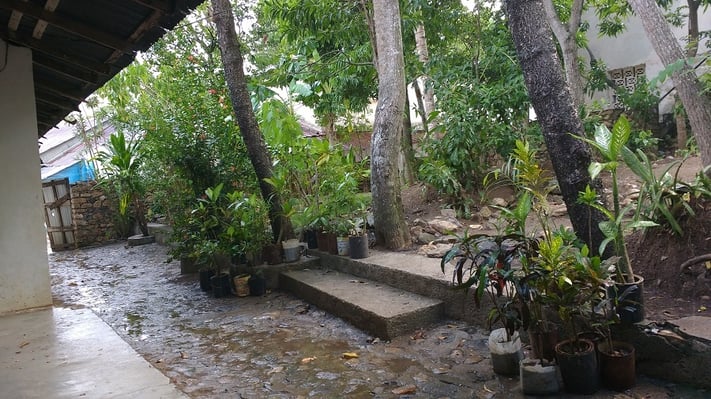 The outside of the Sisters' house in Rivière Mancelle.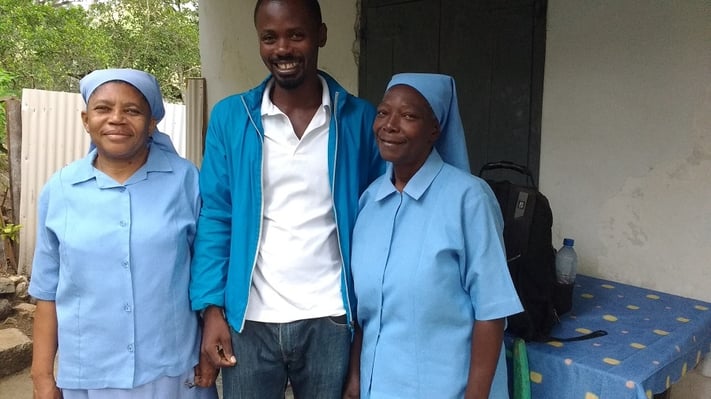 From the left, Sister Augustine, Felix Joseph who is Location Coordinator for CARITAS' Haiti child sponsorship programs, and Sister Victoire. Sister Augustine is the director of the school at Rivière Mancelle.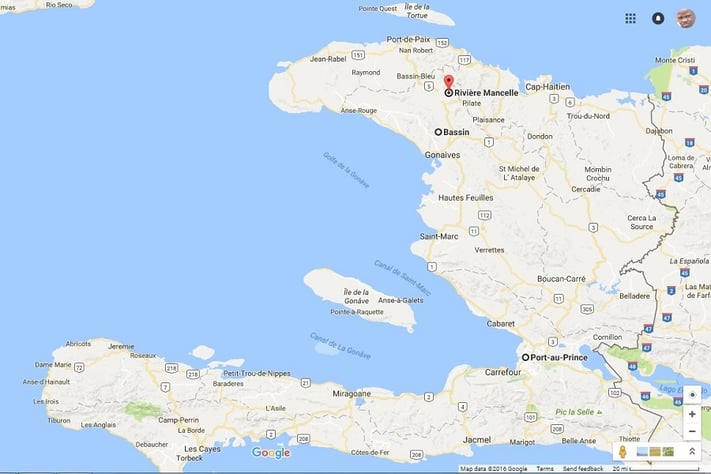 At the school it was a free day for the children, meaning that they were able to wear their own clothes and not their uniforms. They were so happy and free without a care in the world. While watching them play, I continued to think about how rough our trip had been to reach them; so far and in the middle of nowhere.
And so, this is who I believe in a large part our program is for. For the ones who are easily forgotten. Who would think to try to help these babies in the mountains? Not to say that no one is helping them, but I would imagine that it is not very many. I am happy that CARITAS is able to help these children go to school through our Haiti child sponsorship programs.
Their reality is poor just because of where they live. So if you're a sponsor or would like to sponsor a child, please do not think that your giving isn't making much of a difference, because it is. It releases such a heavy burden from these parents.