"The whole country of Uganda is on tension for we don't know what will come out after elections...pray for us." That is the request from Sr. Carolyne, the coordinator for CARITAS' child sponsorship programs in Nkokonjeru in light of presidential elections in Uganda today, Thursday, February 18th.
It is tense times in Uganda, and normal life has been disrupted. The opening day of school had already been delayed until Monday, February 22nd due to presidential elections, assuming all remains quiet the children will be allowed to return to school.
Speaking to Sister Carolyne this morning we offered her our prayers for a peaceful election, she had indicated that in Nkokonjeru it was quiet but there had been some unrest in the larger cities particularly in Kampala. She said people are nervous. Communication was also made more difficult because the government has shut down social media for election day at the request of the electoral commission.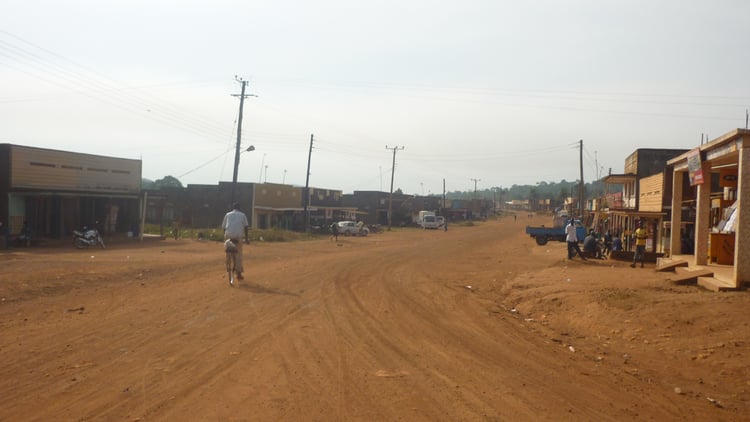 All is quiet in the center of Nkokonjeru, one of the locations of CARITAS' Uganda child sponsorship programs.
Uganda's President, Yoweri Museveni, has been in power since 1986 and is seeking a fifth term. Although his party, the National Resistance Movement, ended Uganda's civil war in 1986 by defeating Joseph Kony's brutal Lord's Resistance Army, and brought economic development to Uganda, that progress has waned and Ugandans may be ready for a change.
Kizza Besigye, Forum for Democratic Change, Museveni's former physician, has made four unsuccessful presidential bids. Historically those efforts have seen intervention by the police with arrests of Besigye and the break-up of rallies in support of him that have led to violence. In fact Besigye was detained this week for a short while after police action again became violent.
The third candidate is Amama Mbabazi, Go Forward, who was removed from his position as prime minister by Museveni in 2014, a position he had held for twenty years. Mbabazi repudiates any suggestion that he had any part in the 2012 disappearance of millions of dollars of public money under his watch.
Our program partners indicate that the race is close and for the first time in a long time President Museveni faces a real challenge. Even if he retains his position the real question is if he can win enough votes to prevent a run-off. For that to happen President Museveni will need fifty percent plus one vote.
We ask you all to keep Uganda in mind and prayer for a good outcome.
Information in this post was derived from Guardian, Telegraph, and BBC accounts. The highlighted links will bring you to those news reports for the complete story.