Toothpaste, check! Medicines, check! Fun games, check! This is how my preparation for my mission trip to Haiti has been. I am an early packer, as I like to be prepared. Because of this, I have been running around making sure I have enough items to last me for five months working for CARITAS' Haiti child sponsorship programs.
Also, I've been making sure to visit each friend and family member before I leave. I've been brushing up on Haitian culture. I've been thinking about fun games and activities to do with the little ones. I've been thinking about how can I serve the Sisters, and how I can be a hard worker for CARITAS For Children. So far I feel that I have been doing a decent job of preparing.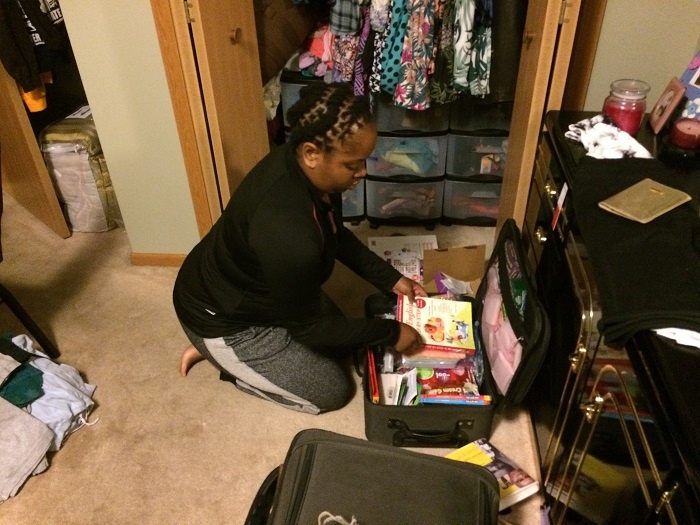 Packing for my mission trip to Haiti working with CARITAS' Haitian child sponsorship programs.
However, there is one way in which I want to better prepare myself. Preparing spiritually. The Lord continues to remind me that no matter how much I serve the people, the awesome games I have, if I don't have the love of God, my ministry work will be useless. Particular scripture verses continue to come to mind to remind me of why I am going to Haiti – Ephesians 4:32: "Be kind to one another, compassionate, forgiving one another as God has forgiven you in Christ," and 1 Corinthians 13:3: "If I give away everything I own, and if I hand my body over so that I may boast but do not have love, I gain nothing."
The Lord reminds me of my need to depend on Him everyday. Everyday will not be peachy. There possibly will be some rain and dark clouds. But if I depend on the Lord to help me with loving His people, he will make rainbows.
With that being said, I am so excited and thankful for this opportunity to go to Haiti. This is a country that has always felt like home. I'm so ready to come home!