"I want the sponsors to know that by sponsoring some of these children they have brought meaning and hope to many families especially in the life of these unprivileged children in our region," said CARITAS' Location Coordinator in the Nsukka region of Nigeria, fondly known to us as Miss Nelly.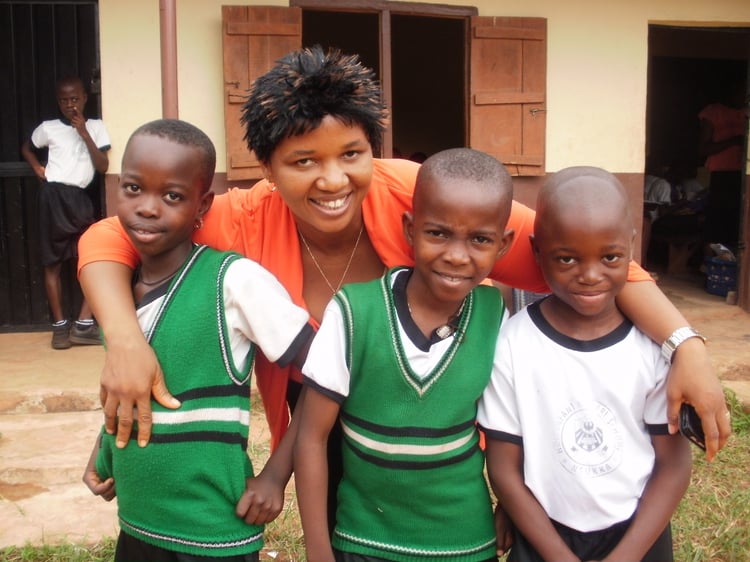 Miss Nelly, Location Coordinator in Nigeria for CARITAS' child sponsorship programs, here with some of the students, also serves as an education supervisor under the Catholic Education Commission of the Nsukka Diocese.
CARITAS For Children supports a partnership between the Diocese of Nsukka, Nigeria and the Chicago Catholic schools which began based on the professional and personal friendships rooted in the global mission of Catholic education between Cardinal Francis George, O.M.I. and then Bishop Francis Okobo of the Nsukka Diocese. These visionaries exchanged letters of agreement to establish this unique partnership of promoting Catholic education in September 2006 in a collaborative effort to establish a unified Catholic education school system for the Nsukka Diocese.
This project involves the construction of new schools, pre-school through high school as well as a teacher training college, with the aim of fostering and maintaining Catholic education for the children of Nsukka. In 2010 CARITAS For Children established an agreement with the Chicago Catholic school system and we began our sponsorship program in Nigeria for the purpose of providing support to the families in Nsukka who could not pay for school fees or supplies on their own.
Miss Nelly also elaborated on cultural aspects that present challenges for some of the people in Nigeria. She said, "Nigeria is a country dominated with people of different tribes and languages. If a woman married outside her own tribe, there may be a communication barrier between the woman's family and that of her husband. If the husband dies, his relations may not assist the woman in training her children."
"Educationally, Nigerians especially in our area of Nsukka, want good schools for their children but is so expensive because most of them are peasant farmers or petty traders which makes it difficult for them to send their children to school," Miss Nelly continued.
Some addtional information about the school system in Nigeria:
The school year extends from September to July.

Basic education covers children 3-15 years of age:

Three years of Nursery School (ages 3-5)

Six years of Primary School

Three years of Junior Secondary School

Students begin learning English in nursery school.





All subjects are taught in English other than the local language class.