After 20 hours of combined air travel to reach Uganda's capital city of Kampala from the US, I am finally back on a familiar country road heading to the east toward the town of Nkokonjeru. A feeling of joy grows in me, anticipating the time ahead to be back with friends, our children, sisters and many I have come to know and love over the past 13 years.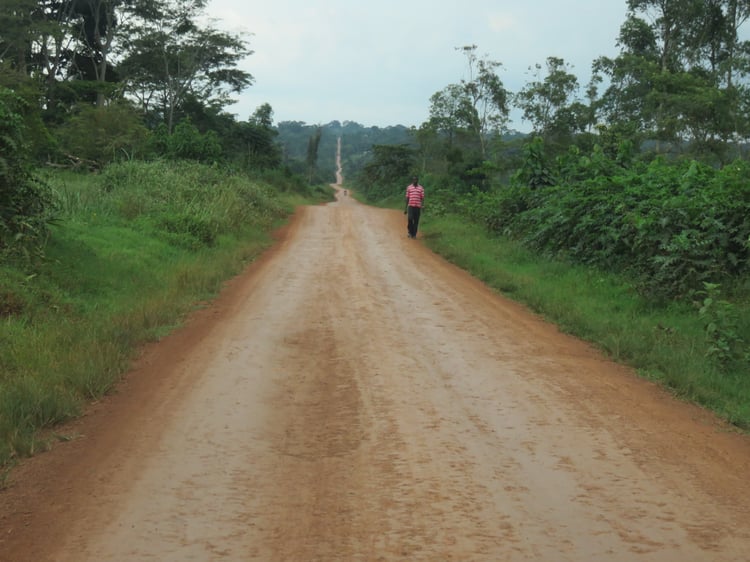 This familiar road brings back wonderful memories.
I wrote down those thoughts several months ago in July when I traveled to the locations of our child sponsorship programs in Uganda. Our Theology Content Writer, Kollin Petrie and his fiancée, Catherine, accompanied me for their first trip to Africa. Our first official stop was to meet the newly appointed bishop of the Lugazi Diocese, Bishop Christopher Kakooza. CARITAS For Children works in several of the Catholic (arch)diocese in East Africa, including Lugazi.
Bishop Kakooza is a most gracious prelate of the local Catholic Church and expressed many times his appreciation for the relationships we have and gave thanks to all those many CARITAS supporters and families making an investment in his area. It was a relatively quick visit, a few hundred officials of the church had been gathering for a weeklong retreat. This very loving man gave an official blessing for continuation of our work in Lugazi. Having served the people of Uganda as a Bishop/Priest for over 30 years, he understands our mission to develop long lasting relationships, building a spirit of love and care for each other.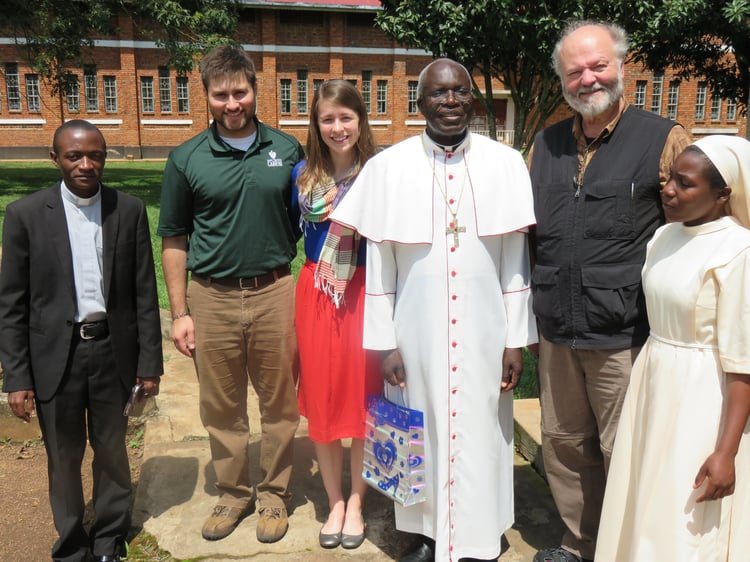 From left to right: Fr. John Bosco Wasswa, parish priest from Nkokonjeru, the location of some of our child sponsorship programs, Kollin Petrie, Catherine Dulan, Bishop Christopher Kakooza, myself, and Sister Carolyne Balikuddembe, LSOSF.
This year's visit included many objectives: reacquainting with CARITAS' ministry partner leadership as well as the very many teachers, administrators, and coordinators on the ground; observe progress on various projects and most of all, to see how our children are progressing in their lives. At the heart of CARITAS' work, is education, basic requirements for daily life and nutrition and sustenance; but underlying all of that is the spiritual connection the entire work is based upon. Using a scriptural reference, it is: to love one another. (John 13:34)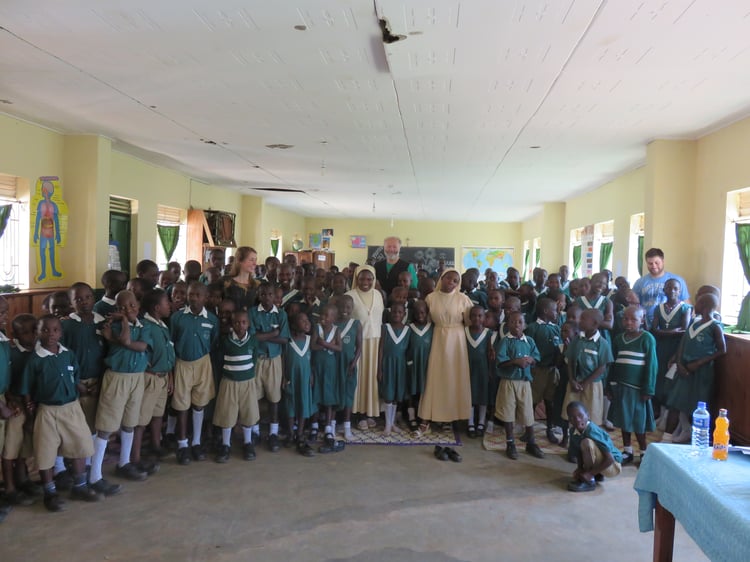 With the students and faculty of St. Alphonsus Demonstration School, one of the schools attended by children in our day school child sponsorship programs.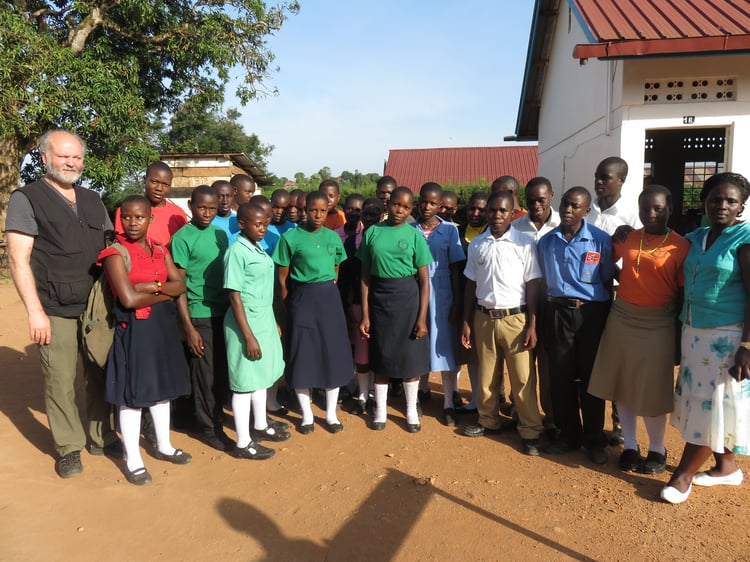 With our students and faculty at St. Peter Secondary School, where some of our children of high school age are educated in our day school sponsorship programs.
When CARITAS began working in Uganda in 2002, we started with only primary level boarding school children. For me this was a very special trip, because in the nearly 13 years since finding our first child here, many have made their way through Primary School and Secondary School. They are now entering vocational school or university. We also have our first university graduate.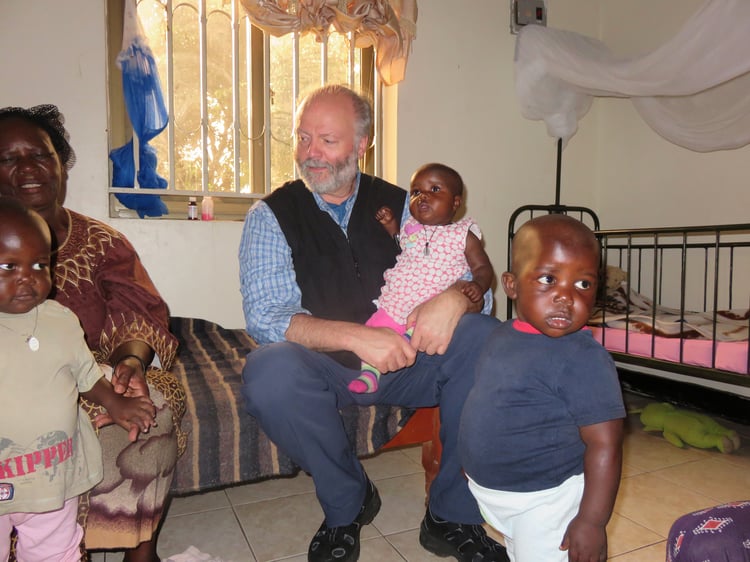 This was a stop at Iganga Babies Home, an orphanage run by our ministry partners. The sisters provide loving care for these children, some of whom are HIV positive.
The range of program coverage has grown considerably in these dozen plus years and we are grateful for the results. I have had the pleasure of personally knowing a good number of the first children enrolled into this relationship and have seen how far these "pioneers" (as our sisters would say) have come. These mostly young ladies, are well educated, mature, sensitive, socially sophisticated and solidly spiritual in their outlook for the adult life they have come to anticipate.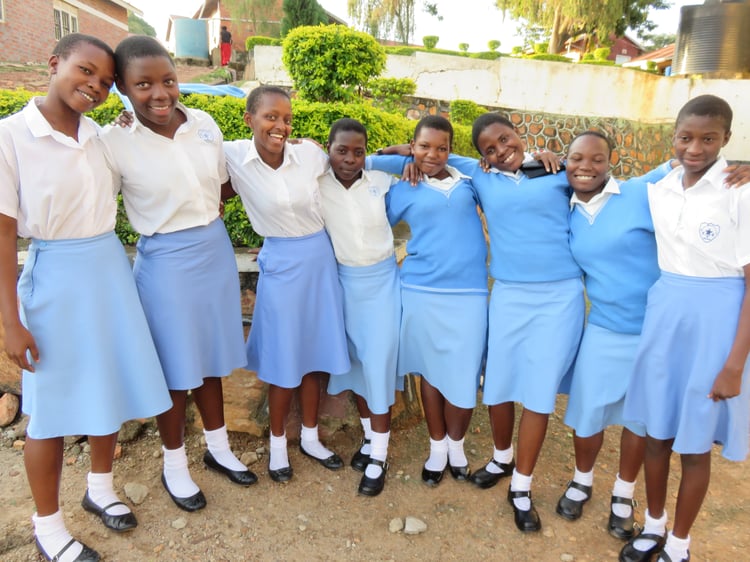 The Senior Four students of Stella Maris Secondary School, from our high school level boarding school child sponsorship programs. These girls are all supported by CARITAS sponsors.
I feel blessed and humbled that you, our sponsors, donors, and supporters, have joined me on this journey guiding these children into adulthood with the spiritual, emotional, and material support that has brought them to the threshold of a successful future. I extend an invitation to anyone interested in joining me on upcoming visits to Uganda. Thank you and may God bless you.
---