Location Coordinator for CARITAS' Haitian Child Sponsorship Programs, Félix Joseph, shares some of the traditions of the New Year in his country. Bonus: Recipe Included.
We have to thank our God for his blessing to us that we have seen this past year in his great love. Thank you Lord, may we not forget to pray for the next year of 2016. We do need more grace, blessing, and love to build our world activities.
In Haiti there is an official document proclaiming January 1, 1804, as the day of independence of the Haitian State, when it became the first black republic in the world. This official act was established in the city of Gonaïves by Louis Boisrond Tonnerre, Secretary of Jean-Jacques Dessalines, father of the Haitian Nation. Since this day the Haitian people celebrate independence even if they have money or not.
Culturally everyone has a way to celebrate and every country has activities for Christmas and the New Year. Let me explain a little bit about our traditions in Haiti.
On the eve of the New Year many people leave the capital to go to the countryside to be with their family whom they haven't seen for quite some time. By the way, we could say that the eve of the New Year is celebrated throughout the whole culture. Poor or rich, religious, or those who practice voodooism, the politicians, the musicians and even little kids in the street feel the freshness of the New Year.
It is a time when even people who do not have very much, try to give even the smallest gift because they consider Christmas time followed by the celebration of the New Year as a sharing time. Indeed, on the night of the thirty-first of December there are many activities. People don't go to bed mostly. Some go to the Midnight Mass, some others go to the disco having time to dance.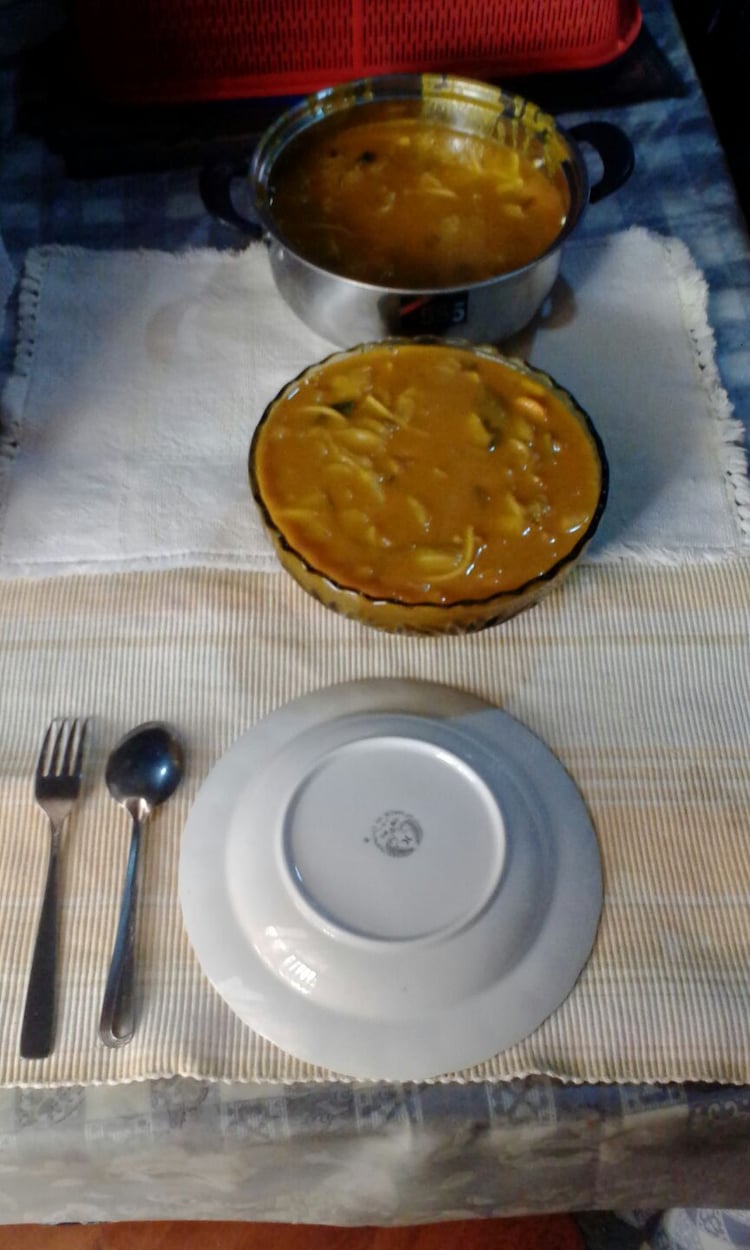 Traditionally Pumpkin Soup is served on New Year's Day in Haiti, commemorating independence from colonial rule January 1, 1803.
Finally the kids are impatient for the arrival of the first day of the New Year to go to greet their grandparents, aunts and uncles, for the tradition of étrennes or "Christmas bonus" when they will receive small gifts.
And then, there is a special food for this day that everyone prepares in their own home. Even if people don't have possibilities to prepare this kind of food they still receive it from their neighbors, because for them it is a sharing time. This food is a pumpkin soup with various ingredients: meats, vegetables, and spices. During colonial rule only French masters could eat this soup. So to celebrate freedom, Jean-Jacques Dessalines, said to his wife to make this soup for the former slaves. We still have this way to celebrate today.
Here's a slightly Americanized recipe for Haitian Pumpkin Soup:
Haitian Pumpkin Soup
Serves 6-8
Ingredients
2 cloves garlic
2 scallions, sliced, plus more for garnish
¼ cup roughly chopped parsley
½ tsp dried thyme
1 medium shallot, sliced
1 scotch bonnet chili, stemmed and seeded (may substitute with habanero pepper)
Juice of 1 lime, plus wedges for serving
Salt and freshly ground black pepper, to taste
1 lb. beef chuck, cut into ½" pieces
2 tbsp olive oil
8 cups beef stock
2 carrots, cut into 1½" pieces
2 stalks celery, cut into 1½" pieces
1 small leek, trimmed, halved lengthwise and cut into 1½" pieces; rinsed
1 small yellow onion, cut into 1½" pieces
1 large Yukon gold potato, peeled and cut into 1 ½" pieces
1 medium turnip, peeled and cut into 1½" pieces
½ small green cabbage, cored and cut into 1½" pieces
½ small calabaza squash Haitian pumpkin (may substitute winter squash/butternut), cut into 1" pieces
Instructions
Puree garlic, scallions, parsley, thyme, shallots, chile, juice, salt and pepper, and ½ cup water in a blender until smooth; mix with beef in a bowl, cover with plastic wrap, and refrigerate at least 4 hours or overnight.
Remove beef from marinade and dry with paper towels; set aside. Heat oil in an 8-qt. saucepan over medium-high heat. Add beef; cook, turning as needed, until browned, about 8 minutes. Add stock and bring to a boil; reduce heat to medium, and cook, stirring occasionally, until beef is tender, about 1 ½ hours. Add carrots, celery, leeks, onion, potatoes, turnips, and cabbage; cook, slightly covered and stirring occasionally, until vegetables are tender, about 20 minutes.
Meanwhile, bring squash and 2 cups water to a boil in a 2-qt. saucepan over high heat; reduce heat to medium-low and cook, covered, until squash is tender, about 10 minutes. Drain, reserving ½ cup cooking liquid and transfer squash and liquid to a blender; puree until smooth and set aside. When vegetables are tender, uncover, and stir in reserved squash puree; cook, stirring occasionally, until soup is slightly thick, 5-10 minutes more; season with salt and pepper and serve with scallions and lime wedges.
---