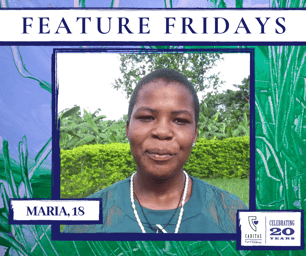 In Uganda, families band together in times of strife. The child we are featuring this week, a young and optimistic 18-year old from Uganda, lost both of her parents to HIV/AIDS-related sickness when she was six years old. She was immediately taken in by her maternal grandmother, who eventually became too old to care for her. Maria has been living with her maternal uncle and her maternal aunt has helped pay some of the school bills but has a low-income job so could not afford the entire payment. Regardless of her inability to pay for school, Maria's aunt kept her housed, fed and safe, a miraculous feat that was only made possible by the help of other extended family members like her uncle.
CARITAS was also informed of Maria's situation and connected her with a sponsor after the death of her parents. The sponsor was able to put Maria through her primary-level schooling, but somewhere near halfway into her secondary level, Maria's sponsor stopped supporting her.
While sponsors drop kids for many different reasons, most of which are entirely understandable, Maria was let go at an inopportune time in her life. Many of her friends and peers that didn't have the opportunity to go to school like Maria were already getting married and having kids, either finding a man to marry who could support them or seeking work themselves in the fields, selling fruit or otherwise simply hoping for a better opportunity. Maria was incredibly close to finishing her secondary-level school (equivalent to an American high school education) when she was dropped, but luckily her aunt had enough money to allow her to graduate. However, her current ambition of achieving a Nursing Certificate is unattainable without the support of a new sponsor.
This new sponsor would provide the means for Maria to attend a nursing program where she would study medicine and patient care while being surrounded by bright and industrious peers. This experience would foster Maria's own talents and instill in her an idea of what society can look like when people decide to band together in bettering themselves & their environment.
Maria's desire to become a nurse did not come to her arbitrarily. She knows the depths of poverty all too well from her experiences as a helpless child whose only saving grace was family and an education. She also knows that nothing will change if people like her--the lucky ones, the ones with family that care for them and access to education--don't do something.
Please enjoy a short introductory video of Maria, and click below if you are interested in sponsoring her. Your monthly or yearly donations could be all it takes to create the ripple effect of hope that Maria's country so dearly needs.
Introducing...Maria!
Click below to view a brief introductory video of Maria! To sponsor her, click on the button below the video.