I am slowly learning Lugandan as I make my way through my internship with CARITAS' child sponsorship programs here in Nkokonjeru. My Primary 3 students from St. Alphonsus Demonstration School love to teach me new words in their language at the end of each of my lessons.
They're incredibly patient when I ask them to repeat the words multiple times, and very helpful! It's nice because I don't feel as silly asking them how to say things since they're just kids. One of my students, Benjamin, who has a CARITAS sponsor, especially likes to help me learn Lugandan. I type the words into my phone so that I don't forget them and he, along with others, always makes sure I have the correct spelling before moving on to the next word.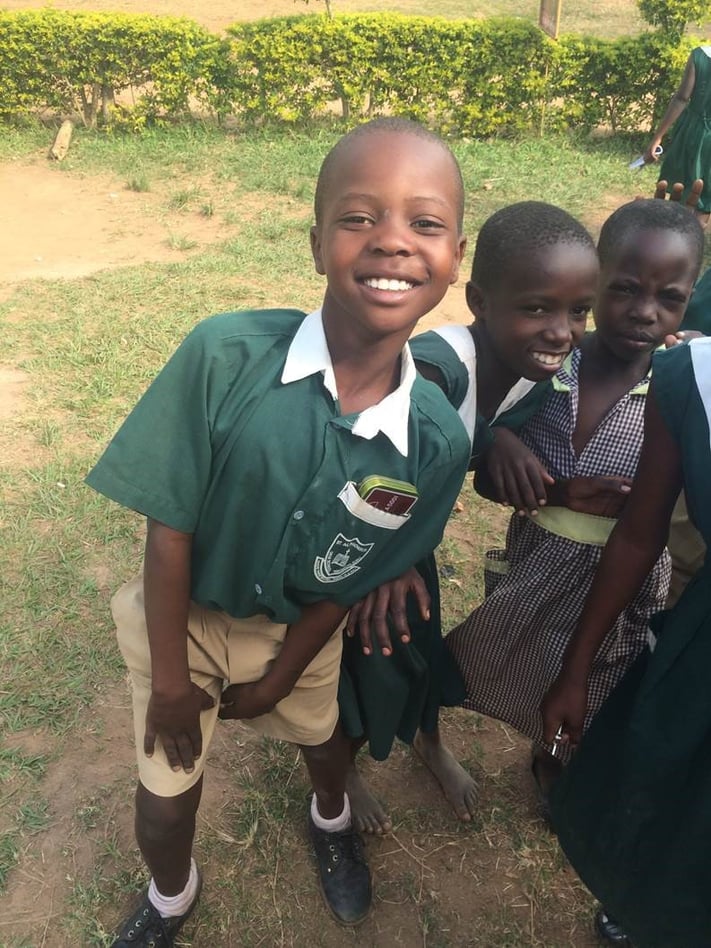 Benjamin, one of my students, is my Luganda language instructor. Benjamin's sponsor, Kaitlyn S., supports his education through CARITAS' Uganda child sponsorship programs.
Today I learned almost twenty words! I got some of the basics like tusanse culaba, meaning welcome, and olyotya, meaning how are you? The funniest thing I learned today was actually through one of my fellow intern's experiences at St. Anthony's Nursery School this morning. Tang asked Teacher Mary of Baby Class how to say "smile" in Lugandan so she could get the kids to smile for a picture. Teacher Mary replied with "fenne", so we thought that meant "smile for the picture". It wasn't until we came back home for lunch and asked Flavia, CARITAS' cook and caretaker for volunteers, what fenne meant when we found out it actually means jackfruit!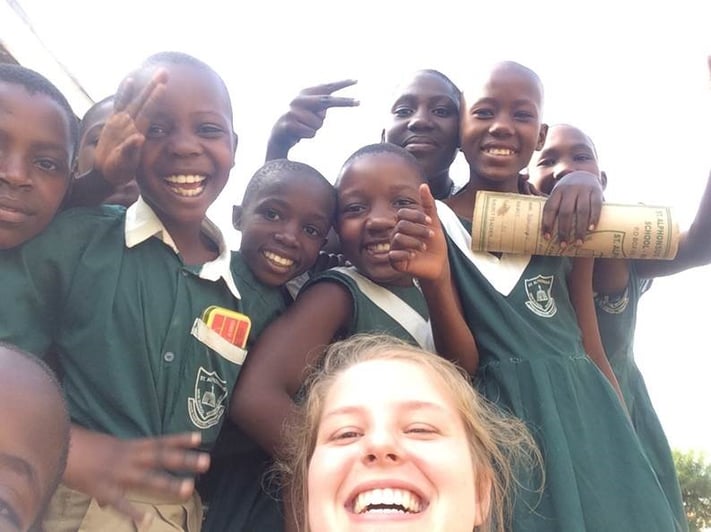 Here I am with some of my students and additional friends.
We thought this was so funny because here we were thinking it meant smile. It turns out they say "fenne" for pictures just like we say "say cheese" for pictures in America. That's just a fun example of one of the many language/cultural differences we've noticed in Uganda. It's a lot of fun learning from the locals and I look forward to having more experiences that help me learn more about the culture I'm living in for the summer!