Recently I was able to meet with Margaret Nakirigya, the founder and director of Little Angel's Catholic Nursery and Primary School, which is one of the schools participating in CARITAS' child sponsorship programs.
Little Angels is affiliated with the Nkokonjeru Parish church, Queen of Apostles. Around 30 students are able to attend Little Angels thanks to their CARITAS sponsors.
Margaret and I had met in Milwaukee, Wisconsin while we were both visiting the CARITAS For Children office. Margaret is the chairperson of the Twinning Committee that
partners the Nkokonjeru Parish Church, Queen of Apostles, with a Milwaukee area parish. She and the pastor of Queen of Apostles, Fr. John Bosco Wasswa, were making their first visit to their sister parish in the United States.
Coincidentally, Fr. John Bosco Wasswa, Margaret and I found ourselves on the same flight to Uganda; the two of them for their return trip home and me for my fall semester internship with CARITAS' child sponsorship programs in Nkokonjeru. We spent some time together at the airport between flights getting to know each other and it was great to reconnect and visit her at her school.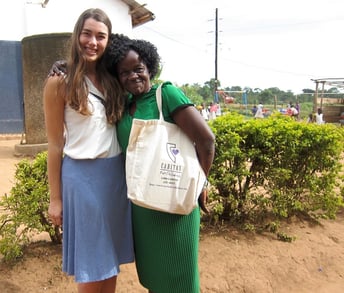 Margaret opened Little Angels in 1996 (the same year I was born!) with the vision that she wanted to create an oasis in the desert. She sought to create a quality Catholic school with an urban feel in rural Nkokonjeru and what started as a few wooden walls and a handful of students, has twenty years later grown into a school that serves upwards of 700 students ranging from nursery school to primary level seven (P7).
What has been the biggest challenge throughout your journey of creating Little Angels?
Margaret: "Many of our students are orphans or come from families that cannot consistently pay school fees and it hurts me so much to have to turn students away when all they want to do is learn. Also many of our students walk for miles to come to school and the roads here are dangerous and dark so we want to build a boarding school option."
What aspect of the school are you most proud about?
Margaret: "Little Angles has a very high standard of academics. Secondary schools [high schools]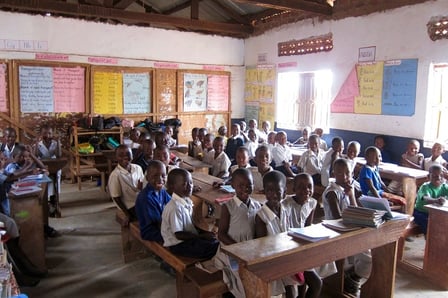 always want our P7 graduates to come to their school and we have one of the highest rates of students passing their grades! I am also so proud to have our school partnered with CARITAS."
Where do you see the school going in 5 years?
Margaret: "Oh my! In five years I want to build more classrooms, a new latrine, boarding dormitories, and teachers' quarters. I have bought land across the road so that when I have sufficient funds we can start building and expanding. I would also like to start a partnership with a local computer lab so our students can start to learn computer skills."
Tell me about your family.
Margaret: "I came from a family of 12, six boys, six girls and I was the sixth born. I now have three children in school at Little Angels in P4, P6, and S2 [second year of high school]. My daughter Joan Marie (P6) won Academician last year, she competed in a school wide academic competition and won a cow for coming out on top! My husband passed away long ago but he was Head of St. Peter Secondary School (another CARITAS school) and I used to teach math there."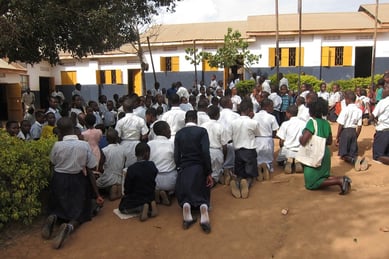 Throughout the course of our conversation I find out that not only is Margaret the director of Little Angels, she is the head of Shimoni Teacher Training College and has been working there for 15 years. She is also the leader of a Catholic women's group, was the first speaker in the Nkokonjeru town council and they have named a road after her!
As Margaret walks me to each of the classrooms during the course of our conversation, I am so touched by all of the joy at Little Angels. The children greet me and sing welcome songs and even teach me to dance. It is no wonder that the students are so eager to learn as they are being taught and inspired by Margaret!