Six young women who have come up through CARITAS' Uganda child sponsorship programs started their first year at Kyambogo University just outside of Kampala this fall. They are fortunate to have their sponsors continued support of their education. Spending my fall semester as an intern with CARITAS through my own university in the states, I was eager to get more information about what university life is like in Uganda and talk to some of my peers!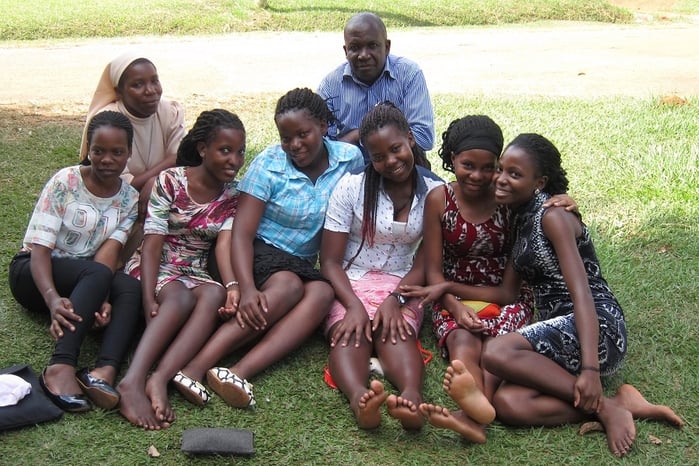 Sister Carolyne, Program Coordinator for CARITAS' child sponsorship programs in Central Uganda, Joseph Kkonde, Technical Coordinator, behind the CARITAS freshman at Kyambogo University, (l-r) Allen Grace, Rebecca, Phiona, Christine, Winifred, and Mary Goretti.
I made the trip out to Kyambogo University, which is eight kilometers outside of Kampala's city center, with Sister Carolyne, Program Coordinator for CARITAS' child sponsorship programs, and Joseph Kkonde, Technical Coordinator. We enjoyed a wonderful afternoon on campus with Allen Grace, Winifred, Christine, Rebecca, Phiona, and Mary Goretti, who as Freshman, are fondly called "Freshers". Their answers to my questions follow.
Sydney: What has been your favorite part of coming to university?
Rebecca: "I love the opportunity to experience high levels of education and to meet so many new people."
Sydney: What made you choose your course of study?
Winifred: "I want to be a teacher and I like studying religious studies, psychology, and philosophy. I want to teach secondary school because my secondary school teachers at Stella Maris were so great and I want to be able to help students like they helped me."
Sydney: Has the transition from secondary school to university been challenging?
Christine: "Yes, but it has been nice to have greater independence; but at first it was tough to be accountable and self-motivated. Now the toughest part is doing research work and having little time to meet with lectures. I try to always get a seat in the front of the lecture hall so that I listen well."
Sydney: Where would you like to work after graduation?
Allen Grace: "I will work where I find work, I am willing to move away for opportunities and hopefully I can make my own business."
Sydney: What would you like to accomplish after graduation?
Phiona: "I want to help the poor so I'm hoping I can work in a bank and then help people afford and pay for school fees."
Sydney: Where do you see yourself in 10 years?
Mary Goretti: "I will be some big person because I know I am going to be a leader! I would like to be a member of the parliament of Kampala. I also want to start a family after I become self-sufficient."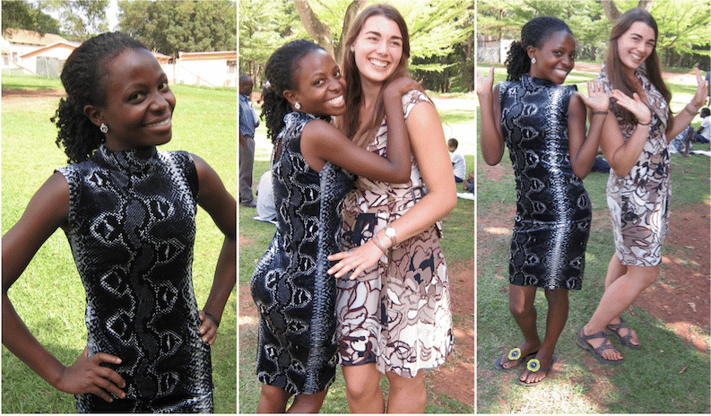 After chatting, Mary Goretti asked to take a picture with me, little did I know a photo turned into a photo shoot and she showed me all her favorite poses!
Sydney: In primary school did you ever dream it would be possible for you to attend university?
All: "Never, there was no hope for us. In primary school we didn't understand that secondary school let alone university was even an option but our sponsorship through CARITAS changed all of that."
Each of these young women expressed to me that they wanted to thank their sponsors for believing in them and that their lives and futures have been totally changed through their sponsorship and love.
Hearing about the challenges and adversity these strong young women have faced, I am left with a whole new appreciation for my access to education. I am confident that these motivated women will accomplish great things!