This is the first post from one of our newest interns, Tang Yang, a university student working for CARITAS For Children's Uganda child sponsorship programs for her summer semester.
It is currently 4 a.m. in Nkokonjeru, Uganda. I'm laying here exhausted from the 30-plus hours it took to get here but I can't fall asleep. I can't say much about Uganda right now since it is barely day one here. However, I do want to write about what I've experienced so far in the past 10 hours.
After I landed in Uganda around 8:30 p.m., I checked in with immigration at the airport, grabbed my luggage and went to look for the man who would be picking me up, Joseph Kkonde. Joseph is the Technical Coordinator for CARITAS' child sponsorship programs. I had seen a photo of him before, an older man with a quiet grin and kind eyes.
I navigated through a crowd of people searching for Joseph. I was completely overwhelmed by the noises and number of people, I probably looked like a lost puppy. Then I heard a "Tang?" I turned and saw Joseph standing with a sign with my name in blue highlighted letters. I had never met the man in my life but I was so relieved and so so happy to see him.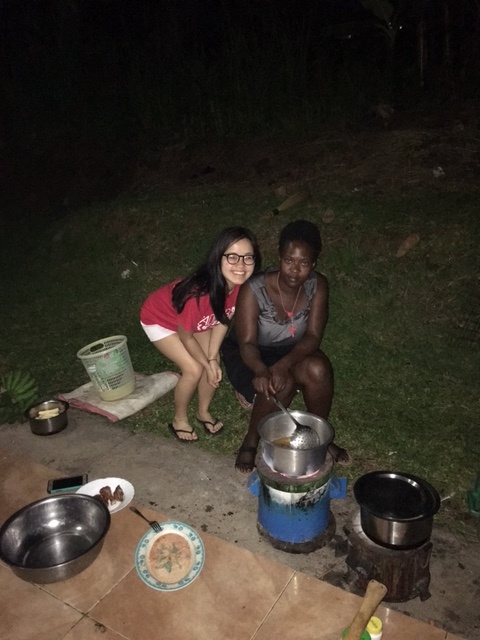 Besides preparing delicious meals daily, Flavia makes interns of CARITAS' child
sponsorship programs feel immediately at home. Here I am with Flavia at her
outdoor cooking station.
We drove three hours from Entebbe Airport to Nkokonjeru. I have never been in a car with the steering wheel on the right side nor a place where they drive on the left side of the road. The roads made me dizzy. There were lanes but cars and mopeds drove where they could fit. It was chaotic (to me). Joseph was calm and collected the entire time as cars beeped and people yelled, swerving in and out of lanes and into oncoming traffic. His calm demeanor made me feel better and, although I thought we were going to crash several times, I felt safe enough to fall asleep while he drove.
During the drive, we listened to Radio One FM 90, which played music from Mariah Carey to Rascal Flatts to Ne-Yo. I couldn't help but sing the familiar songs in such an unfamiliar place as Joseph just looked at me and smiled. The windows were down and the air smelled like fire crackers and gasoline in the city. As we drove further away from the city and into the countryside, the air became fresher and the stars caught my attention. I wish my camera had the ability to capture how bright the sky was from the stars. It was so beautiful.
We arrived at Stella Maris Boarding School around 11:30 p.m. I was greeted by two young women, Flavia and Prossy, who welcomed me with warm hugs. They made sure I was comfortable and had everything I needed before they went off to bed. They are such sweet women.
I'm excited for the next few months here. Great things come with the task of making the unfamiliar familiar. At the end of the day, I know how fortunate I am to be here.
I am exhausted and hoping my body will let me get some sleep soon.
Good night or good morning, wherever you are.