Sister Carolyne, who coordinates CARITAS' child sponsorship programs in Nkokonjeru, Uganda noticed a problem. In her role attending to the needs of sponsored children she became aware that some of the girls who attended day school were missing school and it was entirely preventable.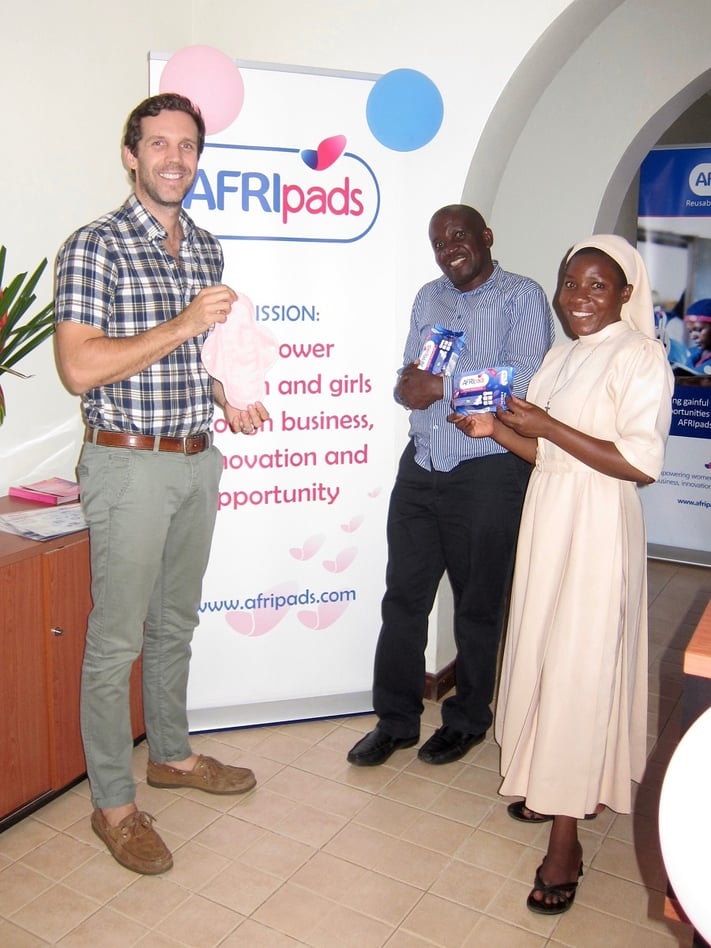 AFRIpads Co-Founder Paul Grinvalds with Joseph Kkonde, Technical Coordinator for CARITAS' child sponsorship programs and Sister Carolyne, CARITAS' Program Coordinator in Nkokonjeru.
UNICEF reports that 1 out of 10 African school-girls skip school or drop out of school entirely due to a lack of menstrual products and poor access to proper sanitation. This staggering statistic equates to girls intentionally missing four to five days of school per month, up to 20 percent of an academic year.
When someone chooses to sponsor a child through CARITAS' boarding school program, if that child is a girl, she receives a supply of sanitary napkins along with her toiletries required for boarding. Sister Carolyne, noticed that the attendance of many of our sponsored girls at St. Peter Secondary School, part of our Day School Program, started to drop off when the girls reached puberty. Recognizing that the day school students did not have access to disposable sanitary napkins, Sister Carolyne and Colleen Cheney, who is involved with international programs in CARITAS' home office, put their heads together to seek a solution.
They became aware of an organization called AFRIpads, based in Kampala, Uganda. AFRIpads is a social enterprise that seeks to decrease the disparity in education for school-aged girls by providing reusable sanitary menstrual kits throughout the world. I had the pleasure of meeting with the co-founder and managing director of AFRIpads, Paul Grinvalds. He explained that he and his wife, Sophia, founded AFRIpads when they noticed that girls, in the small village in Uganda where they lived, could not afford disposable menstrual supplies and would subsequently skip school.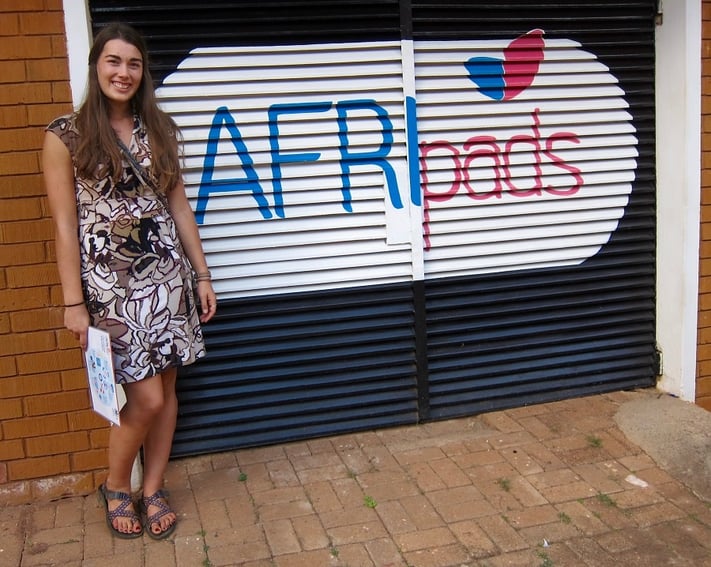 I went to AFRIpads' office in Kampala with Joseph Kkonde and Sister Carolyne to learn about their program and pickup the kits. I'm excited to implement the project during my internship in Uganda.
What started as a group of local women sewing reusable cloth pads in 2008 has now become a social enterprise that employs 150 local people throughout Africa all in the hope of empowering women. I asked Paul where he sees AFRIpads going within the next five years. He laughed and said he never imagined that what he started eight years ago would have had such an impact on the lives of so many women. Paul said that he can't quite say where things will be in five years but he hopes to keep expanding and spreading the mission of empowering women!
I have the opportunity of leading the pilot project implementing the use of AFRIpads for girls in CARITAS' Day School Child Sponsorship Programs. Twenty kits have been purchased and I will be educating the St. Peter Secondary School girls on the use and care of them. For $4.65 the AFRIpads kits provide girls with four reusable pads of varying sizes that can be used for 12 plus months. We anticipate seeing a positive change in the girls' lives and attendance during my time here in Uganda!