I saw a different side of my students today. I tutor a group of 11 third graders from St. Alphonus Demonstration School in Nkokonjeru, Uganda three times a week. We were moved to a different classroom since the library, our usual spot, was taken up by a meeting. In this particular classroom there were straw tie skirts and several drums standing in the corner. My students put on the skirts, handed me a skirt, and grabbed the drums. Some of the boys began drumming while the rest of the class danced and sang. One boy, Ivan, led the class in singing a song in Lugandan while he danced.
I watched the students interact with each other, singing, laughing and dancing. A couple of minutes later, the students grabbed me from my seat and prompted me to dance with them. I had no idea how to move the way their bodies moved. They offered me quick lessons.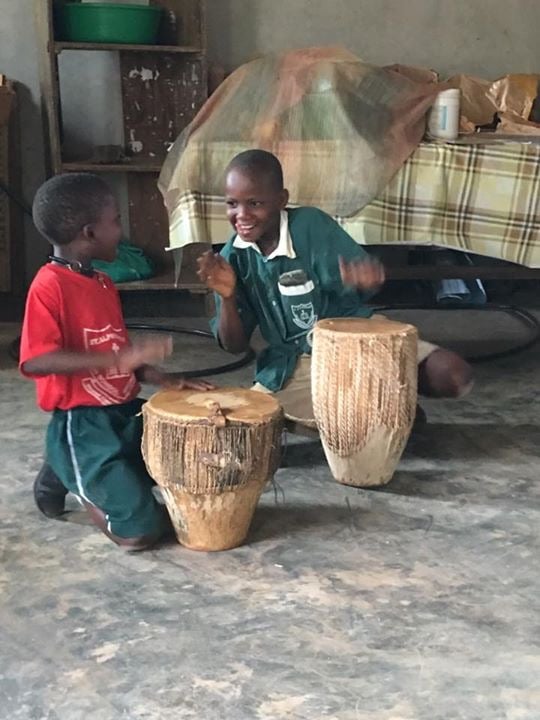 Abbey and another of my students drumming.
"Tang! Move like this! Put your foot like this!" I attempted to do what they showed me but I failed miserably. They didn't seem to mind. Abbey, the youngest and the smallest boy, grabbed my hand and led me to where he was sitting with a drum.
"Hit the drum like this, madam," he said to me with a big smile on his face. I did as he showed me and we beat the drums as the class continued to dance.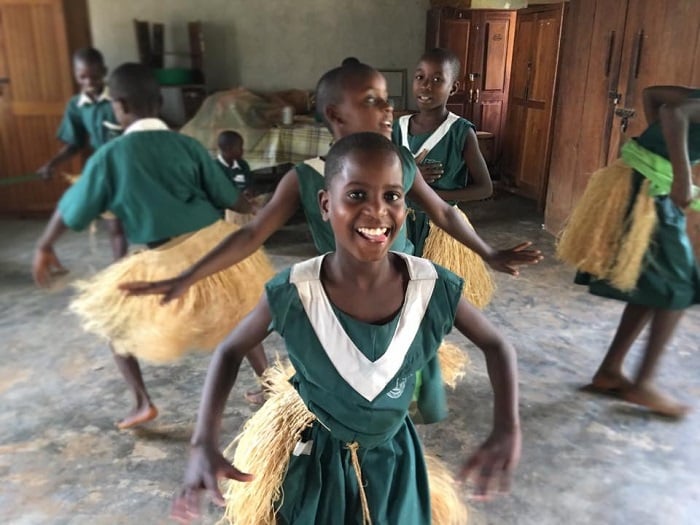 Mariam, in front, is one of my students whose education is supported through CARITAS' child sponsorship programs.
This allowed me to see a different side of my students whom I'm working with interning with CARITAS' Uganda child sponsorship programs. We are usually sitting in the library reading, writing, or doing math problems. Their smiles beamed at me and their laughter filled the room. The sounds of the cow skinned drums and their thundering laughter attracted other students.
Soon the classroom was filled with more than 50 students, staring and laughing this muzungo trying to dance and play the drum. They found me amusing; I also laughed at myself trying to dance. During this hour of dancing and making music, I took a long pause and looked around me, making sure that I would remember this moment.