Former missioner Madeleine Richey is returning to Nkokonjeru, Uganda, where she served for a semester in 2014. While there for ten days she is building a protected spring well with the help of her community in Fort Wayne, and her Ugandan family. Madeleine is no longer working for CARITAS For Children, but is working in partnership with them to share stories from Uganda.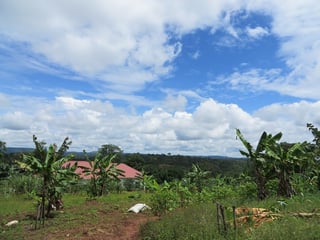 I wish I had an answer. I've been asked the same question so many times by so many different people, and every time I try to come up with a different answer that does it justice. Nothing quite does. I try to explain about the adventure; different languages and cultures far outside anything you'll ever encounter in the United States. I try to explain about the landscape; lush African jungle and sweeping grasslands, rolling hills traversed by red dirt roads that give off this intoxicating smell of rich, moist earth. I try to tell them about the people: broad smiles and twinkling eyes, spirited laughter and dancing, kind hearts that reach out in welcome.
I used to tell people that I just felt "called" to Africa. But that doesn't do it justice. "Called" doesn't explain away the feeling that flickers—sometimes roaring sometimes just a cinder from a fire gone cold—that tells you that you want to be there. That you need to be there. Somewhere you've never been before. "Called" sounds far more certain than you are that this feeling isn't wrong, leading you astray. How can you know that you are meant to be somewhere you have never been before?
When I was a child, I used to dream of walking the Great Wall of China, step by step, every brick that had been so valuable lives had been sacrificed in the making of this massive wall the remnants of which still stand so many centuries later. I flipped through picture books and travel diaries of the Amazon rainforest, imagining what it would be like to clamber through that lush jungle and stand on the banks of the muddy brown river that snaked its way through wilderness. Then one day—I don't remember when or how—it was Africa.
Finding a way to Africa isn't easy. I began working with CARITAS for Children as a volunteer when I was about fourteen, gathering data and compiling it into spreadsheets for outreach. But what I wanted was to go to Africa. I'd trace it on the map and tell my siblings that I was going to Uganda, where CARITAS had a child sponsorship program. Except I didn't know quite how to pronounce Uganda, so I'd change it just a little bit each time. Was it "Oo-ganda," or "You-ganda,"? It's hard to pronounce a name you've never heard before. I just knew I wanted to be there.
To make a long story short, I can't tell you what drew me to Africa the first time, but I can tell you what is drawing me back.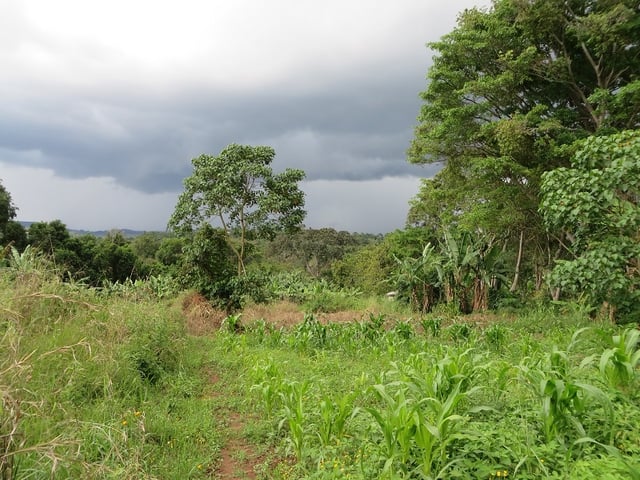 People. My people. My family. When I stepped off that plane (the first time I had ever flown) at eighteen, these people welcomed me with open arms. Joseph, who stepped up to teach me and ensure I was safe, just like a father would. Flavia, who I call "mama," my Ugandan mother who cared for me while I stayed in Uganda—she taught me how to navigate the market, cook on a charcoal stove, even tried to teach me how to do laundry the Ugandan way, traveled with me to some places and spoke Luganda to me so I could learn the words. But mostly she stood beside me, every minute, kind and strong, regardless of what life has thrown her way. There is Prossy, who teaches at Stella Maris, and is like a sister to me. She traveled with me to Kampala, and I am always stunned by her bravery. No matter where we are or what we face, this slight woman stands tall, instructs me to take her hand, and pushes forward. She has the keenest fashion sense of anyone I know, and we once knelt on the floor of her house at midnight as she ironed a dress for me because I couldn't appear before a skype meeting of CARITAS sponsors in a wrinkled dress. Sr. Carolyne, who I call Sr. Carol, has this kind and prayerful presence. We walked the roads near Nkokonjeru together, visiting schools and families, and everywhere she was greeted with respect and returned it with love and kindness. She works tirelessly to help keep the CARITAS programs running, and taught me to keep going, keep working, even when I've tired of the task because the end goal is often not about me at all. Matthew, who drove me back and forth between Nkokonjeru and Mukono, and made it his personal mission to answer every question about Ugandan culture I could ask, and teach me how to live life on Ugandan time because the focus should be on people, not on the clock.
There are so many people in Uganda who became close friends and family, and they are what draws me back. I would go one day, just for the adventure, but I'm going back to Nkokonjeru to be with them.