I made the five-hour bus ride from Port au Prince to the Azua province in the Dominican Republic so I could meet Sister Josefina Acevedo Marmolejos and the girls in her care. Sister Josefina is a member of the Carmelite Sisters of the Teresas of Saint Joseph and the director of the Hogar Teresa Toda, a residence for girls and a refuge from extreme poverty or an unsafe home environment. When you choose to sponsor a child through CARITAS' Dominican child sponsorship programs, you are giving a girl, living at the Hogar, the chance for a better life and an education.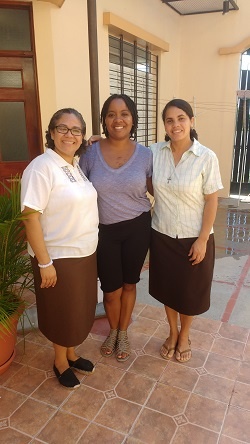 Sister Josefina, me, and Sister Leo
The girls are well taken care of at the Hogar. Sister Josefina is always busy, keeping the girls on track for the day. They eat five times a day, which I thought was great. The Sisters made me feel at home, the little girls were sweet and gave hugs; the older ones not so much, but they were welcoming as well.
I know for orphanages/homes, no matter how great it is, nothing compares to having a family. The girls here are on a rigid schedule, always busy until bedtime. I understand; for 39 girls, things will get out of control quickly. I also know that some orphans deal with rejection. But no matter the issues, I can see that Sister Josefina is doing a great job with these young ladies and that she loves it. They also love and appreciate her as well.
"Thank God for CARITAS! With the finances, we are able to buy school supplies. Also, we are able to pay for school because it is not free. The girls are very thankful for your [the sponsors'] support as well. When I first came here, there were 15 girls with sponsors. Now we have 27," Sister Josefina told me.
"The support also helps us with our children who have special needs. We are able to take them to a special needs school once a week," Sister Josefina continued. She said that the stable environment of the Hogar helps the girls to be able to function better in society.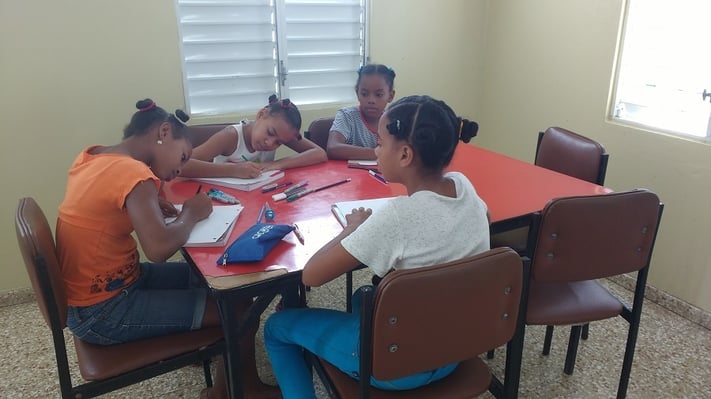 Some of the girls sponsored through CARITAS' Dominican child sponsorship programs writing letters to their sponsors. Clockwise from Alondra, in the orange top, are Keisy, Ranyelis, and Yafreisy.
"Without the Hogar, they would be unable to read and write. Most of these girls would also have teen pregnancies," Sister Josefina added.
Sister Josefina said she is thankful for the generosity of the sponsors: "I always pray that we are able to continue the sponsorship relationship with CARITAS. Our children always pray for their sponsors before going to bed."