While working for CARITAS For Children in Uganda, I'll be tutoring a group of students from St. Alphonsus, a primary day school here in Nkokonjeru. Just in time for the beginning of Term Two, the other interns and I are rested, adjusted to the time change and the new environment and eager to get to work. I have a group of eleven students from Primary Three class, six boys and five girls. Three girls in my group attend St. Alphonsus through CARITAS' child sponsorship programs.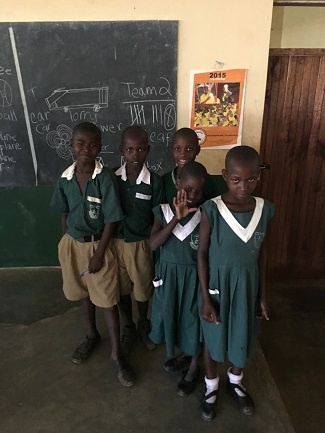 In front is Anna, behind her Mariam is waving, and be-
hind Mariam, in the sweater, is Jamilina. Their sponsors
support their education through CARITAS' Uganda child
sponsorship programs. With the two boys, they made up
Team Two.
My three CARITAS girls are Mariam, Anna, and Jamilina. The group as a whole ranges in age from 8 to 12. I will have this group three days a week from 3 p.m. to 4 p.m. To become comfortable with one another, I wanted to keep our first meeting together light and fun.
I decided to teach them how to play Pictionary. I split the group into two teams. A person from a group would draw an image and in order to get the point for that drawing the other team had to go to the board and spell out the word. The game ended up being very successful as it seemed like all of the kids were having a good time. I, too, was having a good time and was relieved to see they liked me.
I am excited to spend three days a week with these kids and get to know them better. Their smiles are contagious and their personalities are so fun, some are quiet and shy, others are rambunctious and jumping off the walls, all of them are extremely sweet and polite toward me.
I have already realized how attached I will become to each one of them and just how hard it will be to leave in two and one-half months. But for now, I won't think about leaving and will only focus on really being here and enjoying the time I am lucky to have with them.