"Why is he missing school all the time?" The answer Sr. Carolyne, Program Coordinator in Uganda, gave to that question created an awareness about risks to the health of the boys and girls in CARITAS' child sponsorship programs in Nkokonjeru due to waterborne illnesses.


Colleen Cheney, who manages international programs, was inquiring about a boy named Martin L., who is sponsored by Bruce R., and learned that he had been ill with a host of gastrointestinal problems due to drinking contaminated water. Martin did receive treatment, but it took many weeks for him to recover.

What followed was a collaboration between CARITAS For Children and another Milwaukee-based organization, Stonehouse Water Technologies, to offer their cost-effective H2MicrO bucket filter as an option to our sponsors and donors to provide an easy method for families in need in Nkokonjeru to have access to healthy, clean drinking water on a consistent basis.

The stars aligned when an intern from the University of Wisconsin-Madison expressed an interest in taking on the assembly, distribution, and instruction in the use of the water filters for the families of sponsored children in Nkokonjeru. So this past summer, Jenny Ostrowski carried an extra suitcase full of the filter mechanisms with her to Uganda.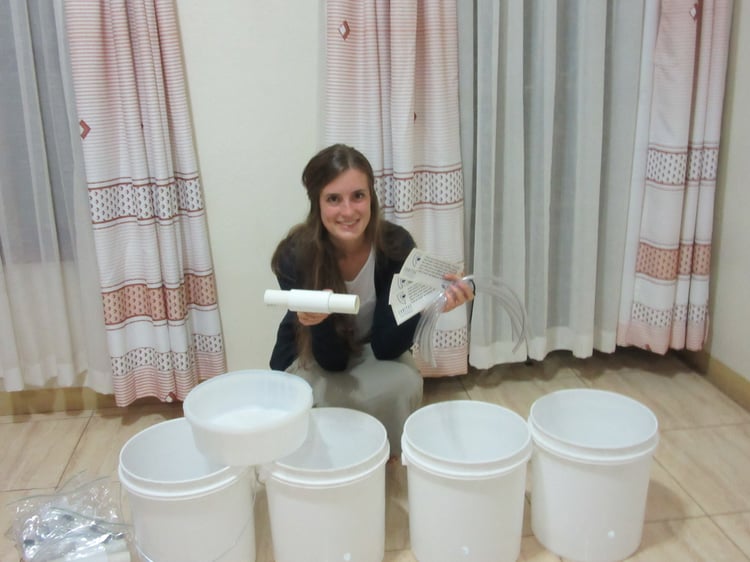 This summer, Jenny Ostrowski, a university intern, directed the Uganda Water Filtration Project. She instructed sponsored children and their guardians or parents who received a donated filter on the proper use and cleaning of the units to maximize the possible one million gallon filtering capacity.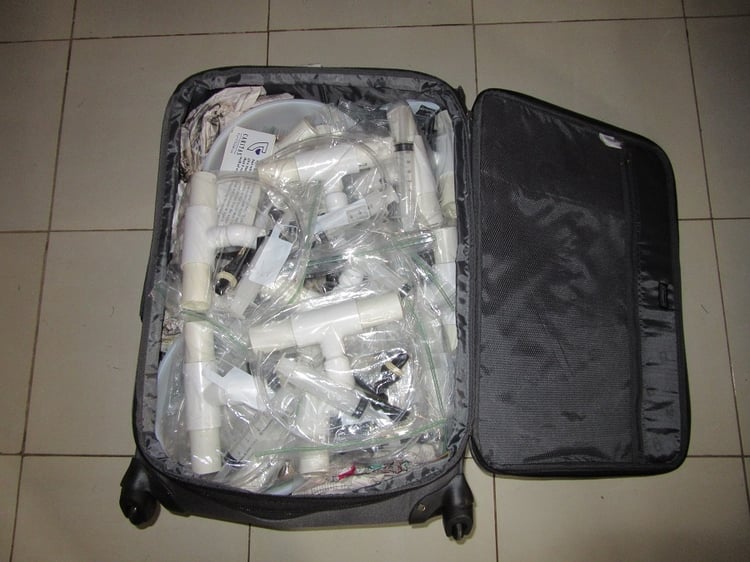 A suitcase full of micron filter mechanisms.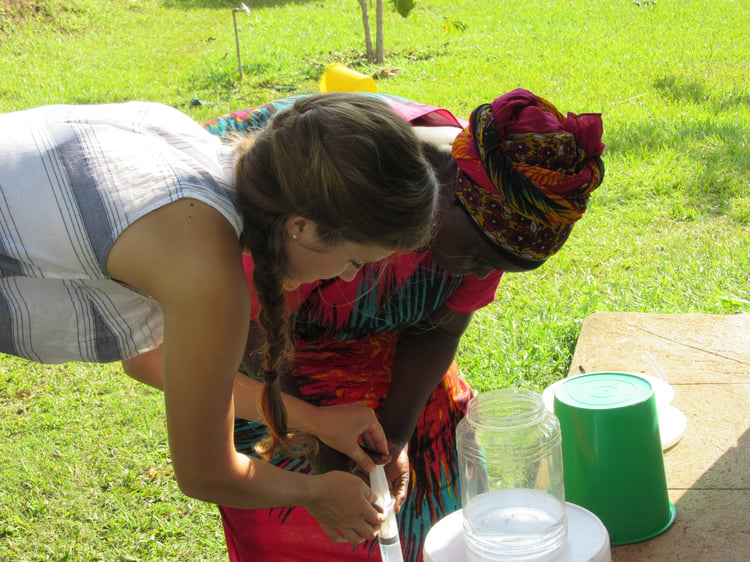 Jenny set up "filter school" next to the CARITAS For Children Learning Center to teach Martin's mother how to use, clean, and maintain her water filter. Here she shows Martin's mother how to clean the filter using a syringe.
Jenny made home visits when necessary to deliver water filters to recipients. Stella Maris students came to the CARITAS Learning Center to receive their bucket filters and instruction. Families made special trips to the learning center "filter school" to pickup their filters. Joseph or Sr. Carolyne would translate Jenny's instruction into Luganda when needed.
Jenny delivered two water filters to the students and faculty at St. Paul Boys School and taught them how to use and maintain them. A class in filter instruction was held at St. Alphonsus Demonstration School for children and their families as well. Dorah, sponsored by Lief G., was the photographer for the day since Jenny was occupied.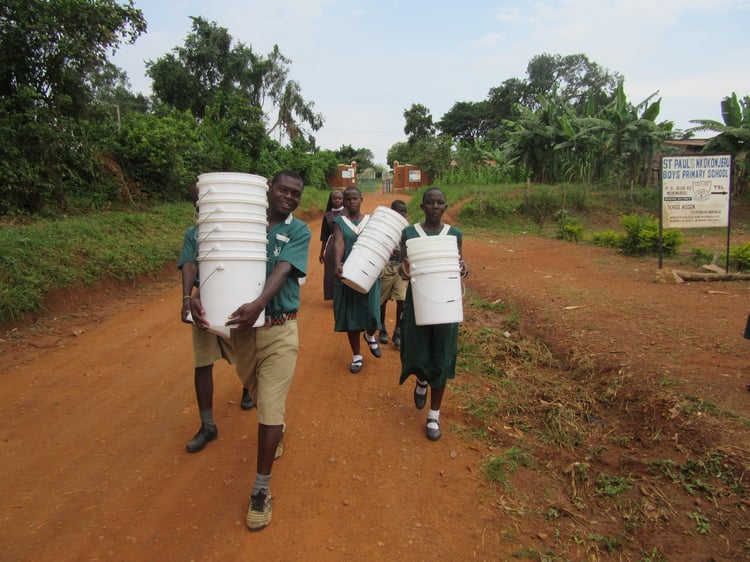 Jacob S. (front, sponsored by Elizabeth L.), Patricia A. (middle, sponsored by John S.), Agatha N. (sponsored by John M.), and several other students volunteered to carry the water filters down the hill from the CARITAS Learning Center to St. Alphonsus Demonstration School.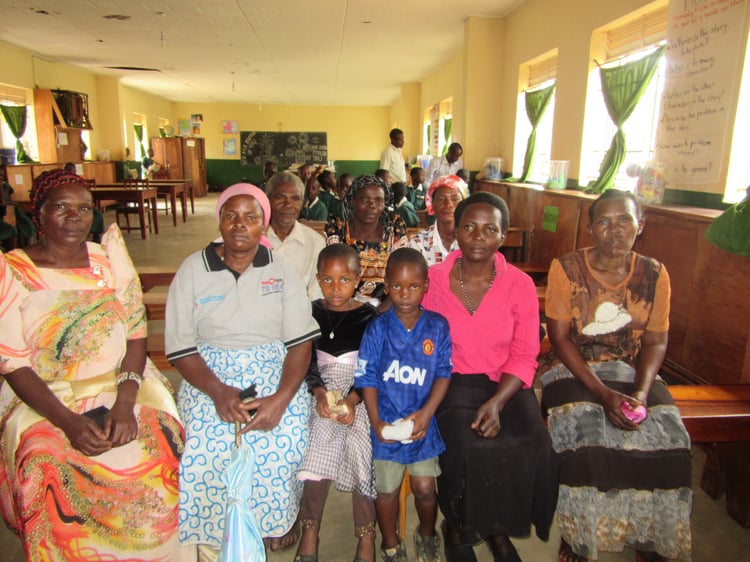 Both parents and students attended the filter training and demonstration session. The parents pictured here (from L to R) include the grandmother of Shiella N. (sponsored by John and Gerry F.), who is also the mother of David Z. (sponsored by Jennifer A.). Next to her is the grandmother of Joseph G. (sponsored by Mannon G.), Emmanuel M. (sponsored by Julia H.), and Ritah N. (sponsored by Ron L.). To her right, in the pink blouse, is the mother of Martin O. (sponsored by Linda N.), Martha A. (sponsored by Renee M.) , and Margret A. (sponsored by Jerry and Josie G.). On the left is the mother of Robert S. (sponsored by Phillip M.) and Dembe.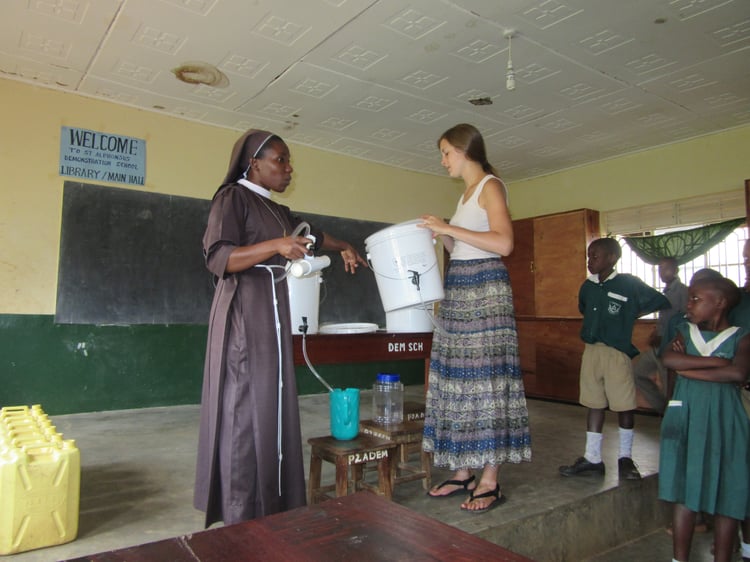 Sister Carolyne and Jenny demonstrate how to assemble, use, and clean the filters. Sister Carolyne was able to translate to Luganda. Here, they are reviewing the filter parts, using one assembled filter, which Jenny is holding, and the pieces of an unassembled filter, which Sister Carolyne is holding.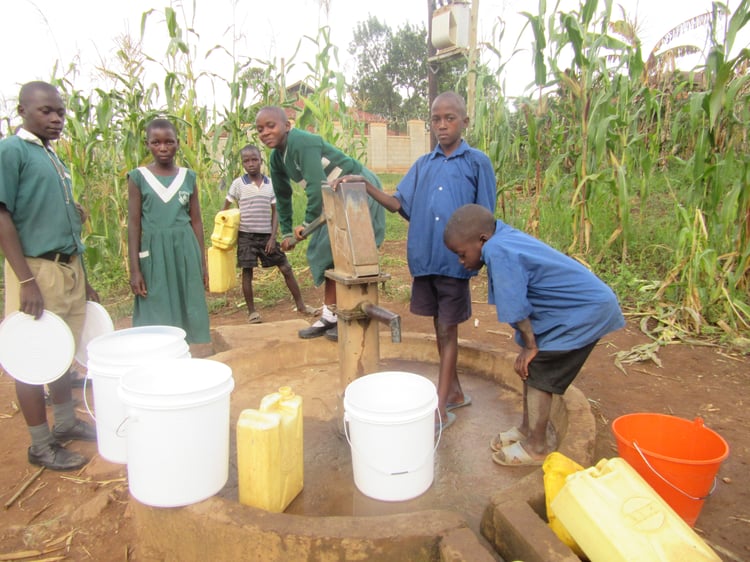 During the day, students at the Dem School fetch water from this borehole, which is located in a cornfield right next to the school. One has to pump for several minutes before the water begins flowing. In this photo, Josephine N. (sponsored by Jacqueline S.) is pumping, while Ronald S. (sponsored by John and Lynn P. and Dorah N. (sponsored by Lief G.) stand to her left.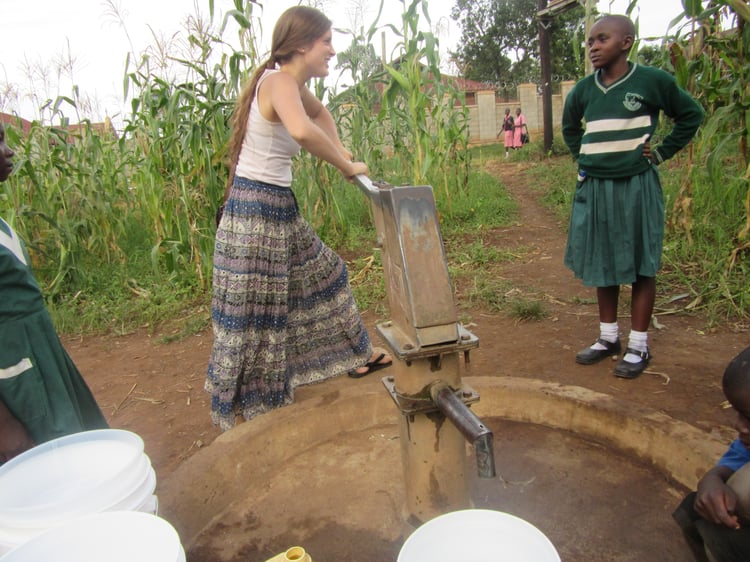 Of her efforts at pumping water, Jenny says: "I tried it out and felt my arms starting to get sore after about 30 seconds." Josephine looks on.
The Uganda Filtration Program is bringing about positive change. As Jenny says, "Thanks to the generosity of many CARITAS sponsors and donors, clean drinking water is slowly becoming more accessible to students and their families in Nkokonjeru. This change is the result of dozens of H2MicrO water filters, which have been distributed to households and schools in the area. The filters make a difference in the lives of students and families by giving them quicker, easier access to clean water in their schools and homes."