Sr. Elizabeth's university education is sponsored through CARITAS For Children's Adopt-a-Nun program. In an effort to support our ministry partners in Uganda, CARITAS initiated this program to seek assistance from our CARITAS community to help advance the education of the Little Sisters. Sr. Elizabeth shares her story here.
I am Sr. Elizabeth Barisal Ologe. I belong to the Congregation of the Little Sisters of St. Francis of Assisi, whose Mother House is located at Nkonkonjeru in Mukono-Uganda and its Generalate House at Jinja-Uganda. In May 2011, I qualified as an enrolled Midwife after studying in Kamuli Midwifery School-Jinja and thereafter worked in Cumuli Mission Hospital for 2 years. In November 2014, I qualified as a registered Midwife after studying in Lubaga Training School-Kampala for one and a half years.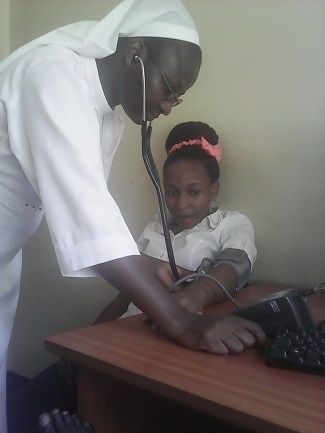 Here I am monitoring blood pressure of my patient.
Being a midwife to me was more than just delivering babies. I have enjoyed every bit of service as a midwife. Because of this passion, I would strive to improve other services in the hospital, but I did not have a clear understanding of the services of nurses, since my studies were limited to basic nursing principles. I would perform other duties that would surpass my own knowledge of midwifery. While in practice, I enjoyed taking care of the mothers from their first days of antenatal care to the last days of postnatal.
Despite this interest, love and passion for midwifery, I faced numerous challenges of managing other medical and surgical conditions that I would come across as a midwife. I was once posted to a village Health Centre where there was neither a doctor nor any other trained nurse. I strived to remedy these challenges, but was overwhelmed and only wished I had trained as a nurse as well.
In September 2015, I was admitted at Uganda Christian University, to pursue a Bachelor of Nursing Science (BNSc) that runs for four years and one year for internship. I have a passion for midwifery, but also needed to have great knowledge of nursing science. This is such that I could gain nursing skills and more knowledge on management of different diseases and conditions and hence be able to help the ailed people in the health facilities and in the communities by offering physical, psychological, emotional and spiritual care. I too needed knowledge to help educate the community in order to improve on their health by living healthy life styles.
As a nun, I believe service of God's people is the best appreciation you can offer your Creator.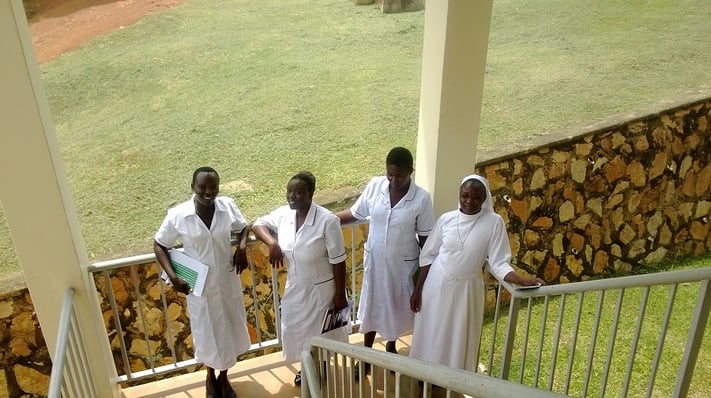 On campus with some of my fellow nursing students.
For the semesters I have been in class, I have learnt that nursing is a noble and unselfish profession. I do really well in such professions because helping the helpless is my calling, my vocation and my strength. These two programmes, I believe will not tie me to the ground, I will move from place to place to show and teach God's love through service above self in hospitals, health centres, homes etc. This will make my missionary work easier, and interesting. In order to succeed and let these dreams come true, I will think not of the challenges, but the outcome of the programme, and the people for whom I am serving. These thoughts give me strength, endurance and above all interest to study more and succeed by the end of it all.
For those who think it is not easy to have two professions at the same time, look back to your roots, or to what you are doing now, and ask yourself, am I serving people or are the people serving me? This would create a long lasting impression in your life. As a nun, I believe service of God's people is the best appreciation you can offer your Creator. I do encourage all those interested in pursuing any course, to come up and in big numbers so that together we may help save life and restore health to God's people. For health is a very big term that entails the physical, emotional, social and above all the spiritual well-being of a person. Midwifery, nursing, teaching etc. are noble professions, and a call for service from God to his people among the sick and the healthy, the rich and the poor, the illiterate and literate.
Finally, I take this special chance to sincerely thank Mr. Michael H., my sponsor, who endeavored to educate me at my registration course as a midwife, and who went an extra mile to let me continue to further my studies to university. Thank you for being a loving father. May the good Lord bless you and family abundantly.