Looking out over a heavy cloud layer at about 36,000 feet – nothing but clear blue sky, the sounds of fellow travelers and the roar of the jet engines. Our 7:30 a.m. flight finally departed after a nice coat of pink de-icing fluid set us free to lift off…it was 11:45 a.m.…heading to New England where I grew from childhood. The memories of several Thanksgiving holidays over 60 years started there and since have found me in many places to continue to enjoy and bless me around the globe. T.S. Eliot had a great quote that comes to mind right now. He said, "We shall not cease from exploration, and the end of all our exploring will be to arrive where we started and know the place for the first time."
How true that is, but in addition, how true it is that we live in a world that is vastly different in other places than we might first come to know in America…except for one thing…when in that beginning we start with one universal and profound reality. I will come back to that in a few moments.
Right now, I am traveling back to the place where and to be with some of the people with whom my first Thanksgiving Days were spent. My own family of parents and siblings and grandparents. I have kept a number of photos from those early years, here is one of my mom. I was probably about 12-years-old when this was taken. My mom is carving the bird that year – table set for about ten of us. Six children, parents and always a few extras who were often with us during holidays and even just regular days too.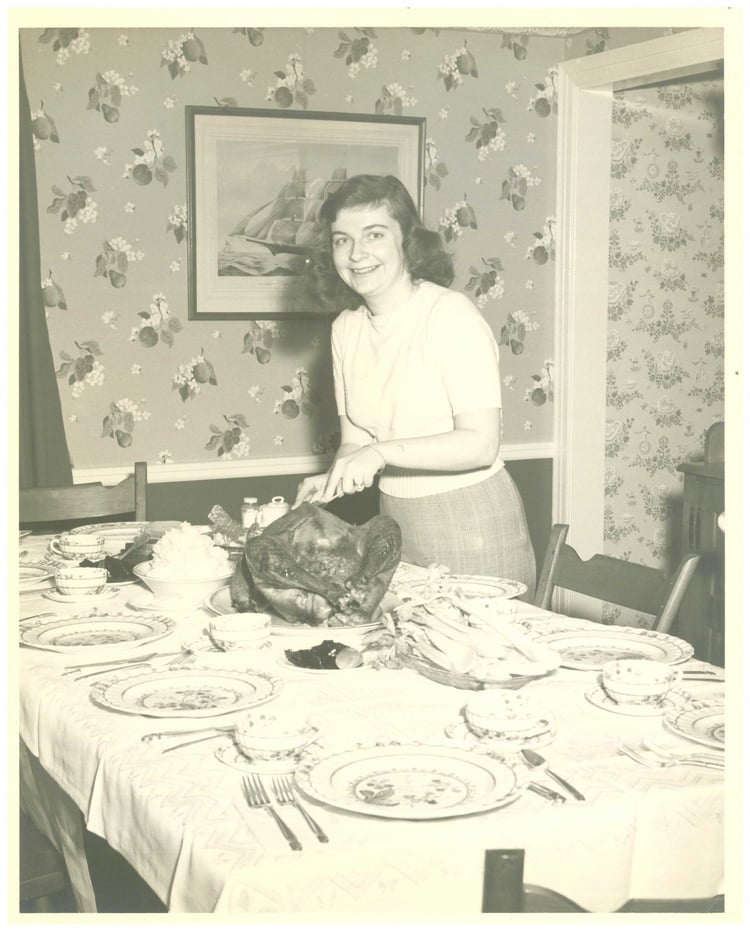 A Thanksgiving from days gone by, the mother of Chris Hoar ready to serve the holiday meal.
The memories of those days might actually now be of better times than they were. But they were good, no matter. Perhaps this was what Eliot was referring to. In those years, times were different. I sense that family meant much more and was more for a time of really important things in our lives than today. Being together, having enough but not too much – and we did have even then enough. Plenty of food, clean water, comfort, secure home environment, caring people, and even more.
There were many good Thanksgiving holidays like that. Slowly by slowly, I have come to realize what this particular holiday is truly all about. And maybe too, how I and others I have encountered have failed to always understand this holiday. I'm staying away from the usual football stories in this season to keep from going too far afield. But in my memory, thanksgiving for me growing up as a child, then young adult and eventually with my own children and grandchildren, have been memorable.
Moving forward to some other Thanksgiving seasons, I have also been blessed with a number of special and unusual times. I remember in 2002 and 3 or 4 other such time in the following twelve years when Thanksgiving was celebrated in Warsaw, Poland. Of course, Thanksgiving is an American tradition, but for 45 or 50 little girls and boys, living in a Dom Dziecka, (home for children) or orphanage, we had the chance to bring and celebrate Thanksgiving together with them.
Sharing an American style Thanksgiving meal with the children at the orphanage in Poland.
We improvised where needed for traditional Thanksgiving Day food and drink, music and traditions. Colleen, our managing director and coordinator at that time in Poland, was quite creative in helping every one learn about this American holiday tradition. Here is another photo image of one of the more recent Thanksgiving celebrations in Poland. This day I think there were about 55 children ranging in age from three to twenty-two, plus a few helpers and several of the sisters in charge.
We started with prayer…which is quite normal for any event in the presence of our sisters and CARITAS Ministry partners there. Some live music with violin, acoustic guitar and voice. Some story telling about how Thanksgiving began in America. But it was difficult to tell these children all about how it was also about family, growing up in secure homes with plenty of food, clothing, security, comfort and everything we always had to be truly thankful for, and more, which I come back to before landing in Boston.
Spending time with some of the students from our child sponsorship programs at Stella Maris Primary Boarding School in Uganda.
Another few times, I have in have in memory the pleasure of being with and celebrating Thanksgiving like Holidays with our children and CARITAS ministry partners in Uganda, East Africa. Surrounded by children, you might have come to realize just how important they are for me, and in a very real way, they are for us all. Here is a picture there together in Uganda. I have to admit, going to each of these places and others like them; my adventures and explorations have filled me with great joy and the feeling of celebration and life, and something else you probably already guessed. It fills me with love…family love, brotherly love and most especially, God's everlasting love. Or to use the Latin, Caritas Dei or God's love.
Well, the landing gear has just been activated in preparation for landing, so I will quickly finish with this. In all our exploration and adventure in life, the most important memories will come out of love. Regardless of the places we go, the people we meet, the things we do in life, the memories that last the longest and that we celebrate with great thanksgiving are those of the love shared with one another. Perhaps this is one of the realities of my own travels and adventures…one never more inspired by the encounter of a beautiful child to create, even if momentarily, collectively over the years, that I receive when meeting and being with a child who Christ refers to as one of the least of my brothers (and sisters). And the finest gift we can share with each other is the love Christ has shared in His own love with us. Giving hope, sharing what we have to bring this same nutrition, life giving water, peace, joy and happiness is what happens whether it be at home or across the globe when we choose to Love One Another.
From all of us at CARITAS For Children…thank you for all you do to help us enjoy these memories we have and to share them with you in our relationship through our global ministry of caritas. Best wishes for a Blessed and Happy Thanksgiving.
---