One of the treasures of CARITAS' child sponsorship programs is the rich cultural diversity of everyone involved. We are truly offered a global perspective from our encounters with our friends in Africa, Poland, and the Caribbean. The varying traditions of Christmas celebrations throughout our CARITAS program locations are also fascinating to consider.
Our Technical Coordinator in Nkokonjeru, Joseph Kkonde, tells us that in Uganda families decorate their tree on Christmas Eve. Families of means have artificial pine trees. In the villages families may cut a particular type of tree commonly known as a Christmas tree in Uganda. Villagers decorate their trees, if they are fortunate enough to have one, with real flowers or paper cut into delightful shapes.
Ugandans traditionally attend Midnight Mass on Christmas Eve. Christmas Day is celebrated with family and special meals. People dine on matoke, rice and meat . Children have soda, adults may have libations and there is music and dancing.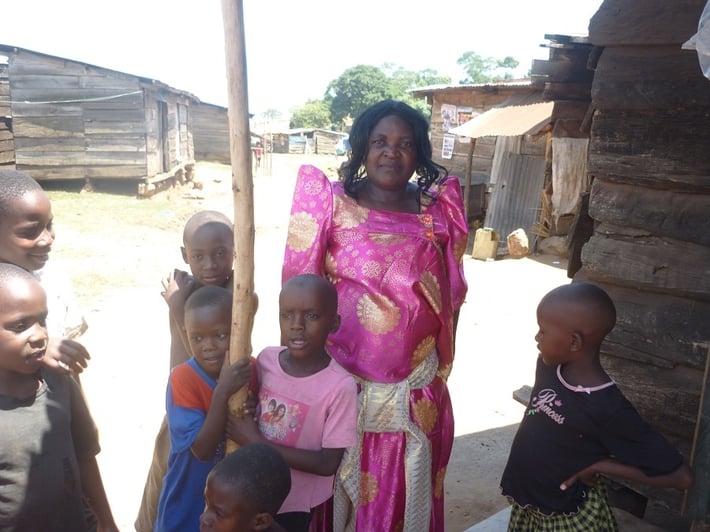 A Ugandan woman wearing the traditional dress called a gomesi. In the villages, husbands are expected to give their wives such a dress as a Christmas gift. This woman was wearing her gomesi for a special occasion in the village of Nkokonjeru where CARITAS has one of its child sponsorship programs based.
Gifts are opened on December 26th, Boxing Day, in Uganda. Children are traditionally given new clothing. Joseph said in the villages, husbands are expected to give their wives a gomesi, the traditional Ugandan dress. Joseph chuckled and said that a woman running out of the house and refusing to do work is entirely warranted if she does not receive a new dress.
Sr. Jadwiga, the Director of the Centre of the Holy Mother of Mercy, shared some Polish Christmas traditions. When university students are engaged with CARITAS for an internship in Poland, they work with children at the Centre, which is just outside of Warsaw.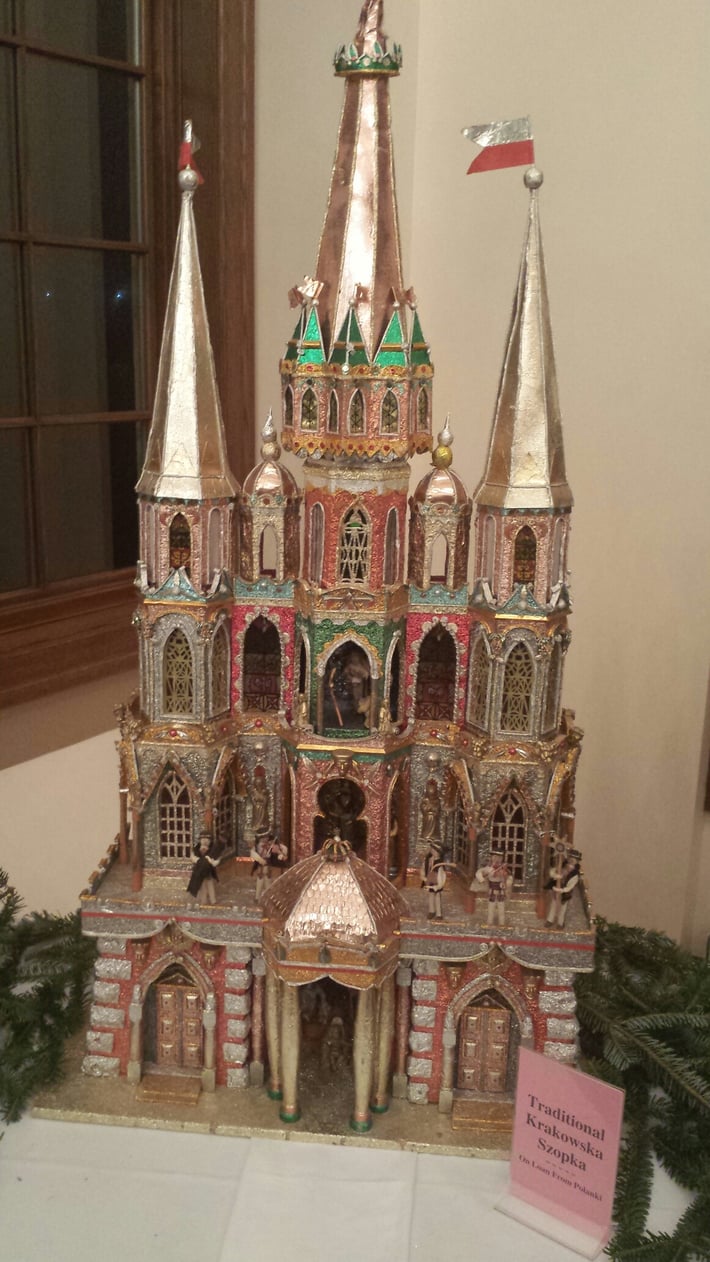 A Kraków szopka – another Polish tradition, originating in the city of Krakow, is to house the nativity in a model representing a historic building from that city.
In Poland, traditionally at the beginning of December a honey cake called a pierniki is baked in the shape of saints, nativity scenes and the like. They are not eaten until Christmas Eve.
No meat is eaten on Christmas Eve. Twelve dishes, in honor of the twelve apostles, are served – a combination of soups, salads and fish. Children watch to see the first star of the evening before dinner may begin. Another tradition is sharing a baked wafer called the oplatek. Everyone takes a turn breaking off a piece, giving it to a loved one with a good wish for them. Often a Christmas scene is depicted on the surface of the oplatek.
Caroling from door to door, as in the United States, is a Polish tradition as well. Poles also spend the evening making ornaments to hang on their tree which traditionally is also decorated on Christmas Eve as in Uganda. Presents are opened on Christmas Eve in Poland.
Christmas celebrations continue through St. Stephen's Day, December 26th, in Poland. Businesses are closed and people are off work.
---