I am an anthropologist and a professor at the University of Virginia. My research on health, charity, religion and development takes me to Uganda on a regular basis. I am also a CARITAS sponsor.
While I was in Uganda this summer, I was blessed to find that my regularly scheduled trip coincided with Stella Maris's Visiting Day. Stella Maris Primary Boarding School is one of the locations where girls are able to attend school through CARITAS' Uganda child sponsorship programs. I had planned to simply stop by and say hello to Juliet, the eleven-year-old girl my husband and I have been sponsoring since 2012.
I thought I would simply bring her some treats and say hello, but instead I found myself able to join the throng of parents arriving by car, minibus taxi, and foot who came to see their daughters, check on their progress, and to bring them picnics and fresh supplies. Most of the parents who spread out their picnic baskets on the school's lawns dedicate a substantial portion of their income to paying school fees each term, and the sacrifices they are making to send their daughters to a big school like Stella Maris far outweigh those my family makes to afford Juliet's sponsorship.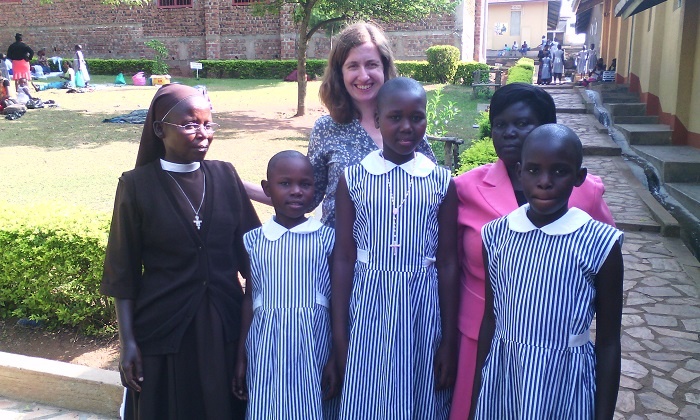 On the left is Sr. Berna, an assistant at Providence Home, where the Little Sisters of St. Francis of Assisi care for special needs children. Next to her is Veronica, sponsored by Mike and Mari S., and Juliet is next to her. The woman in pink is a relative of Sr. Berna and is a surrogate aunt to Juliet. The third girl is a friend from Stella Maris. I'm standing behind Juliet.
Many of the CARITAS children, perhaps some of those you are currently sponsoring, were met that day by their own relatives. These relatives could never afford to pay the fees at such a school, but they can afford to visit and they come dressed in their best, glad to participate in the day's events and proud of what their daughters are doing now and what they may become in the future. Others, including our Juliet, were met by nuns from the Little Sisters of St. Francis who work in other apostates, but who have taken an interest in particular children and have brought them in as members of their own extended families.
Being a CARITAS sponsor has allowed my family and me to act in some small way like these people who give without obligation or expectation of return. In Uganda such people are often referred to in Luganda as people with omutima omuyambi, people with the heart for helping others. Such people are legion in Uganda. They are the kind neighbors and the relatives who commit to paying school fees to those in need, who pay medical bills when money is scarce, and who share what they have in whatever way they can.
CARITAS For Children has also allowed us to give those Little Sisters of St Francis, who have such hearts for others, the means to act in cases where sponsorship is truly needed, to answer the whispered requests for support with a confident yes. The Little Sisters in turn give us the opportunity to help in the right cases in the right ways through their deep knowledge of the communities where CARITAS works.
Finally, they, together with the staff at CARITAS For Children, make it easy to help in these direct ways with the click of a button and do so with a surprisingly small amount of overhead. As someone with long experience in Uganda I know the actual costs of the things they are paying for and I know that nearly everything I send through CARITAS ends up directly with Juliet. Short of living in Uganda and taking her fees, and soap, and sweets, and socks to her by minibus taxi myself, I can think of no better way to contribute directly to the life of a child.
Our gift of sponsorship is small and partial compared to the work that the teachers, staff, and other friends and relatives that surround Juliet with love and care do every day, but this gift has also been the key to her being able to start a new life; a life where her worries are about her exams and choir practice, and not about those much more serious problems that she faced before.