The Lord has done great things for us! A young woman named Farron Horton will be going to Haiti at the end of this month for a preliminary introduction to CARITAS For Children's ministry partners there, the Little Sisters of St. Thérèse of the Child Jesus. What will hopefully follow is Farron's eventual placement as a long-term missionary with CARITAS For Children's Haiti child sponsorship programs this summer. It almost seems as if it was meant to be.
Ever since Farron was a little girl, she has wanted to be a missionary. Her dad was in the military and would come home telling her stories about all of the places he had traveled to in the world. She would dream about traveling herself someday. Farron chuckled that in her eight-year-old mind, "I didn't know what a missionary was. I just wanted to travel around the world. I would always find books at the library or school and read about different countries." Eventually as she grew in faith and grace that desire to be a missionary remained true but for spiritual reasons. Through daily prayer, Farron felt called to serve.
Farron's first mission trip was to Panama when she was around the age of eighteen with an organization comprised of multiple Christian traditions with a purpose of making God known worldwide. Since then she has worked in Puerto Rico, China, Hong Kong, Colombia, the Dominican Republic, and Haiti. With the exception of the Dominican Republic (DR), Haiti is the only country to which she has returned. When she travels there this month, it will be Farron's fifth trip to Haiti.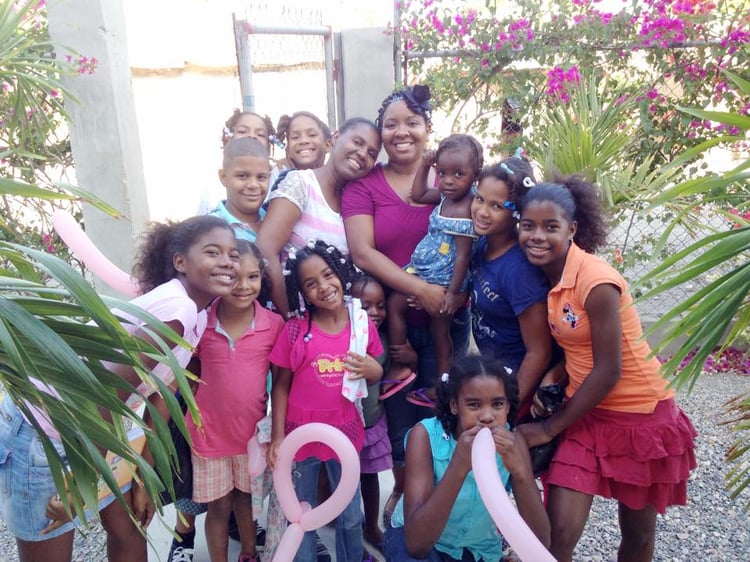 Farron with the children she worked with on her last mission trip to the Dominican Republic.
Farron said that she definitely feels a connection to the Haitian people. With regard to working for CARITAS For Children's Haitian child sponsorship programs, she said, "The purpose of this trip is to meet the staff in Haiti that are with CARITAS, see how they do things, just really meet the people there," but she added, "I already feel committed. This is something I've been planning for a long time."
After returning from a recent mission trip to the DR, Farron said she had gotten the sense that God wanted her to engage in mission work full-time. "I was thinking of going to the Dominican Republic again but I still felt this tug [as if], 'You need to be doing work in Haiti.' I felt really connected to Haiti. I kept really praying about it."
Farron had been searching for organizations where she could enter into full-time mission work but hadn't found anything. She decided to try one more time and found CARITAS For Children's web listing for a long-term missionary in Haiti. Her hope in working with CARITAS For Children is simply and authentically to show the Haitian people God's love, and to reinforce, "That it's worth living life for Christ," she said.
Farron acknowledges that daily life in Haiti is not going to be easy.
"I think it's something you have to be called to. I think it takes the Lord's grace. I feel the Lord has called me to it," she said.
Recent political unrest is not enough to dissuade her conviction. She thinks that one has to be prudent and avoid the heart of the capital during tense times. Affirming that one has to have a certain amount of trust in God, Farron said, "Yes, of course, you can't ever leave that out."