by Jennifer Ostrowski, CARITAS For Children Intern
Some of the "original" CARITAS children, among the very earliest to benefit from the child sponsorship programs in Uganda have now graduated from secondary school (high school). The Sisters call these girls "the pioneers". I had the opportunity to sit with some of these young women and discuss their plans for the future. Today's post features my conversation with Sarah, sponsored by Carol R. Since 2008 when she was in Primary Six, Sarah has had Carol's care and support. Sarah's answers to my questions appear below in an interview format.
Name: Sarah
Age: 16
Hometown: Kiyunga, near Jinja
Sarah has been sponsored by Carol R. since Primary 6. Last December, she completed S4, the fourth year of secondary school with some of the highest marks in her class at Stella Maris College. In Uganda the term college refers to secondary school or high school.
Jenny: What were you expectations of the program?
Sarah: "I expected to be able to get [school] requirements [books, pencils, etc]. I expected [to be sponsored by] like a family or something. I knew that they were from America."
Jenny: How have you benefitted from the CARITAS program?
Sarah: "I have been able to excel in my education. And I also get the [school] requirements, and I am able to go to a good school."
Jenny: What challenges have you faced since you became sponsored?
Sarah: "After I entered the program, I was told that I would go to Stella Maris for studies. I had to read many books and study."
Sarah when she first came to CARITAS For Children
Jenny: What is your favorite subject?
Sarah's favorite subject is English. She also noted that Mr. Kasadha, a geography teacher, advised her, helping her not only with geography, but with her life plans. As Sarah states, "he could advise me if I went wrong."
Jenny: What advice do you have for younger students in CARITAS' child sponsorship program?
Sarah: "I would advise them to stick to their studies, mostly because that is the key to their success. And when they are studying, they should not think about other things until they excel."
Jenny: What do you think the CARITAS program should look like in the future?
Sarah: "I think the program will grow, because most of them [most people] are becoming students, and after becoming students they get jobs and they earn [money]. And then they can be helping other students, like those children who don't have parents."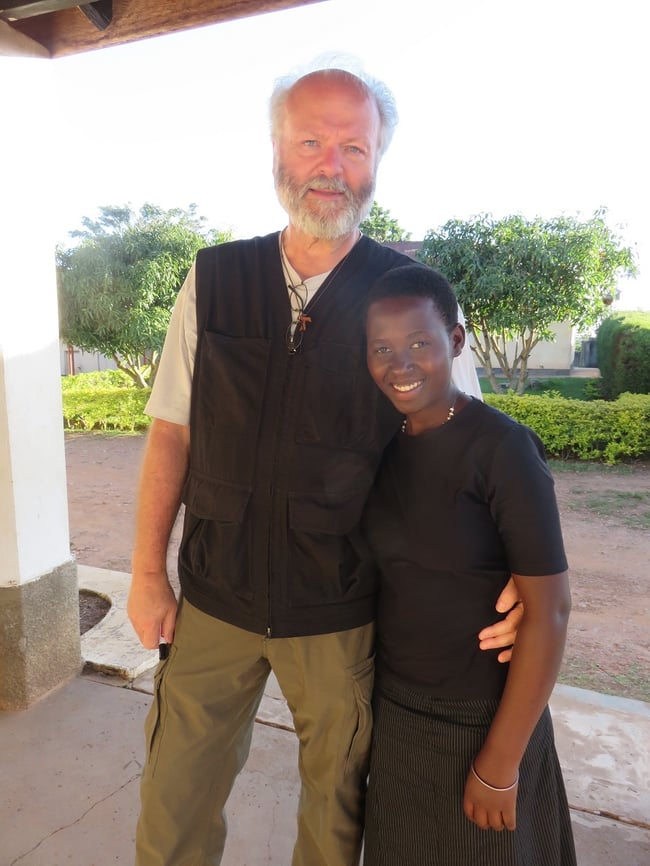 CARITAS For Children Founder, Chris Hoar, met with Sarah in Uganda this summer.
Jenny: If you had not had a sponsor, how would your life be different?
Sarah: "I think I would have been just seated [staying] at home, helping my mom just to do house work and so on, to earn a living, because she did not have any money to take us to school."
Jenny: Give some examples of how the sponsorship program has helped you.
Sarah: "I have been able to meet friends and to get good friends and teachers in school. I have been able to know what my future will be. [i.e. I have been able to plan for my future, and I know that I will have a future outside of just working in the fields at home, etc.]"
Jenny: What is your relationship with your sponsor?
Sarah: "I take her as my mum, because, without her, I think I would not be here. She is part of my life."
Jenny: What are your plans for the future?
Sarah plans to attend a nursing course at St. Francis Hospital in Nsambya. Specifically, she will study midwifery, which is a five semester program. She hopes to begin attending school in November 2015. Sarah decided to study nursing in S2 (second year of high school). She says that "it is easier to get a job than in other studies. If I am also well [if I do well in the course], then I can help others, and help to develop the CARITAS program."