I was lucky to arrive in Nkokonjeru on the weekend before the start of Term 3. On Saturday I watched as the girls came back to Stella Maris Primary Boarding School after spending a two week break back at home with family. On Sunday, I walked up to the Stella Maris campus to see what initially looked like chaos.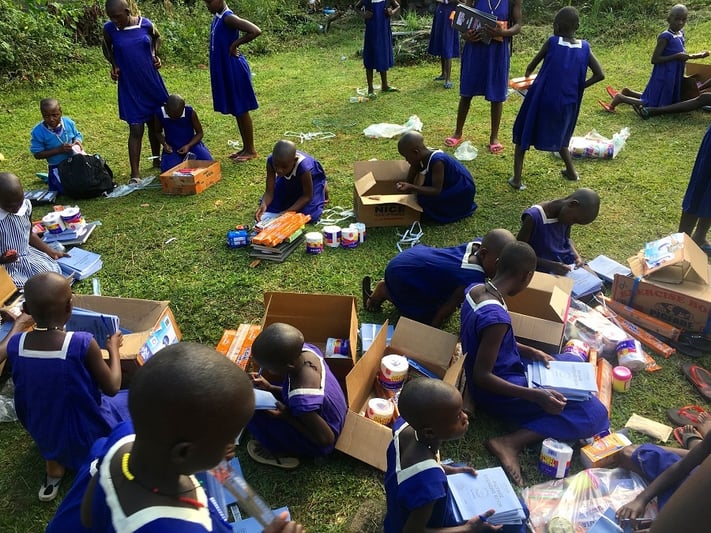 After picking up their supplies, the Stella Maris students in Primary 2 find a place within the school yard to take the time to label their belongings.
After taking a second glance, I found that Sister Carolyne, Program Coordinator for CARITAS' child sponsorship programs in Nkokonjeru, and Joseph Kkonde, CARITAS Technical Coordinator and Deputy Headmaster at Stella Maris, were calling up each class and passing out schools supplies before the start of the term. The kids held open plastic bags like they were trick-or-treating but they received pencils and toothpaste instead of sweets and chocolates.
Sister Carolyne (upper right) perched in the doorway directing the supply line while Joseph Kkonde (back left) keeps the mood light, cracking jokes as he helps oversee the distribution of supplies to the Stella Maris College (high school) students.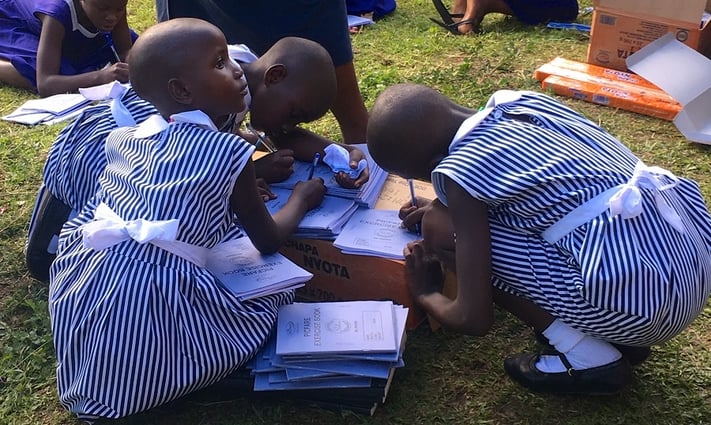 Because it is a Sunday, these three girls are wearing their blue striped dresses that are worn for Sunday Mass and special occasions. The girl in the center, Karen Babra, is sponsored by Elizabeth S.
Each girl is provided with everything she needs and receives a range of supplies including: pencils, pens, workbooks, rulers, soap, toothpaste, toothbrushes, shoe polish, hair brush, toilet paper, maxipads, and jelly, because they are sponsored through CARITAS' child sponsorship programs. Having basic school and hygiene supplies at the start of the term ensures that these girls are able to focus on their studies and succeed!