If you don't know already, Providence Home is a care facility run by the Little Sisters of St. Francis of Assisi where therapy, education and housing is provided for the elderly and disabled in Uganda. The youngest resident is a four-year-old little boy and the oldest individual is probably around 90 years old, so there's a wide variety of people. Besides the Sisters, the staff at Providence Home ranges from cooks to matrons to occupational therapists. One person in particular who has really made an impression on me is an occupational therapist named Ronald who is on duty seven days a week.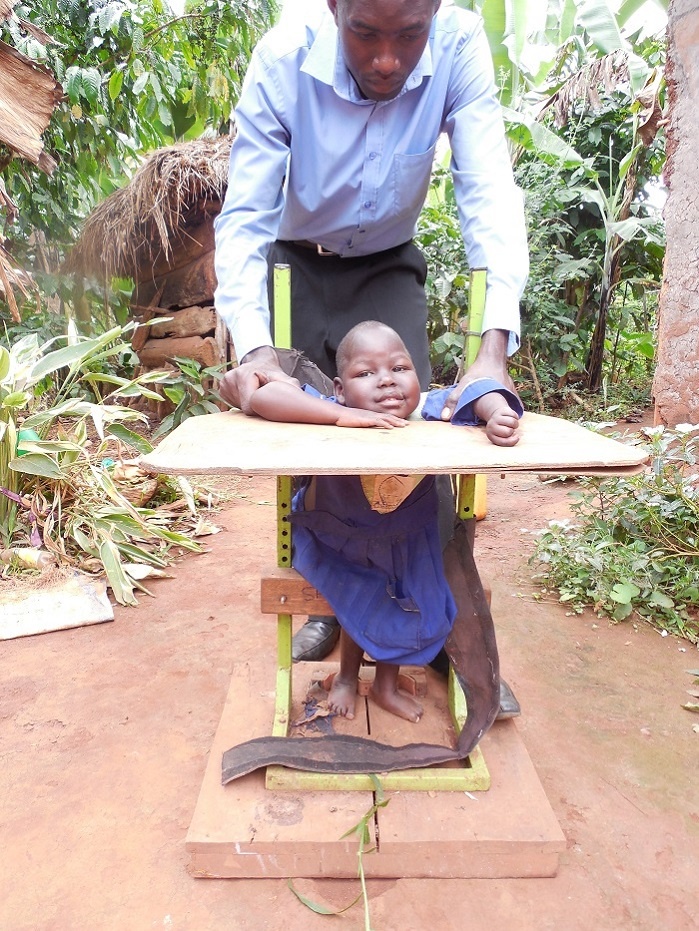 Robert works with Tracy assessing the standing aid in the yard at her grandmother's house. He discovered it was not a good fit and plans to go back with adjustments so that it fits better to help strengthen Tracy's standing skills. He visits children in the community who either cannot make it to Providence Home for the clinic or have made enough progress that they don't need weekly treatment.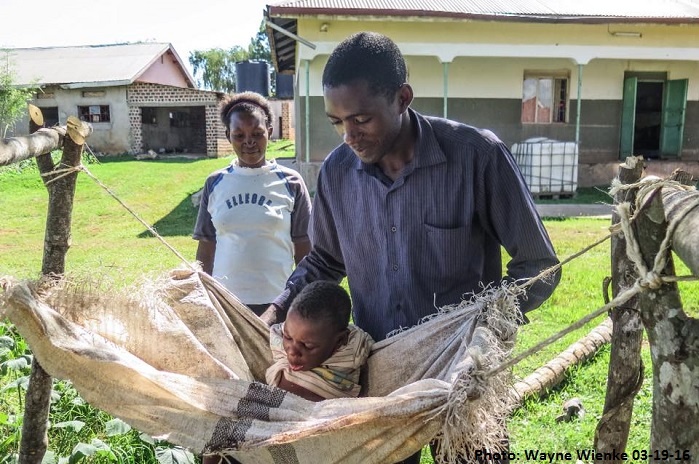 Ronald built this swing-like device to show mothers what they could do to work with their children between clinic visits at Providence Home.
Since I'm studying occupational therapy myself, it has been a great opportunity to be able to work with Ronald during my internship in Uganda with CARITAS' child sponsorship programs. I have been able to accompany him on home visits and observe at Providence Home as well. Ronald is a quiet, kind, and patient man. He began working at Providence Home in March of 2014 and has shown his commitment ever since.
Every day at 8 a.m. he arrives at Providence Home and begins the day with self-care for the children. This involves bathing, dressing, brushing teeth, and combing hair. The day continues with class time until a break around 10:30 a.m. Class involves reading, singing, writing, some educational games and so forth. After break comes time for other activities such as gardening or crafts which lasts until lunch. Ronald then usually plans further activities to engage the children until he leaves at 7 p.m. He has a 55 hour work week and has no complaints. Ronald sometimes even works on Saturdays so he can make sure the children are occupied with meaningful activities.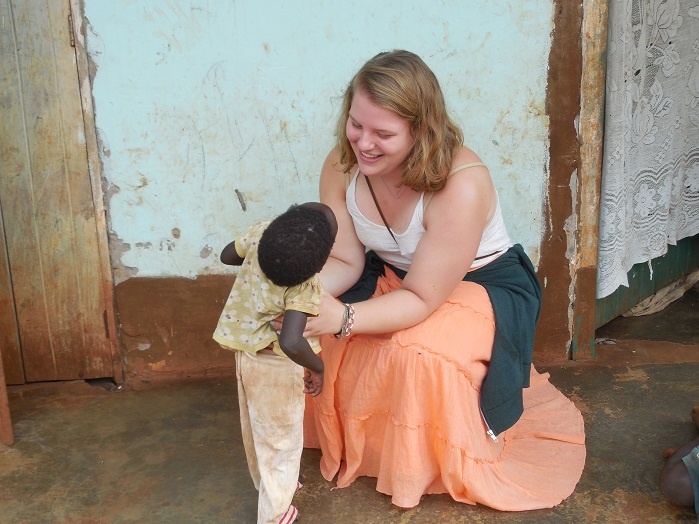 The little girl's name is Carol. I accompanied Ronald on a visit to her home. She's seven years old and has shown progress so doesn't attend the clinic at Providence Home as often as she previously had. She can speak, sit, eat, and almost stand by herself.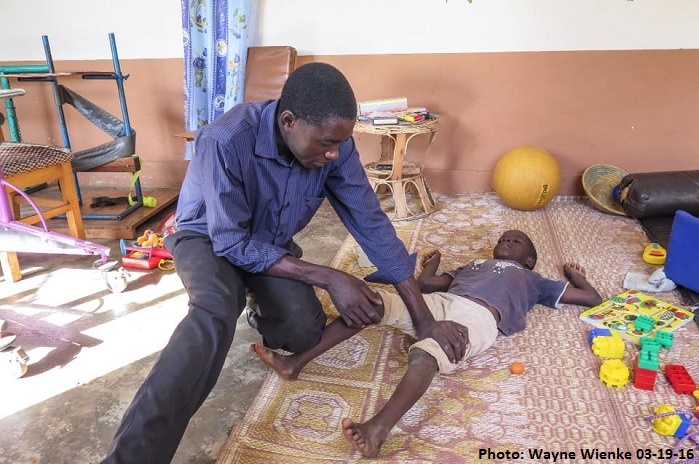 Ronald works to stretch Solomon's legs. Solomon is a resident at Providence Home and attends school at St. Anthony Nursery School. He is sponsored by Michael P. through CARITAS' child sponsorship programs.
When asked what makes a successful occupational therapist, Ronald said it takes love for the clients, patience, enthusiasm, and flexibility; all qualities he possesses. I asked him what he meant by flexibility and his answer made us both smile. He explained that sometimes the children will get up and walk out of class and you have to sort of chase them to get them to return. Or you have to stop class momentarily because someone went to the bathroom on the floor and needs new clothes. It's certainly not a boring job at Providence Home.
Although he loves his job, he would like to do even more for his community. In the future Ronald would like to open his own occupational therapy center for people with disabilities. He says he would like to locate it close enough to Nkokonjeru so he can volunteer his time at Providence Home at least once per week. He is an admirable man who gives more than he gets. The Providence Home community is that much more complete with his presence.
Children with special needs are sponsored through CARITAS child sponsorship programs. If you would like to sponsor a child, Stuart is a wonderful boy who would benefit greatly. Click the link below if you would like to make a difference in Stuart's life.