I made it! It's the third day of my summer internship in Uganda and so far, I've realized that it is a beautiful place with a lot of contrasts from America. Immediately after arrival I couldn't help but notice some major cultural differences.
One of the first things I experienced was driving. Joseph Kkonde, Technical Coordinator for CARITAS' Technical Coordinator, kindly picked me up from the airport and though he is a good driver, it was crazy. Driving from Entebbe to Nkokonjeru, I noticed that in most places there aren't any street lights or traffic lights. If there are traffic lights or signs, it's almost as if they don't exist. Drivers pass other drivers even when there are cars coming from the opposite direction, they aren't scared to get as close as possible to other cars, and they go very, very fast. Amazingly, I didn't see even a single minor crash and I don't think crashes are very common. This experience was a little shocking to me but I was very impressed with Joseph and his ability to make me feel safe.
That being said, I was still relieved to arrive at the Stella Maris campus, the site of CARITAS' child sponsorship programs in Nkokonjeru. I was finally able to meet Flavia and Prossy. It was late but Joseph and these women made sure I had everything I needed and knew where everything was. After not falling asleep my first night until 6 a.m., I had a nice first day in Nkokonjeru. I woke up in the early afternoon, so my day wasn't very long, but it was eventful.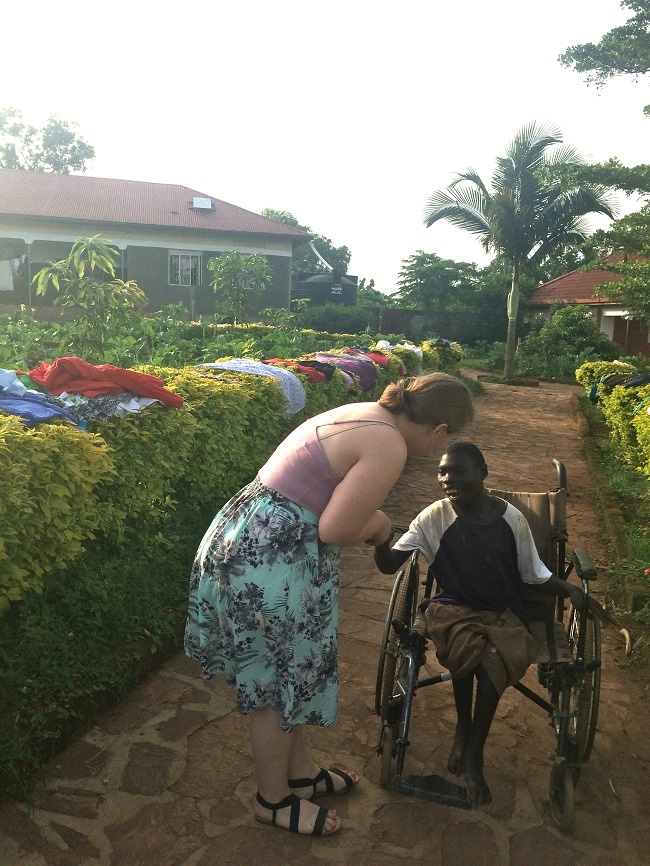 One of my duties will be working with the Occupational Therapist who holds Friday clinics at Providence Home, the Little Sisters of St. Francis of Assisi's residence for children and adults with disabilities. I'm so excited I got to visit Providence Home today! This boy, Richard, greeted me by extending his hand, it was very sweet. Richard is in need of a sponsor for his education and support.
Around 4 p.m., I was invited by Prossy to take a walk to town with her, Flavia, and Tang. This was a lot of fun for me because it was really going to be my first time immersing myself in the culture! As soon as we made it to town, the little kids were yelling "muzungu" at me, which means "white person", and just beamed when I waved to them. A touching moment that I'm sure I'll never forget was holding a little girl's hand after saying hi to her. All of the children were so sweet and seeing them all made me extremely excited to be able to work with the kids in the child sponsorship programs in just a few days.
During my second day, we travelled to Namugongo at four in the morning to celebrate Uganda Martyr's Day. This was very interesting and I'm grateful that I was able to experience something so unique to this country. The day was long, hot, and crowded. It was this day that I noticed another major cultural difference from America. The people in Uganda don't really care about personal space. In America, I think a lot of people expect personal space but here, it is much less important. I think this says something about the acceptance and openness of the Ugandan people. They are comfortable with one another and accepted that they were all there to celebrate the same thing together. To an American, this can be a little frustrating, especially while trying to make my way through a crowd, but even if I don't get used to it I'll at least have some great crowd navigating skills by the time I leave.
Despite the stress of the day, I was thankful for it because I was finally able to sleep last night! I have beat the time change struggle. I think dealing with cultural differences can be a bit challenging but I think I'm up for it and I'm excited to see what else I encounter this summer.