Many years back I started my journey of becoming a priest. The fact is, to me it seemed a very long journey. So I decided to take one day at a time. I remember with certainty my burning bush experience that attracted me to the priesthood. When I was a little boy, after the visit of John Paul II, my mum explained the role of a priest to me and from that day my desire to serve God as a priest developed and grew stronger.
Currently, I am at St. Mary's national major seminary Ggaba, where I am undergoing my theological formation. It is a wonderful place to live. A home away from home. Our formation is integral. Geared at the development of the head, heart and limbs. Here in Ggaba seminary we receive intellectual, spiritual, pastoral and human formation as advocated for by the council fathers in Vatican II, Optatam Totius no.4.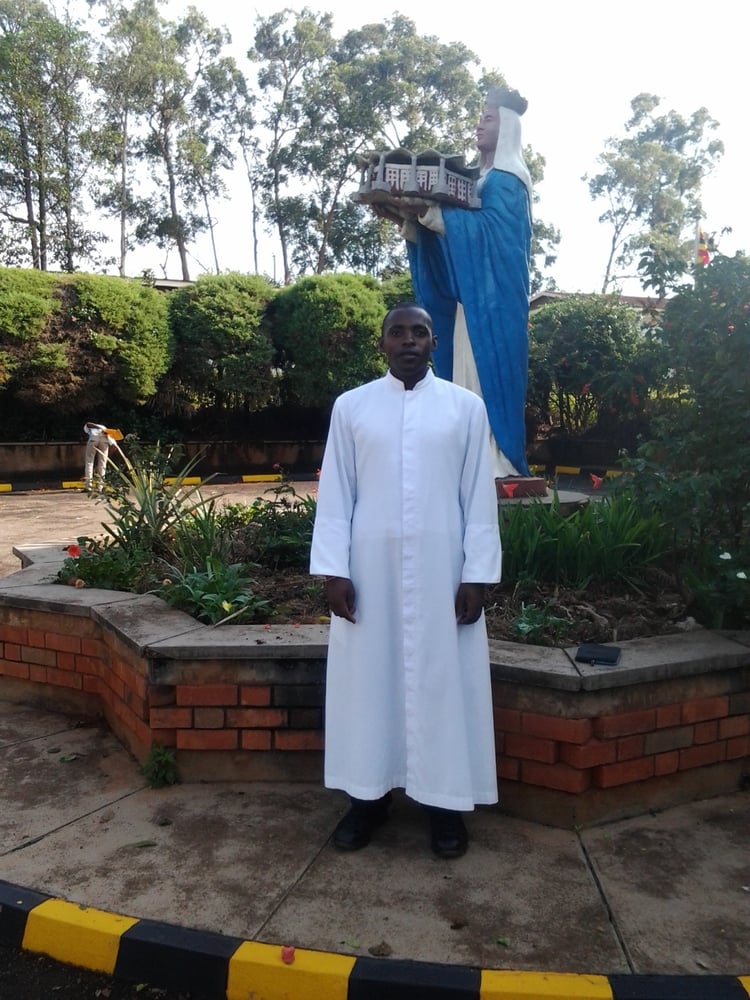 Seminarian Frank Lwanga Kyazze
We have a team of twelve dedicated staff members headed by Rev. Fr. Paul Masolo our beloved rector, who guide us in this formation. Self-drive and personal conviction are key in our seminary formation. Above all is our chief formator Jesus Christ, who calls me day by day to emulate him and serve God as a priest. So my typical day in Ggaba seminary is punctuated with activities geared at receiving integral formation.
My day begins at 5:00 am, when I take my personal morning prayers. I then later go for a morning shower before I begin my personal morning study.
At 6:30 am, I join the rest of the seminary community for the communal morning prayers. We use our seminary prayer books for our morning and evening prayers. Thereafter we have a silent meditation and reflection before Jesus in the Blessed Sacrament, our chief formator until 7:15 am.
At 7:15 am Mass begins, in which every seminarian actively participates. Music from the different parts of our country makes our liturgy colorful. Our singing is accompanied by the harmonium, the guitar, the drums and the adungu.
At 8:00 am after Mass, we have our breakfast in our dining hall. It is usually a cup of milk (tea) and two tosses of bread. After breakfast we prepare ourselves for class.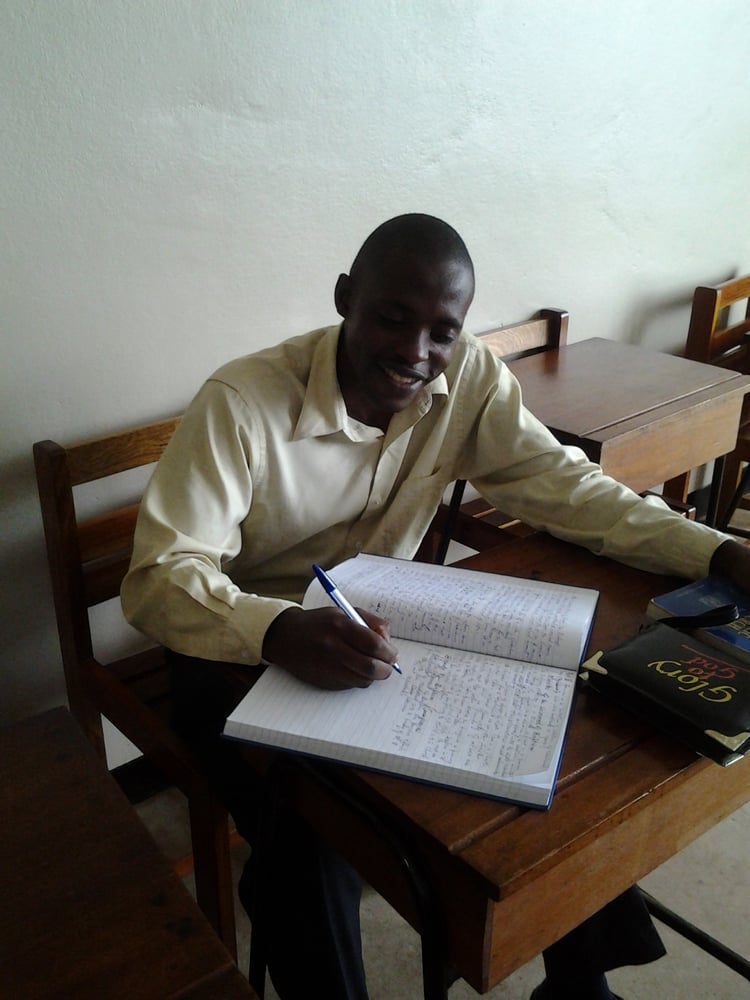 In the classroom.
Our classes begin at 8:30 am and end at 12:45 pm with two major breaks between the lessons. In the class we receive mainly the intellectual formation in theology, but also the other aspects of formation are always catered for during our lessons.
Our lessons in St. Mary's deal with the major theological disciplines, namely: dogmatic theology, biblical studies, moral theology, spirituality, canon law, church history and liturgy. The methods employed also involve lecture method, research and personal study.
At 12:50 p.m. we move to the chapel for particular examination and the Angelus. This is a great moment of encounter with our Lord Jesus. We share with him how our day is moving on. When life is not moving on well, we seek his guidance and protection.
After the Angelus, we move to the dining hall for lunch. Usually our local foods are served. That is to say; posho, rice and beans, at times accompanied by some fruits.
Shortly after lunch we enjoy a moment of sharing with our friends and at times we share in our different cultural groups.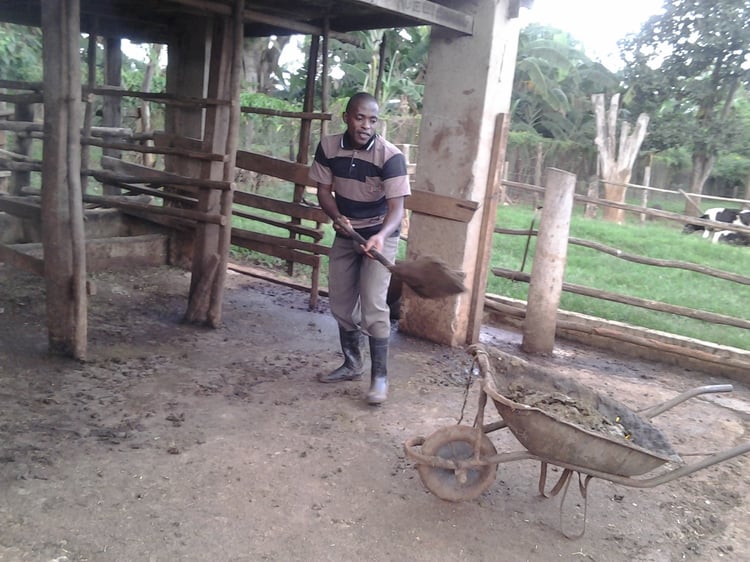 Mucking out the stalls.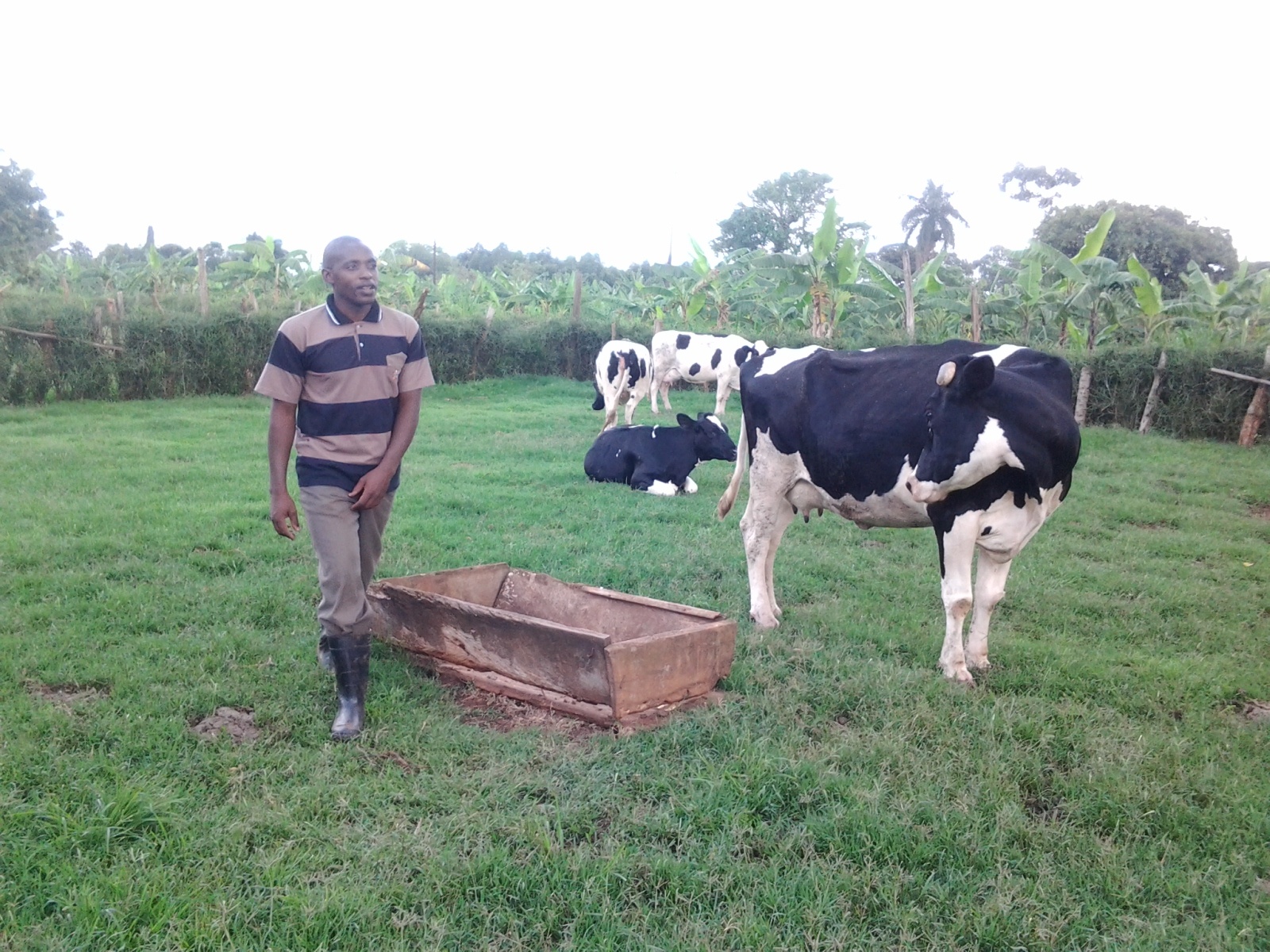 Feeding the cows.
At 2:00 pm I go to the farm with some volunteers to give a hand at the seminary dairy farm. Our farm has fifteen cows which provide the seminary with some milk. We usually clean the stalls or ensure that the cows have enough to eat.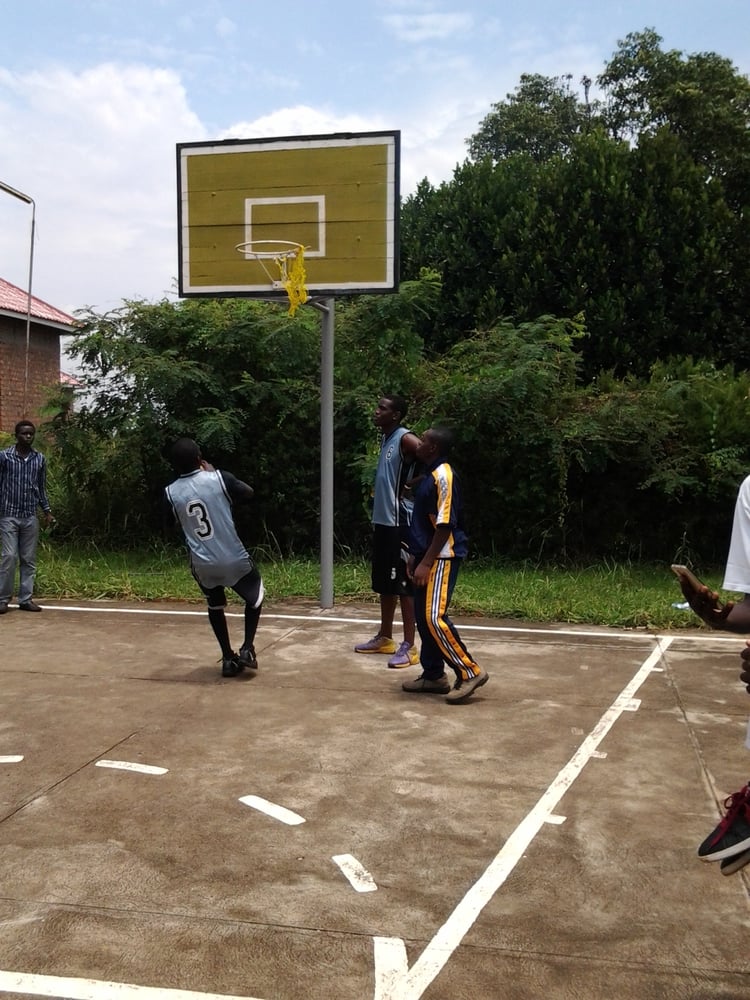 Exercise is important.
At 3:00 pm we go for sports, personally I play basketball. Remember, work without play makes jack a dull boy. We usually start with training and then enjoy numerous games depending on the minutes remaining to 4:30 pm when sports officially end.
After sports I move to my house so as to take a shower in preparation of my private study which starts at 5:00 pm.
At 7:15 pm we convene at the chapel for our evening prayers (Vespers). This involves the singing of the Psalms.
After Vespers we head to the dining hall for our supper, which usually begins at 7:30 pm. They usually serve us with our local dishes ranging from kalo, matooke, rice, Irish or sweet potatoes served either with beans or ground nuts.
Immediately after supper, I move to the grotto for my personal devotion that is, saying the rosary. After saying the rosary I move to the chapel to train servers for the following day's Mass, serving the seminary community as a liturgical director.
At 8:45 pm we all gather in the chapel for communal night prayers (Compline) to entrust to the Lord, the remaining section of the day.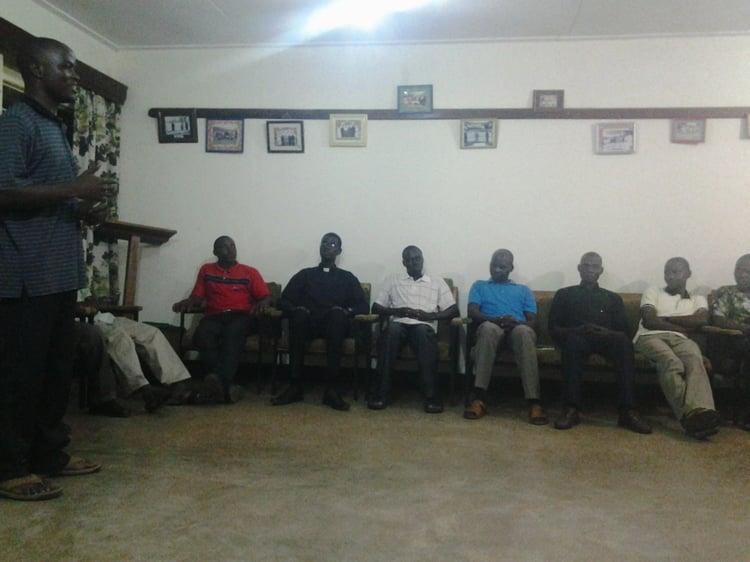 Group discussion.
After the Compline we move to the TV room for news. Then later at 9:30 pm I go for my private study or group discussions until 11:00 pm when I retire.
I end my day with prayer and thanksgiving to God for His enduring protection and blessing throughout the day. I also ask for His continued protection through the night. Indeed the Lord has never deserted me. His protective hand is always around me as I take one day at a time. Each day unfolding to new avenues and blessings until the day, when the Lord out of his mercy and love will make me a priest after his own heart (Jeremiah 3:15).
Editor's note: Seminarian Frank's education is supported through CARITAS For Children's Sponsor a Seminarian Program. Between terms at the seminary, Frank mentors the children in CARITAS' child sponsorship programs in Central Uganda. If you would like to support the education of a seminarian, please click below.