There is an animal here that cries late at night. A haunting sound I used to think was almost human. I lie in bed listening to all the sounds I have found nowhere else. They sound so wild, so unlike the quiet rush of passing traffic on the main road I can hear from my bedroom on summer nights at home.
I can only imagine what it must have been like to trek here, into the wilds of East Africa, where witch doctors practiced a strange magic in a place where no church stood. This place is now so filled with faith and its symbols—rosaries draped about the necks of passing women, the ever constant trickle of people bowing as they pass the church on their way to and from town. The year is ending as I sit here. Less than 24 hours ticking away unheard, unseen, just lived as they are for what they are: time. Much like the days that remain for my time in Uganda, passing far too quickly until one day soon they will be over I will journey home.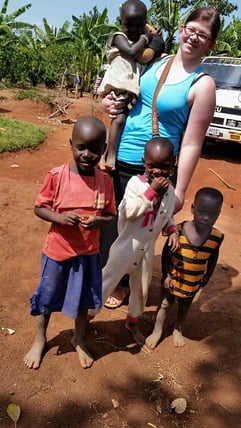 Time moves slowly here. Even the truck driver is near an hour late and has yet to arrive, and so we wait as patiently as we can, never knowing when we'll hear the rumbling at the gate signaling his arrival. Children ask for sponsors then sit at home to wait, fetching water or climbing trees to hack down fruit with rusty blades, having nothing to do but wait. It could be months, more than a year, before someone comes to say they have been chosen—they have been sponsored—and it is time to go to school. Children whose families have yet to scrape together enough money for school fees (those lucky enough to be able to pay at all) also wait, roaming these red dirt roads, chased home from school until the money is in hand. Mothers raise their children with this steady, day-by-day pace, seemingly nothing promised for tomorrow. Time passes slowly, almost leisurely, until you realize that it has gone.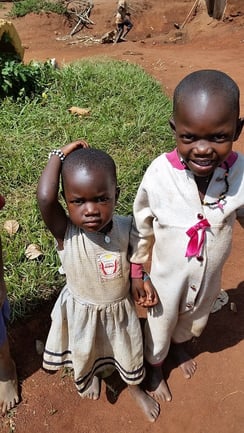 Tonight is the last night of 2016. One last day of this year before a new one begins, holding so many mysteries and promises, just like the last one and the ones before it. In Uganda it is tradition to pray. People begin to flock to the church and near and far away places to say prayers for thanks for the year they have had, and to pray for peace, love, and life in the days of the coming year. They will pray all night, usher out the old and welcome in the new with singing and dancing, and there will always be prayer.
It's a beautiful way to ring in the New Year, and to hope for all the good it can bring. Even the children are excited for the future it promises, each and every one of them. I can see it in the light in their eyes and their sweet smiles. I think that children are not only a gift from God, but also a promise: there will be something good in this world, always.