What does it mean for our lives to become wonderfully complicated in today's world? We enjoy the good qualities of what we have been given. God wants us to appreciate our lives. Gratitude is a wonderful spiritual living value. Challenging the life that we believe in, the goodness, the securities, our faith in a loving God, our Pope Francis tells us the need for our lives to become "wonderfully complicated".
In his apostolic exhortation Evangelii Gaudium (The Joy of the Gospel), Pope Francis delivers his message on The Proclamation of the Gospel in Today's World to the people of the Catholic faith. Toward the end of this communication he says:
Sometimes we are tempted to be that kind of Christian who keeps the Lord's wounds at arm's length. Yet Jesus wants us to touch human misery, to touch the suffering flesh of others. He hopes we will stop looking for those personal or communal niches which shelter us from the maelstrom of human misfortune and instead enter into the reality with other people's lives and know the power of tenderness. Whenever we do so, our lives become wonderfully complicated and we experience intensely what it is to be a people, to be part of a people.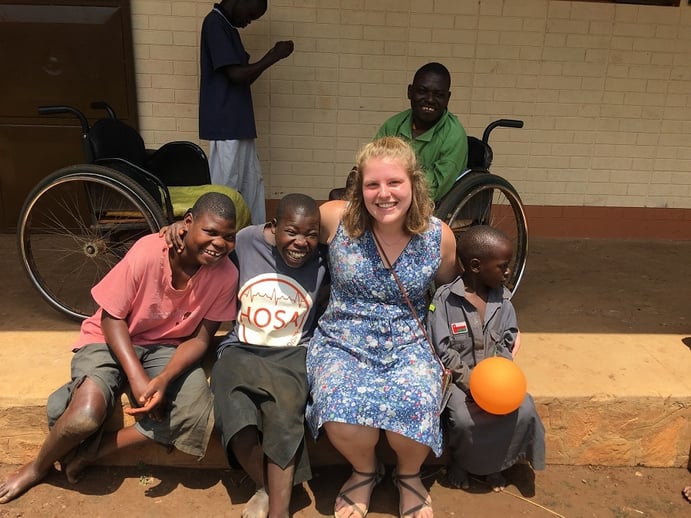 Alex, in blue dress who did service work with CARITAS' Catholic child sponsorship programs in Uganda, with friends from Providence Home, a care facility for special needs children and adults run by the Little Sisters of St. Francis of Assisi in Nkokonjeru. Behind Alex is Godfrey, from the left are Rehema and Fiina, and Ezra is holding the orange balloon.
That part of a people has the richness of CARITAS For Children, the Catholic Apostolate. Pope Francis does not call for us to be in discomfort or complete unease to be a good and faithful person. In fact he shows us the deep spiritual aspect of being a faithful part of people. His thoughts include "the power of tenderness" that we gain from our rich experiences. Having a life becoming wonderfully complicated, gives to reality a new colorful spectrum that enters into sponsoring. It all becomes important. The power of tenderness shares our splendor for living.