Today is the feast day of St. Francis of Assisi. Earlier this year, I had the opportunity to visit Assisi and see the sites where St. Francis of Assisi began the Franciscan order. While it was a joy to be in Assisi and walk where Francis had walked hundreds of years earlier, I was thankful to be able to learn more about the faith of St. Francis. It is this faith, which propelled his actions, which so greatly impacts on our faith.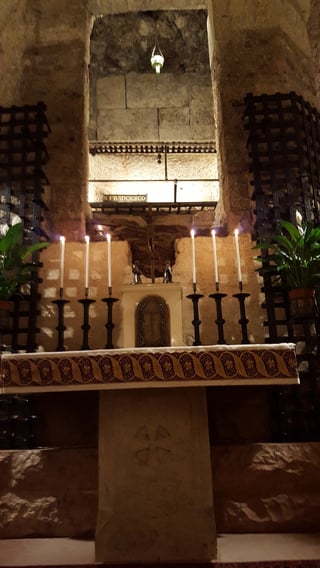 Final resting place of St. Francis within the Basilica of
St. Francis.
Of all the saints in history, the one whom many people find most Christlike is St. Francis. When Francis' began his ministry, his simple rule for his followers (or "friars"), the Regula primitive or "Primitive Rule", which came from the Bible. The rule was "To follow the teachings of our Lord Jesus Christ and to walk in his footsteps".
Francis became the model of a simple life. He was never ordained a priest, instead he was ordained a deacon. Francis thought that we should be servants and Francis remained a servant until death.
At the ancient church at San Damiano, while he was praying there, he heard Jesus on the crucifix speak to him, "Francis, repair my church." Francis assumed this meant church with a small c. So Francis set out on a project to repair the crumbling building that housed their church. He did not realize that it was the Church with a capital C that God wanted repaired. This was a time of corruption infecting the Church from the inside while outside heresies were attacking the beliefs of the Church.
Soon Francis started to preach. But, Francis was not a reformer; he preached about returning to God and obedience to the Church. Though the Church was being corrupted, Francis showed the Church and its people its proper respect.
St. Francis was a man of action. His simplicity of life extended to ideas and deeds. Francis acted quickly because he acted from the heart; he didn't have time to put on airs. Once he was so sick and exhausted, his companions borrowed a mule for him to ride. When the man who owned the mule recognized Francis he said, "Try to be as virtuous as everyone thinks you are because many have a lot of confidence in you." Francis dropped off the mule and knelt before the man to thank him for his advice.
St. Francis told us that we must not be wise and prudent according to the flesh. Rather, we must be simple, humble, and pure. We ought to be servants who are submissive to every human being for God's sake. The Spirit of the Lord will rest on all who live in this way and persevere in it to the end. He will permanently dwell in them.
At CARITAS For Children, we work with the Little Sisters of St. Francis of Assisi to give children access to a high-quality, Catholic education through our child sponsorship programs in Uganda. It is St. Francis' legacy of service that inspires us to inexhaustibly serve the poor and orphaned children in Africa, the Caribbean, and Eastern Europe.