Does your faith shape your life, or does your life shape your faith? That's a question I've heard asked over the years, and it always makes me stop and think.
Consider the story of Mary and Martha from Luke's Gospel. Martha was consumed with the things of this world. Mary was concerned with listening to Jesus. Mary has chosen the better part.
Recently, Bishop Robert Barron, the Auxiliary bishop of Los Angeles and founder of Word on Fire ministries, gave a talk in which he referred to those whom he called "Beige Catholic". He said that Catholics in America need to find ways to challenge our current culture with the culture of truth, and avoid "beige Catholicism" that seeks to be dominated by the culture.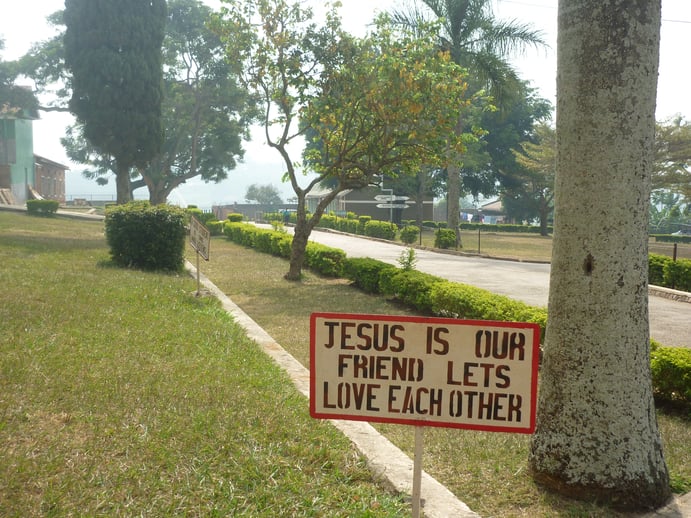 Signs like these are found all about the Stella Maris campus in Nkokonjeru,Uganda. Stella Maris has primary and secondary boarding schools where a number of girls supported through CARITAS' Catholic child sponsorship programs receive their education. What a great reminder that God comes first in our lives.
He was concerned about the "dominance of the prevailing culture over Catholicism," where Catholics are "too culturally accommodating" and "excessively apologetic." They are concerned about things of this world rather than the Church. Martha's concern for the things of this world is a reminder of this.
We need to approach this dialogue differently, avoiding the one-way communication we experience today. With "beige Catholicism," he noted, "the world sets the agenda for the Church."
The question is not whether we engage the culture, but instead we need to determine how we engage the culture.
We need to be like the saints who did not allow their doctrine to be determined by their experiences of this world.
We can look for guidance from the saints who successfully engaged the culture of their day while still proclaiming Jesus Christ. St. Paul and St. Augustine are examples of those who challenged the culture of their times.
What we should be doing is borrowing from this world the things we can use to promote our message. New innovations in technology give us the ability to communicate our message. Trends which can bring attention to our faith should be considered for conveying our message.
"St. Paul told us that in Christ's light, we should test every spirit, rejecting what is bad, retaining what is good," the Bishop Barron explained. The aspects which are worthwhile should be used in accord with our faith.
Most of all, we should not be shy about expressing and defending our beliefs. We need to be like President Abraham Lincoln and Dr. Martin Luther King, Jr., who spoke out against injustices of their time using biblical language and quoting figures like St. Thomas Aquinas.
Instead of making the Church more like the world, we need to make the world more like the Church. We need to avoid "beige Catholicism".
Does your faith shape your opinions? Your attitudes? Does your faith shape your life, or does your life shape your faith?