In our hectic lives we find ourselves in a rush trying to get everything done in one day. We are out of breath trying to resolve problems. We miss an important appointment because we were late. Gossip circulates at our place of work and we're tired of hearing all of that. Let's not forget the nagging, congested traffic, losing our patience, driving angry and having a short fuse for the rest of the day. These are just samples of increased day to day tensions and irritations with which we struggle. But there is hope.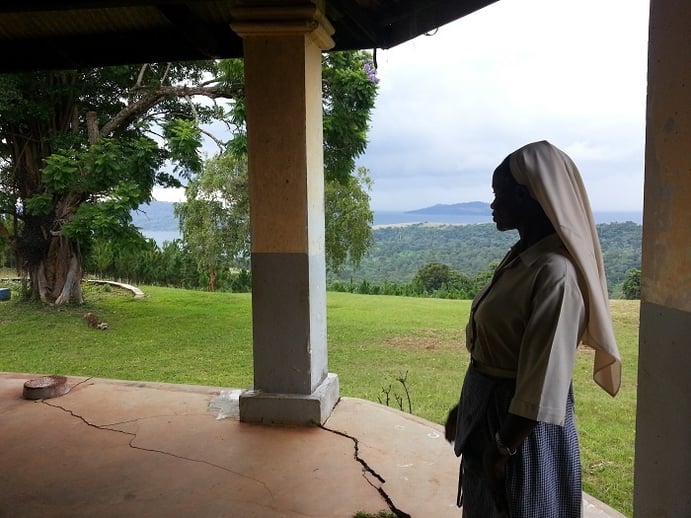 A Little Sister of St. Francis of Assisi, one of the ministry partners of CARITAS' Catholic child sponsorship programs, in a moment of tranquility with the Spirit near Lake Victoria in Uganda.
We can lessen these tensions in our hectic surroundings. Fr. George M. Smiga, pastor at St. Noel Church in Willoughby Hills, Ohio offers a more peaceful way:
"Air" suggests the invisible but intimate presence of God who comes to us in the person of the Holy Spirit. The Spirit of God surrounds us with God's love, encouraging us and working with our spirit so that we can become all that we were meant to be. Contrary to imagining God as exalted and remote, God's Spirit moves in us and through us – as close to us as the air we take in and breathe out.
Sometimes our need for the Spirit comes in moments of difficulty. Fr. Smiga offers an enlightening tool to strengthen the presence of the Holy Spirit. Within those prayerful moments when faith and wellness are shared with others, when you pray for your sponsored child or they pray for you, we are co-workers with the breath of the Spirit.
Loving and giving comes through us in a peaceful connection. We gather our senses together, create calm that was missing, and the peaceful calming becomes a tranquil spirituality.Sponsoring your child is one of the ways in which you experience the distinct caring and love that you need and receive in your depths of peace.