It is ironic that "Butono" is the Lusoga word for small. This beautiful little girl, Veronica, has the second name "Butono," but has the strength and maturity of anything but the small, six-year-old girl that she is. When people say that "this little girl is so lucky to have you in her life" – I know deep in my heart that exactly the opposite is true. I am so humbled, so grateful to have this six-year-old Ugandan girl in my life – who knew that someone so young could teach you what it truly meant to be strong.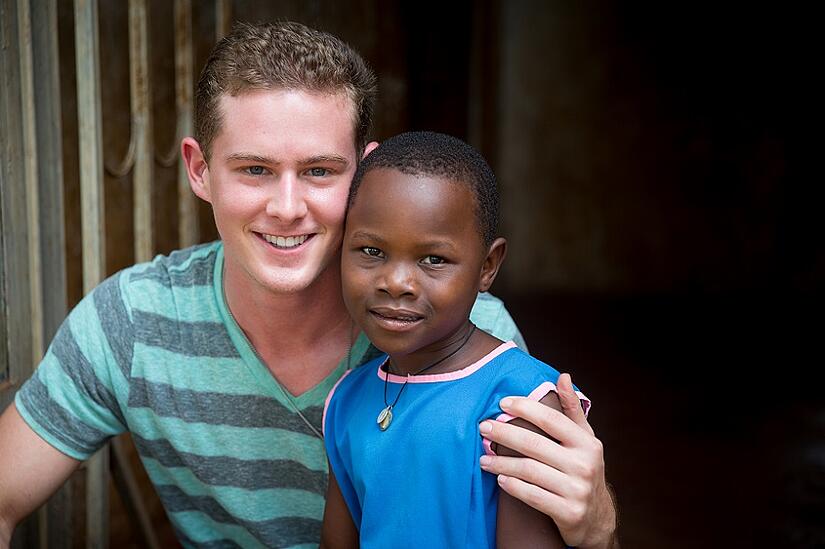 Butono Veronica and I
It is suspected that Veronica was the product of a rape. Her mother was rumored to be psychologically insane, and her father was an alcoholic who wouldn't admit that he had fathered a child with this "insane" woman. Veronica was abandoned first by her mother; her step-mother then deemed her "not ours" after a short period; she was immediately passed off to her grandfather who also could not take care of her; and she finally was passed off to her grandfather's sister, a woman who Veronica affectionately refers to as "Daada," the Lusoga word for "Grandma."
Butono Veronica came into my life last year as I was interning for CARITAS For Children in Uganda. I was doing some work with children with disabilities at the Providence Home in Nkokonjeru, Uganda, when my supervisor introduced me to this sweet little girl -- immediately I fell in love with her because who doesn't fall in love with a little girl who holds your hand after only a minute of knowing you??? My love and compassion for this child grew even more when I learned of her story. Sr. Regina had rescued Veronica from the home that she was in, and she was now raising Butono; she was struggling to find money to send her to school. Immediately on my walk home that day, I prayed that God would provide some means for Veronica to go to school -- lo and behold, the next morning my parents called to say that they had been praying and decided that they wanted to sponsor a child with CARITAS For Children... "Do you know of anyone, Scott?" ...And so it goes...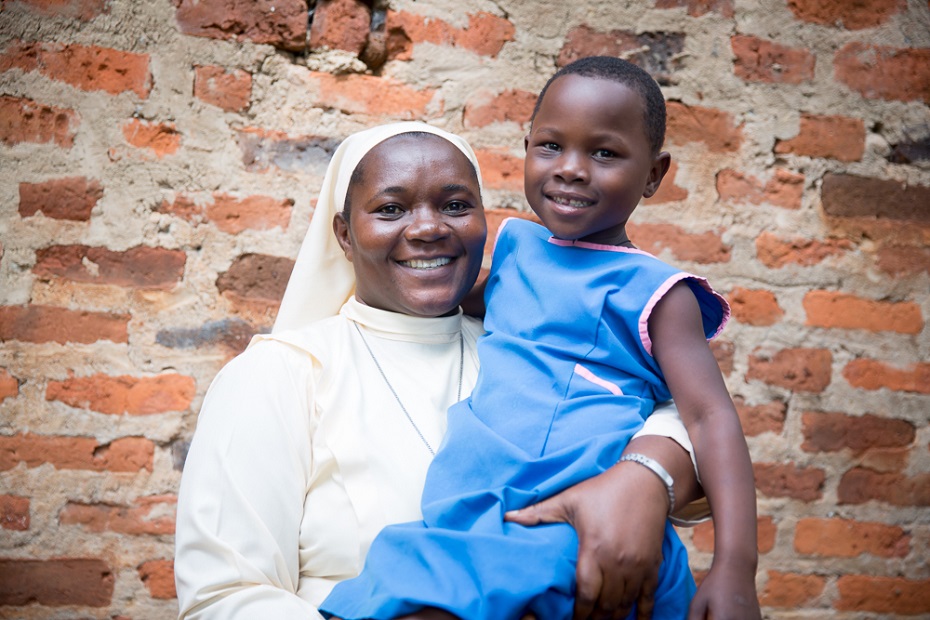 Butono with Sr. Regina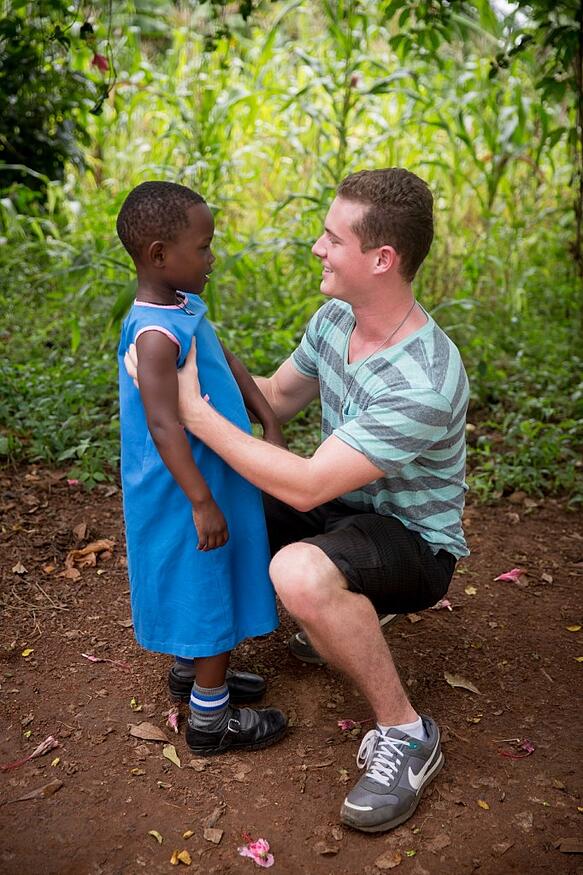 Who knew that someone so young could teach you what is truly meant to be strong.
Veronica is just finishing up her first year as a Primary One student at Stella Maris Primary Boarding School in Nkokonjeru, Uganda with the help of my parents. After graduating from UW-Madison, I returned to Uganda, working for CARITAS For Children as the "Field Coordinator." I have many new roles and responsibilities, which I will talk about in future blog posts, but one of my current roles is to get the stories of children that have benefited from this child sponsorship program. The volunteer photographer, Tina Erdmann, and I decided that Butono was one of these stories that showed the great impact that Child Sponsorship Programs have for children in need. We decided to take a trip to Butono's home with the help of Sr. Regina in order to tell this story. A surprise came in the morning, when Butono showed up to come along on the trip – we thought we were going by ourselves, but my supervisor Joseph brought Veronica along to accompany us the trip to help us tell her story.
Many emotions run through my mind when I think about the visit to Butono's home in Kimuli, Uganda. Butono, being only six years old, unexpectedly was visiting the family who decided not to raise her as a child, without knowing in the morning where she was going. Imagine the confusion this six-year-old girl must have been experiencing... The picture below is Butono being greeted by her step-mother who had previously abandoned her as a baby. Although I did not understand the background story at the time, my stomach instinctively got a funny feeling when I saw the woman running up to her step-daughter laughing and screaming, picking her up and swinging her around. I felt in my heart that something was wrong, but I didn't know what... The picture below the next is Butono with her grandparents and extended family, who also decided not to take care of her as a baby. My first human reaction -- whether good or bad -- was to pay attention to the feeling deep feeling of confusion and sadness in my stomach... And from the way that Butono was responding to her family's greetings with a straight, almost numb face, I began to understand that the situation was not a normal one -- my protection mode turned on, and I didn't know what to do... I didn't know how to protect her from something that I didn't understand, and also couldn't control. I turned to Sr. Regina and asked her what to do -- she said she was going to talk to Butono in the car.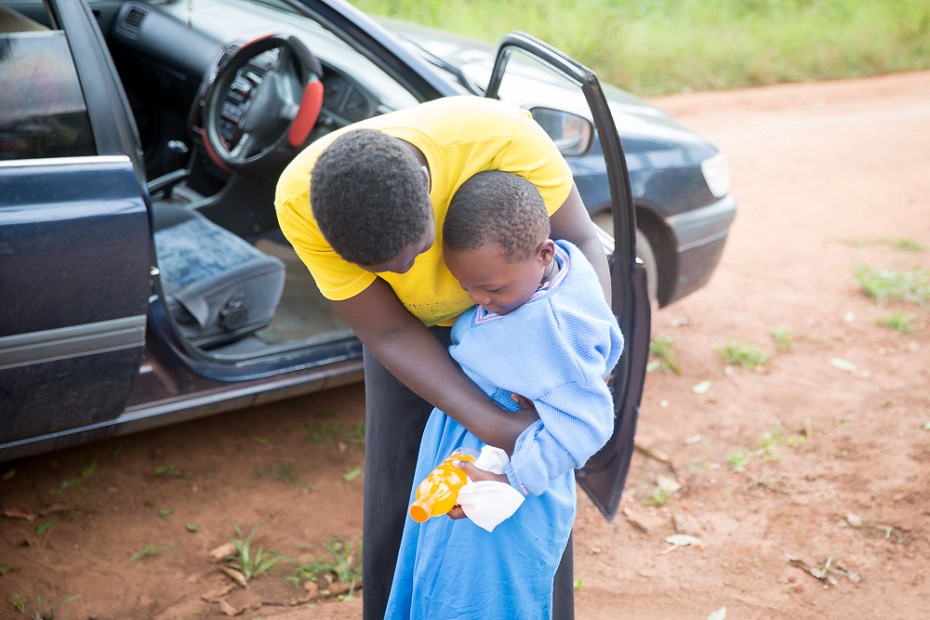 Butono's welcome from her step-mother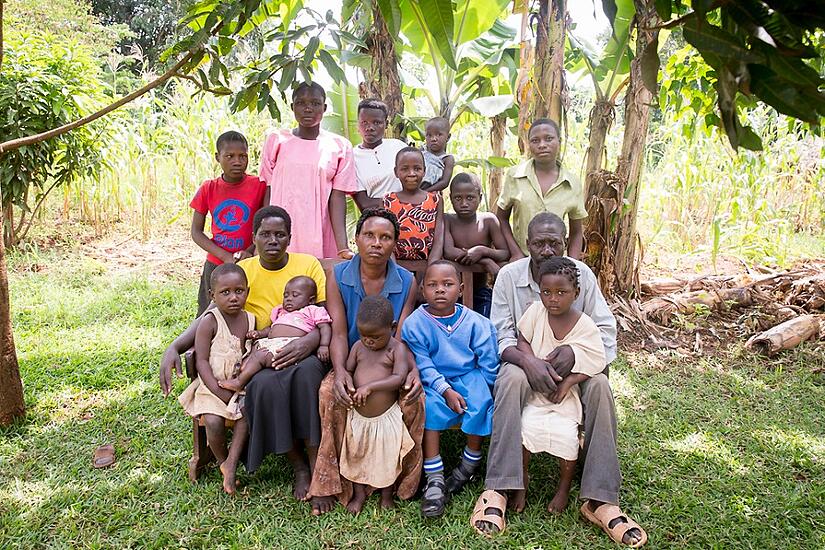 Butono with extended family
My deep worries were confirmed when I stepped into the car and saw Butono's face. Sr. Regina was sitting in the car, holding Butono's hand, and the tears were streaming down the little girl's face. The tears were flowing, but the strength that I saw in her eyes was indescribable. Butono had been through so much at such a young age -- more than I have in my entire life -- and although she may not have exactly known what was wrong, her deep psychological wounds were re-surfacing. But she reacted to this by trying her hardest not to cry -- something that I have never seen a six-year-old do... My protective reaction was to immediately admit that we had made a mistake, and tell Sr. Regina that we needed to go back home. Clearly we had made the wrong choice by taking Butono back home -- I hadn't been aware that we were going to see the family that had hurt her so much with constant rejection. When I asked Sr. Regina whether or not we should turn around, Butono immediately said that she wanted to see her "Daada," so we apprehensively decided to continue along with the journey.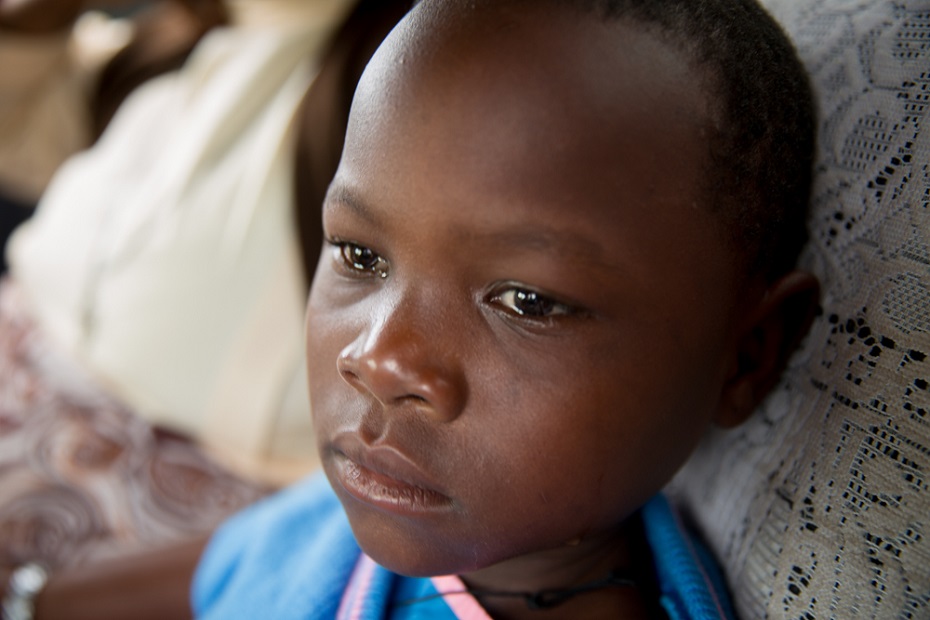 Butono being comforted by Sr. Regina in the car
The mood changed when Butono saw her grandmother -- as you can see in the picture below, there was a light in her eyes that can only come out when you are with someone who you love (and who you know loves you). She projected a feeling of safety and comfort. My heart was grateful that God had truly provided Butono with someone who loved her as a child – and the grandmother need not not put on a "show" to prove that she loved her little six-year-old girl. As I learned from this visit, one cannot cannot fake love and care for a very long time. Immediately as a result of her visit with her Grandmother, Butono's personality quickly came back, and she started to sing, started to make little jokes, began to laugh and run around like a six year old should know how to do. I felt instantly lighter, but still almost emotionally shocked from what had happened the hour before.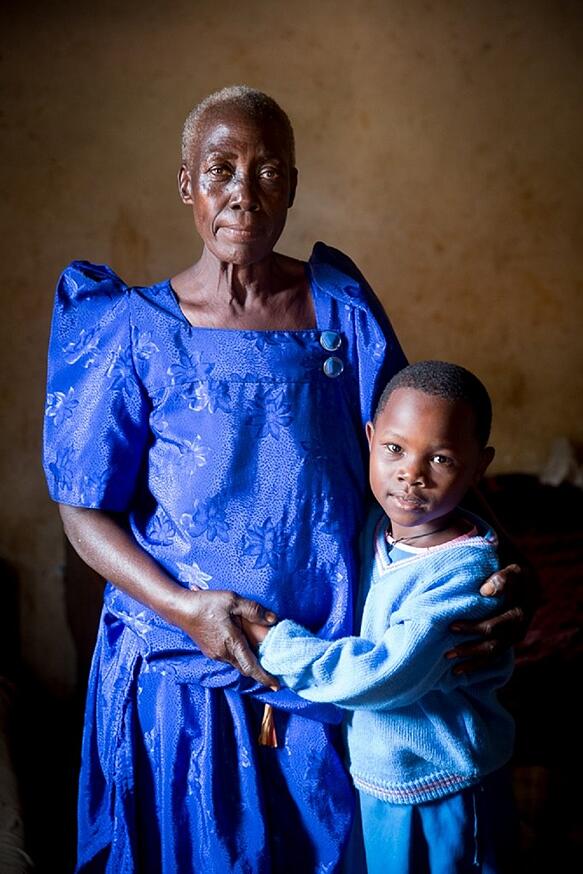 Butono with Daada
Daada's home where Butono was raised
Just when I thought everything had calmed down, Butono's dad walked in the room. He had heard the village rumor that his daughter had returned, and decided to come and see her. When I saw him, I did not have a pleasant reaction inside my head – "what??????" You raped Veronica's mother, abandoned the girl herself, obliged your wife who arrogantly refused to raise her, and decided to never once visit her because you were personally embarrassed for having fathered her -- and now you want to come back when your daughter is looking beautiful and healthy from school? My blood started to boil, but when I shook his hands and looked him in the eye, I felt the most contradictory of feelings. I immediately realized that he was a human being -- that he has made mistakes, just like I have, and that he is equally as capable of fixing them. Who am I to judge? Though his actions were deplorable and inexcusable, who am I to prevent him from attempting to have a relationship with his daughter? Though those feelings lasted for a mere second, I realized that I had to check myself in my judgment, and have compassion for the man like God has on me.
I didn't, however, have any desire to make conversation with the man. When the priest who drove us asked me if I wanted to have a conversation with Butono's father, I immediately responded that I didn't want anything to do with the man. Butono's father walked in the room anyway, sat down, and stared at me with a big smile on his face, thanking my family for taking care of his daughter. I asked him, "Are you happy to see your daughter?" He responded, in Lusoga "yes, of course I am happy to see her!" with the same confusing smile on his face. I asked him then, "Does Butono know that you are her father?" The priest's translation from Lusoga to English revealed that Butono had to be introduced to this man as her father in the backyard... Imagine that. Again, my blood started to boil... "Why are you visiting your daughter after you abandoned her and ignored her for six years? What is different now?" The priest wouldn't translate that for me -- he said I was going too far. I had to walk out of the room. The father still had the same smile on his face looking at me walking out of the house. Did he not understand? Why was he smiling at me?
The trip was emotionally taxing for me, because I literally witnessed Butono meeting her absent father for the first time – it was emotional even for Sr. Regina who knew Butono's story and family -- she broke down in tears in the backyard at a certain point, trying to comfort the photographer who also broke down. All of this being said, the one who was the strongest through it all was the beautiful little girl who fell asleep on my lap in the back seat on the ride home. With all the ups-and-downs, the one thing that is clear to me is that God has a plan for Butono Veronica -- I truly am grateful to have been chosen to be a part of it.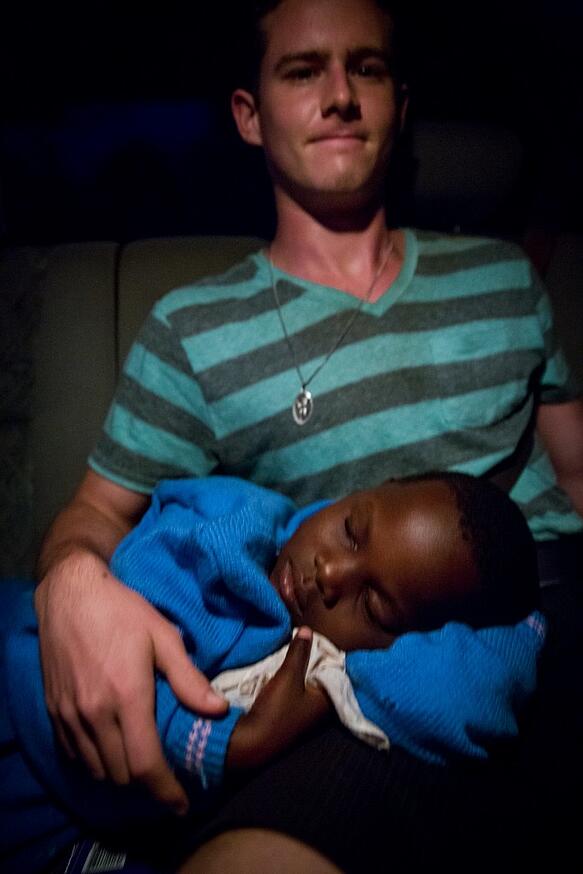 The end of an emotionally taxing day
If you would like to find out how you can make a difference for a child, please click below:
All photo credit to Tina LeAnn Photography
http://www.tinaleannphotographyblog.com/